If you are looking for a self-defense weapon, stun guns and tasers are both solid options. Self defense weapons are a good investment for those who are looking to feel more comfortable when they are out in public, particularly if they travel alone, walk at night, or live in a dangerous area.
They are also used by some forms of law enforcement. But there are different pros and cons that make each product best suited to different situations. Before making a purchase decision, you should decide which would work best for your individual needs.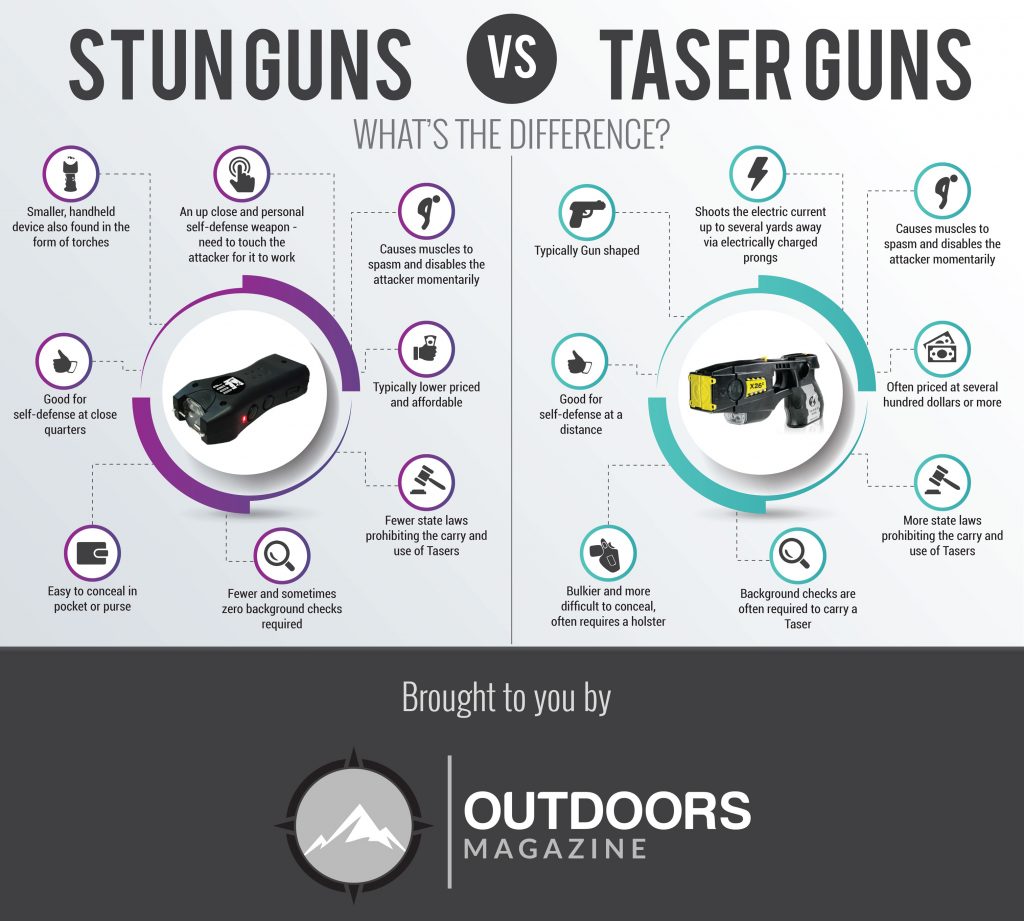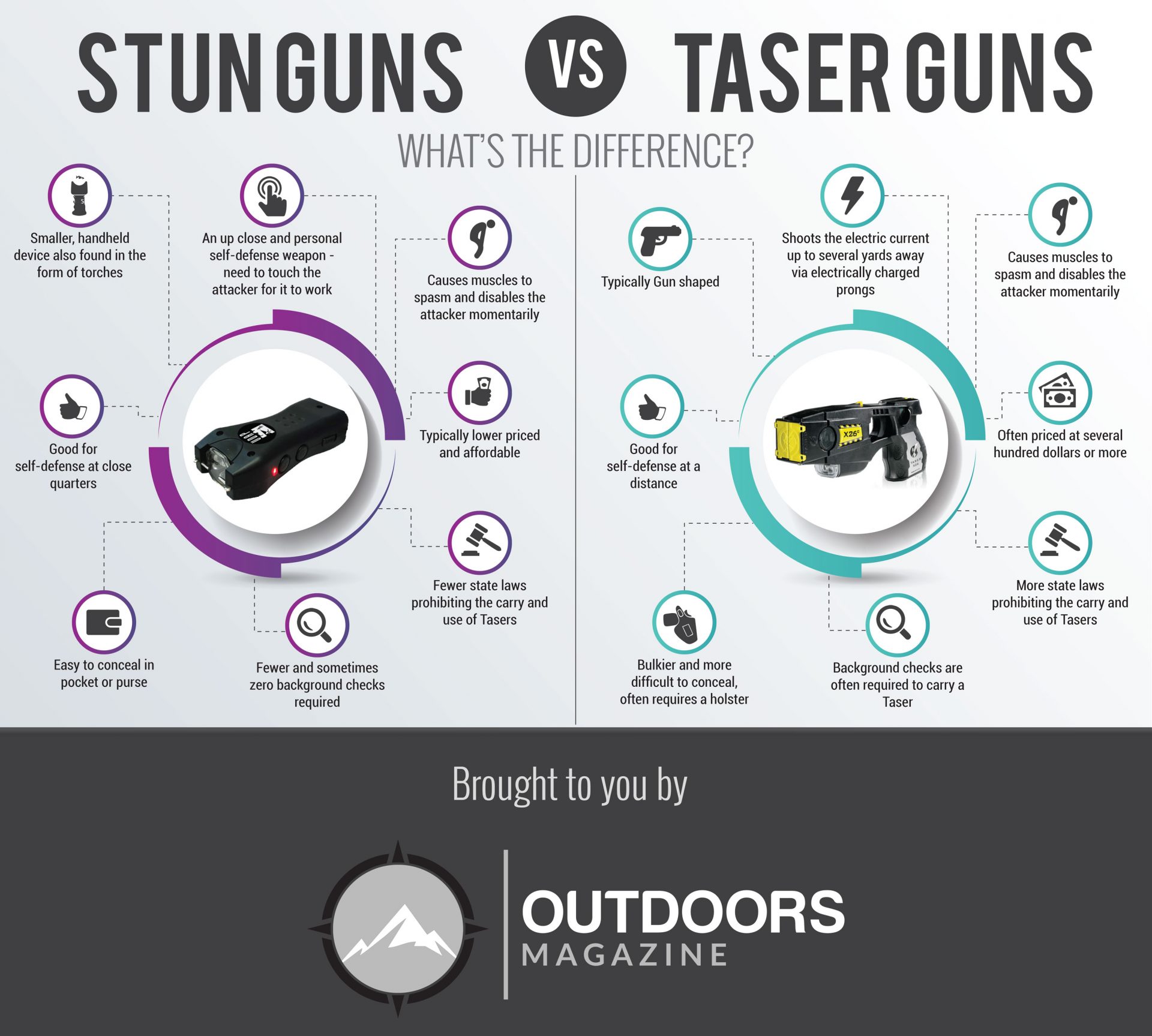 Click here to view an enlarged version of this infographic
Share this Infographic On Your Site
What is a stun gun?
A stun gun is a small handheld device that can administer an electric shock to an attacker as a form of self defense. It administers a low level of electric voltage that will immobilize the attacker without causing permanent bodily harm.
It does this by sending the voltage through the muscles, causing quick spasms that make them unable to control their movement in an efficient manner. The electricity runs between either two or four prongs at the top of the device.
It is a close range device, designed for use in close combat situations. It is quite small and fits in many standard size jacket and pants pockets, as well as in a purse or backpack.
What is a taser?
A taser is also a handheld weapon that administers an electric current to the attacker in order to temporarily disable them. It is shaped similarly to a gun, with a hand hold and a long barrel.
It shoots the electric current as far as several yards away, so you can disable an attacker even if they are not close to you. It works just like a stun gun in that the electrical current causes the muscles to spasm, disabling the attacker.
However, the taser shoots a small, spear like projectile that contains the electric current, which then attaches itself to the attacker, shooting the electric current through their body. Although this may be temporarily painful for them, it does not cause long-term damage. It is used by many urban law enforcement agencies around the world.
What are the differences between a taser and a stun gun?
A taser can shoot an electrical current up to 15 feet away, while a stun gun can only be used if your attacker is within your reach.

A taser uses a physical projectile to shoot the electric current away from you and towards your attacker, while a stun gun must make contact with the attacker in order to work.

Stun guns are relatively affordable and more easily accessible than tasers. A low-priced stun gun can run well under $100, while the most expensive tasers can be well over $1000.

Some states require background checks for both stun guns and tasers. However, more states require them for tasers than they do for stun guns, so it is more likely that you would have to get a background check with a taser. Many places require you to register your taser with the government as a self-defense weapon, while this is rare with stun guns.

Stun guns are extremely easy to use from the beginning, while tasers require a small amount of practice. However, the amount of training needed is still very minimal.

Stun guns generally have more voltage than a taser. This is very effective for self defense, but it does mean that you have to be very careful with it.

Stun guns are very easy to conceal when you are out and about, while tasers generally must be worn on a holster.

Tasers look more intimidating than stun guns. An attacker is more likely to see a taser and back down, whereas they may not realize the damage that a stun gun can do.
Pros of Stun Guns
Stun guns are very inexpensive when compared to tasers. If you are just getting into self defense and you don't want to shell out a huge amount of money for a weapon, then a stun gun is definitely the way to go. They are also much more accessible than tasers, so you don't have to go as far out of your way in order to get them.

They work very efficiently to keep you safe if someone is attacking you. All you have to do is hold down the trigger button and touch the attacker with the stun gun. You do not have to aim or have a special kind of coordination in order to use a stun gun.

They are very inconspicuous, so if you want to carry something without others knowing that you have it, a stun gun is definitely the way to go. You can easily fit it in your pocket or your bag without having to worry that other people will see it. This is an especially big benefit for those who are concerned about being stigmatized for carrying a self-defense weapon.

Stun guns are very safe, because when you are using them, the electric current does not pass back to you.

A stun gun is quite durable and will last you a long time. They do not require replacement firing cartridges, so you won't have any financial burden or inconvenience when it comes to keeping them maintained. Most stun guns also have rechargeable batteries as well, so you don't have to replace the battery either.

Stun guns are available in a variety of different sizes, shapes, and voltages. Stun guns are quite powerful – in fact, many of them are more powerful than tasers. This is very helpful if you really need to disable an attacker for several seconds. They also come in many different styles and grips depending on your preference. You can even purchase stun guns in a variety of different colors.

A stun gun disables an attacker without killing them or causing them permanent bodily harm, making them a good alternative to other weapons. They are a legal way to defend yourself and feel safe in your own neighborhood.
Cons of Stun Guns
The biggest con of a stun gun is that you can only use it effectively if you can physically reach the attacker with it. It does not have far range capabilities the way that a taser does.

Since stun guns are small, they do not have the intimidation factor that a taser does. Many attackers will get scared when they see a taser and decide not to approach, whereas a stun gun may not actually scare the attacker away until they get close to you.

Some states require that you get a background check and register your purchased stun gun. This can be very inconvenient in many cases.
Best Stun Gun Sellers
Bestseller No. 1
SABRE Pepper Spray and Stun Gun Multi-Range Protection Pack, 25 Bursts, 10-Foot (3 Meter) Range, Ergonomic Finger Grip, Flip Top Safety, Key Ring, Painful 1.60 μC Charge, 120 Lumen Flashlight, Compact
TRUST THE PROFESSIONALS: SABRE is the #1 Pepper Spray brand trusted by police and consumers worldwide; The strength of SABRE stun guns are independently tested to ensure reliable protection when you...
5X MORE PROTECTION:42% of crimes are committed by multiple assailants-this spray has 25 bursts& a 10 ft range delivered in a powerful stream from nozzle to the target's eyes while decreasing wind...
EXTREME STOPPING POWER: Stun gun delivers a painful 1.60 µC(Microcoulombs)charge to help defend against an attacker; Quickly locate door locks in the dark with the 120 Lumen light;Get multiple uses...
CONVENIENT AND EASY TO CARRY: Included wrist strap and holster make this stun gun easy to carry; Pepper Spray features key ring for immediate access to spray when seconds count & easy to grasp finger...
TRAINING VIDEOS TO MAXIMIZE YOUR SAFETY: In addition to your pepper spray and stun gun kit, packaging includes links to free SABRE Pepper Spray and Stun Gun training videos and safety tips to help...
Bestseller No. 2
Bestseller No. 3
Streetwise Pain Pen 25,000,000 Stun Gun for Self Defense - Micro USB Rechargeable with Battery Charge Indicator Light - Silver
⚡ POWERFUL SELF DEFENSE: The Pain Pen stun gun for women and men is the size of a normal pen but packs more power than most stun gun models on the market. Just test firing the pain pen into the air...
⚡ EASY TO CONCEAL: The lightweight, sleek design of the pen gives you discrete protection, making this the best self defense for women. You can easily conceal your high-tech-self-defense-product in...
⚡ STRONG METAL CLIP: You don't have to worry about your Pain Pen getting stuck at the bottom of your purse, pocket, or backpack. With it's durable clip, keep your realistic looking stun pen close by...
⚡ BATTERY STATUS INDICATOR LIGHT: The Micro USB charging port can be used with the USB charging cord (included) in your computer's USB port or a wall block charger (NOT included) to ensure you have...
⚡ LIFETIME WARRANTY: The Pain Pen 25,000,000 Stun Gun is made by Streetwise Security Products, the leader in the stun gun industry and comes with a lifetime warranty.
Bestseller No. 4
AIMHUNTER High Voltage Stun Gun for Women Self Defense Safety Protection Easy to Hide Outdoor USB Rechargeable with LED Flashlight Safety Electric Shock Selfdefense Outdoor (Black)
Professional Self-Defense Equipment: AIMHUNTER high voltage stun gun for woman self defense push up and press the black button to release the electric shock function.Activating the stun function can...
USB Charging: AIMHUNTER new design allows you to accurately know when you need to charge your stun gun. Charge it at any USB Port (usb cord INCLUDED) 2500AMH ,USB Charger ( preventing over - charging...
Reliable Personal Protection: AIMHUNTER stun guns Taser gun looks like a real pen including a Belt/Pocket clip,conceals easily, slips easily into a pocket or purse ,perfect for carrying everywhere you...
Perfect Gift: AIMHUNTER stun gun for woman self defense is very suitable as a gift for wives, children and friends to give them more assured protection,Thanksgiving gifts, Christmas gifts, birthday...
Complete Satisfaction: We insist on the quality and design of all our personal safety products including AIMHUNTER stun guns. If you have any questions about the mini stun gun taser gun, please feel...
Pros of Tasers
Tasers can take down an attacker that is as far away as fifteen feet. This is very helpful because you can take down your attacker before they really get close to you.

Tasers use a physical electric probe that shoots out from the device. This probe can penetrate through up to two inches of clothing. This is very helpful during the winter, when attackers may be wearing extensive layers of clothing. A stun gun may not be able to penetrate deep layers, depending on how much voltage they have.

Tasers come with a red dot that you can use as a sight, making them very easy to aim. You will know exactly where the probes are going to hit and cause the electrical current to start flowing.

A taser can double as a close range stun gun in the event of an emergency, so it is more versatile than a traditional stun gun.

Tasers have strong electrical current and can disable an attacker for up to 30 seconds, which is longer than a stun gun.

The Taser company offers many models of their product, depending on your needs and your price range. They also will replace your taser for free if it becomes lost during self defense.
Cons of Tasers
They are very expensive to purchase, so they are better as a big investment piece than an everyday shopping item. Some of the most expensive versions can end up costing you as much as $1,000.

Tasers don't have as strong of an electrical current as some stun guns do, so if you are looking for the absolute most powerful self defense weapon on the market, it might not be your best choice.

For a taser to work effectively, both prongs need to reach the target. If they don't both adhere to the attacker the way they are supposed to, then the electrical current will not go off. Because of this, many states require that you have training in order to use a taser. Even if this is not a requirement where you live, you should still practice with the taser before you take it out.

There is only one brand of taser, so they are not as accessible as stun guns. Additionally, many states and governments have stronger restrictions on tasers than they do on stun guns.

Tasers can be quite conspicuous, because they are the same size as a pistol and usually need to be carried on a holster. This may not be a good option for those who need to hide their weapons.
Best Taser Sellers
Bestseller No. 1
TASER Pulse Self-Defense Kit - Includes 2 Cartridges, 1 Soft Carry Sleeve, and 1 Conductive Practice Target - Protect Yourself with Confidence (Pulse)
Powerful Self-Defense Solution: The TASER Pulse Self-Defense Kit provides you with the ultimate protection and peace of mind. Equipped with advanced technology, it offers a non-lethal means to deter...
Complete Kit: This kit includes everything you need to enhance your personal safety. It comes with 2 cartridges, allowing for multiple shots, each with a 15 feet range, 1 soft carry sleeve for easy...
Pulse : The TASER Pulse offers a sleek and discreet design, perfect for those who want to prioritize self-defense without drawing unnecessary attention. Its compact size and ergonomic grip make it...
Built-in Backup Sight Complementing a Laser Sight and LED Light: With a built-in laser sight and LED light, the TASER Pulse provides added accuracy and visibility, even in low-light conditions. The...
Multi-use: Suited for both self-defense and security professionals. It is the same personal defense equipment used and trusted by law enforcement and security agencies around the world.
Bestseller No. 2
TASER Replacement Battery Pack for the TASER Pulse
A durable lithium power magazine which powers the TASER Pulse. Note that this battery pack is not compatible with the Pulse+
Good for 50 firings with a 30 second runtime on each firing
Easy to install
Non-rechargeable
Proudly made in the USA
Bestseller No. 3
CWC Holsters Fits TASER PULSE/TASER PULSE + OWB - Outside The Waistband - Right or Left-Hand Grip - Various Color Options -
This custom pistol holster for SA Hellcat RDP/OSP W/ Olight BALDR Mini crafted with full protective sweat guard is ideal for personal security, range days, and daily conceal carry.
A secure belt clip helps tuck away our holsters for pistols inside your waistband to improve firearm safety and security when you're on the move.
These concealment holsters come in options of right or left-handed grips to provide faster firearm accessibility with adjustable ride height and cant for tactical responsiveness.
We offer enhanced customization with cuts for RMR / red dot sights, threaded barrel cuts, and compensator cuts to provide more reliable and effective firearm support.
Made right here in the USA our conceal carry holsters for men and women are backed by a lifetime warranty to ensure high-quality reliability you can trust.
Bestseller No. 4
TASER 2 Pack Replacement Live Cartridges for The Pulse, Bolt and C2
Compatible with the TASER Pulse +, Pulse, Bolt and C2
Black cartridges that contain a primer, gas capsule, probes, serialized tags and conductive wires
The TASER replacement cartridges have a 15 foot range
Knock an attacker out of commission and get away safely from up to 15 feet away
Proudly made in the USA
Which option is right for me?
Both tasers and stun guns have their own sets of pros and cons. Here's a checklist to help you decide which one is the best choice for you.
You should get a stun gun if …
You are just starting out with self defense and want a weapon that is easy to use and is affordable.

You need a weapon that is small and lightweight that you can carry in a pocket or a bag.

You want to be able to disarm an attacker at close range.

You want a powerful, high voltage weapon.

You do not want to deal with the hassle of passing a background check or registering your weapon.

You want a variety of choices when shopping for your weapon in terms of style, color, and shape.
You should get a taser if …
You are most concerned with being able to take out a potential assailant from far away.

You have good aim and feel comfortable using a larger weapon.

You want a weapon that can be used at both long and short range.

You are willing to invest in a more expensive, high quality weapon that will last you for years.

You don't mind or are even interested in carrying your self defense weapon visibly to ward off potential attackers before they even approach.

You are a member of law enforcement or another defense organization.
When shopping for your taser or stun gun, there are a few things to keep in mind. Although you can order these products online, it helps to go see them in person and talk to an expert before making your final decision.
A good salesperson will be able to explain to you exactly how each product works in person, and they can talk to you about your needs and what you expect out of a product to help you find the right fit. They can also train you on how to use the product.
Additionally, make sure to inspect the product and discuss all of its specs before making the purchase. Regardless of which product you buy, you want to ensure that you are investing in a weapon that will last you for years to come and not have any problems.
Although it may seem like a good idea, a cheap weapon that falls apart easily will actually cause you many problems in the long run.
With a self-defense weapon, consistency is key. The last thing you want is for your weapon to fall apart on you and not work when it is supposed to, or worse, accidentally harm someone.
If you are concerned about self-defense, both stun guns and tasers can go a long way towards helping you feel safe and protected. They are a helpful investment for people of many backgrounds, because they are easy to use and do not cause permanent damage to the attacker.
Watch A Taser Gun Fired in Slow Motion