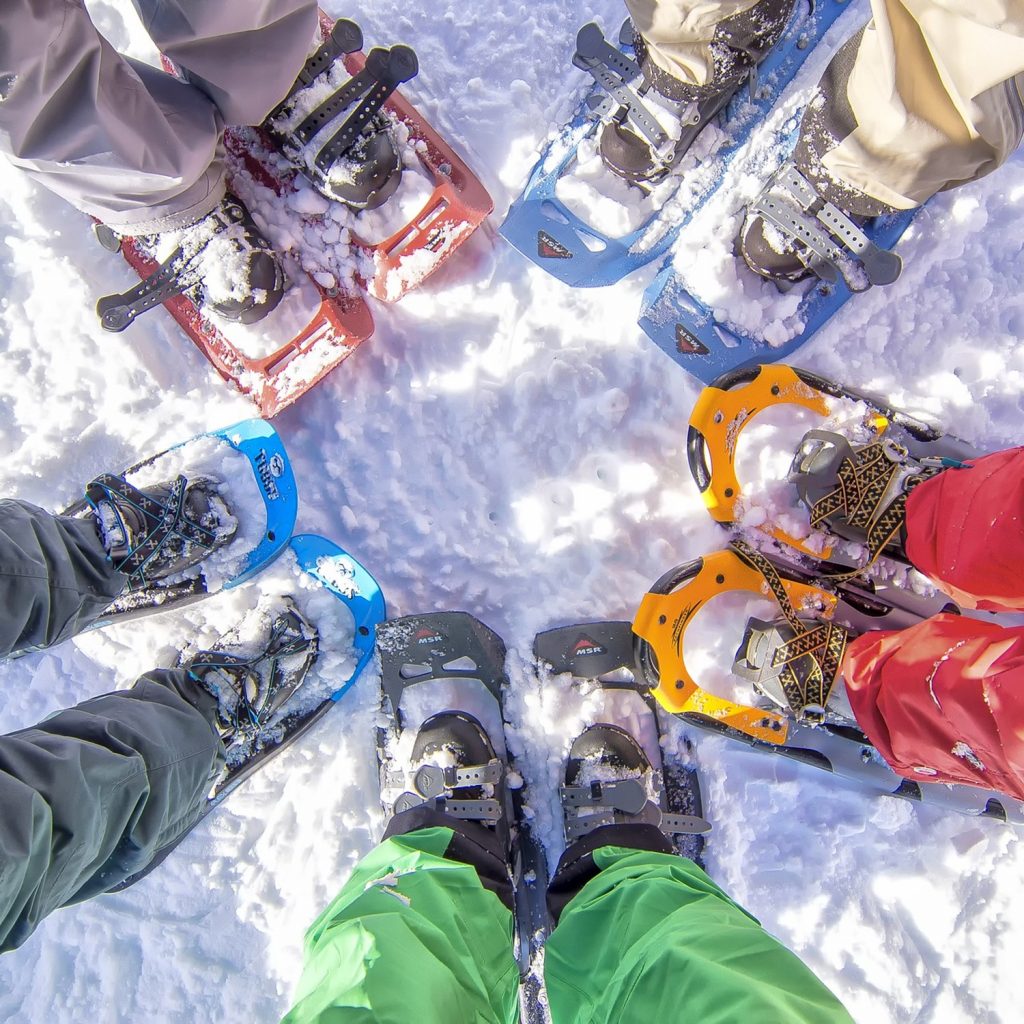 Photo by carpediemquebec2015 https://pixabay.com/users/carpediemquebec2015-14727458/ on Pixabay https://pixabay.com/photos/raquette-hiver-winter-snowshoes-4716791/
‍
It snows in the winter, and for avid hikers like us, that means snowshoe season has arrived! Snowshoes are perfect for exploring snowy trails (maybe summer biking trails) and help you cover more ground with less effort. This is a great way to get your kids outdoors in the winter. If you're new to snowshoeing, or perhaps haven't done it since you were a kid, this guide will get you started. Read on to learn about different types of snowshoes, tips for selecting the right pair for your needs, and how to use them safely and effectively while hiking.
What is a snowshoe?
A snowshoe is a sturdy footwear that is designed to fit on your feet like a pair of shoes. In the winter, snowshoes are equipped with special crampons that hook into the snow to help you walk safely and with less effort on snowy trails. Snowshoes are used for hiking and exploring during the winter months when there is snow on the ground. Most snowshoes are made out of a light and rigid material to prevent fatigue from carrying the added weight. Snowshoes usually weigh between 2 and 5 pounds, which is significantly less than a pair of hiking boots and is largely unnoticeable after a few minutes of use. Snowshoes are easy to use and come in many different shapes and sizes. This makes it easy for almost anyone to use them, regardless of your mobility or strength level.
Types of Snowshoes
– Backcountry snowshoes are designed for exploring off-trail terrain in remote areas. They are typically lightweight and compact and have a good balance of traction and flotation.
– Fitness snowshoes (or all-mountain snowshoes) are designed for moderate off-trail use. They are usually a bit more durable than backcountry models and provide good traction, flotation, and are also fairly lightweight.
– Trail snowshoes are designed for frequent on-trail use and moderate off-trail terrain. They are typically more durable and feature higher traction than fitness models and offer good flotation.
– Traditional snowshoes are wider than other models, which makes them ideal for deep powder and heavy snow. They are typically the heaviest snowshoes available and are best used on on-trail terrain.
Here are some of the Best Selling Snowshoes:
Bestseller No. 1
G2 25 Inches Orange Light Weight Snowshoes for Women Men Youth, Set with Trekking Poles, Tote Bag, Special EVA Padded Ratchet Binding, Heel Lift, Toe Box
❄【STRONG MATERIAL】- G2 snowshoes used high quality & lightweight HDPE as its deck to provide a nice floatage in snowfield so that users can save their energy and go further.
❄【PROFESSIONALLY DESIGNED】-Fast ratchet binding is designed for low-temperature environment. It can be fastened easily by lift the one-pull buckle with just one-finger even when your hands are...
❄【IMPROVED CRAMPONS】- This sharp crampons is made of high quality aluminum, which gives an excellent grip in snowfield or ice, keep you from dangerous.
❄【MORE COMFORTABLE】- We padded soft EVA foam inside of snowshoes to provide a warm and comfortable feeling, protect your feet during cold winter.
❄【SPECIAL STRUCTURE】- Flex pivot bar and heel lift makes users feel more natural no matter in flat or uphill, enable your to enjoy your winter hiking more.
Bestseller No. 2
WildHorn Outfitters Sawtooth Snowshoes for Women, Mens, and Youth. Fully Adjustable Snowshoes Bindings, Lightweight Material, Hard Pack Grip Teeth
NEW AND IMPROVED - You spoke, we listened. Based on feedback from our 2018 model, we made adjustments to our Sawtooth Snowshoes; We reinforced the ratchet binding with heavy duty spring-loaded clips...
LIGHT WEIGHT MATERIALS - This snowshoe model is designed with a durable, aluminum frame that allows for optimal snow flotation performance in deep powder;Sawtooths are constructed with high-grade,...
HARD PACK GRIP TEETH - Snowshoeing requires traction; Each shoe has two sets of reinforced, heavy duty crampons that ensure traction on icy, hard surfaces; The pressure from your feet let the crampon...
STEEP INCLINE HEEL LIFT RISER - This unique system provides traction and balance while climbing hills; The heel lift riser comes up under your heel to support you when you need it and lays flat when...
Bestseller No. 3
MSR Evo Trail Snowshoes, 22 Inch Pair, Midnight
Steel crampons and traction rails provide a reliable traction and lasting grip
Injection-molded UniBody deck gives just the right amount of flex and is incredibly durable
Paraglide binding stretch mesh hugs feet securely and is compatible with nearly any footwear, from light hikers to snowboard boots
Glove-friendly binding straps and buckle tabs are easy to use and make getting in and out quick and simple
Attachment points for 6-inch modular flotation tails (sold separately) which provide on-demand flotation for deep powder or when carrying heavier loads
Bestseller No. 4
Retrospec Drifter Snowshoe for Men & Women - Aluminum Frames & a Double-Rachet Binding System - Lightweight All Terrain Snow Shoes with Heel Lifters & Pivot System - 21" Olive
ENGINEERED FOR PRIME WINTERTIME PERFORMANCE: The Drifter Snowshoe has a tough polyethylene (HDPE) decks for maximum support on the snow so you can feel confident on all your snowshoeing adventures.
DOUBLE-RATCHET BINDING: Fast, secure double-ratchet binding system allows you to easily strap in and out while on the trail.
LIGHTWEIGHT DURABILITY: Lightweight 6061-T6 alloy frames with tough polyethylene decks provide superior support on the snow and keep your steps light and controlled.
TRACTION & STABILITY: The heel lifters and full-floating pivot system increases traction and reduces fatigue while exploring steep terrain.
INCLUDED: Drifter snowshoes and mesh vented carrying bag. Great for storing your snowshoes in the summer months. Available in 21"/80-120lbs, 25"/110-160lbs, & 30"/160-210lbs.
Bestseller No. 5
YITGOG 3-in-1 Snowshoes for Women Men Youth Kids, Lightweight Aluminum Alloy Snow Shoes with Trekking Poles and Carrying Bag Easy to Wear, Size 21''/25''/30''
🎿【High Quality Performance】YITGOG snowshoes makes even familiar hikes different and new. Aluminum Alloy Traction frames deliver edge-to-edge grip and durable steel crampons provide serious...
🎿【Easy to Wear】QuickLock Bindings delivers the ultimate in secure, full foot fit, ensure comfort and security. The speed dial design can be operated with one hand and allows for fast, on-the-go...
🎿【Stability & Comfortable】Heel crampon penetrates ice and hard-packed snow while still being able to scoop underfoot when walking in softer snow conditions. Heel lift can be engaged to lessen...
🎿【Lightweight & Durable】Snowshoes features an advanced Aluminum T6063 outer tube with an anodized finish and HD-PE Decking offers long-lasting durability. Stability and flotation across varied...
🎿【Package Included】Includes a pair of snowshoes, a pair of trekking poles with attachments and a heavy-duty carrying bag. The high-quality aluminum trekking poles make your trip much more...
How to Select the Right Snowshoe for You
The main factors to consider when selecting snowshoes are the amount of use (frequent/occasional) and terrain you'll be using them in (off-trail/on-trail), as this will help you determine which features are most important for you. Frequency of use – If you plan to use your snowshoes frequently throughout the winter, it may be worth spending a little extra money on a high-quality pair. Cheaper snowshoes are often not made to last for multiple seasons and will sometimes break during your first trip out. Terrain – If you're planning to use your snowshoes on off-trail terrain, you will want to select a pair with good traction features like crampons or wide, aggressive teeth. If you're using your snowshoes on on-trail terrain, you will want to opt for a model with good flotation, like a lightweight model. You can also check out our women's hunting boots guide or our best hunting boots for cold weather. Or maybe use them to go
Learning to Walk with Snowshoes
Once you've selected the perfect pair of snowshoes, you're ready to head outside and start hiking. The first thing you'll want to do is fit your snowshoes properly. Make sure that the toe of the shoe is about an inch behind the toe of your boot, and that the back of the shoe is touching your heel. Next, practice walking in your snowshoes, taking shorter and more deliberate strides than normal. This will help you maintain your balance, as snowshoes are very wide. Once you are comfortable walking with your snowshoes, you can start moving a little faster and later try some steeper hills.
Advanced Techniques for Using Snowshoes
– Skinning – A great way to explore off-trail terrain with your snowshoes is to "skin" up the trail. To skin, simply attach a piece of climbing skins to the bottom of each shoe and walk up the trail as you normally would. This will help you cover more ground and get a great workout in the process. – Traction Steps – If you find yourself hiking on a trail covered in ice or snow and don't have climbing skins on your shoes, you can use a technique called "traction steps." Simply place the toe of your snowshoe into the ground, lift your foot up, and then stomp down on the same spot with the other foot. You can also do this by putting both feet into one snowshoe.
Tips for Safe and Happy Hiking with Snowshoes
– Stay Warm – When working outside in the winter, it's important to stay warm and dry. Make sure you have the proper clothing on, including a waterproof jacket and warm, water-resistant boots.
– Stay Hydrated – It's important to stay hydrated, especially during the winter when you're moving more and generating more body heat. Bring a water bottle with you and make sure you take frequent sips to stay hydrated and energized.
– Be Mindful of Others – When hiking during the winter, you'll want to be mindful of other hikers, especially those who may not be prepared. Make sure you're visible and make loud noises when you're hiking to make sure people can see you.
Conclusion
Snowshoes are a great way to explore during the winter months. They are easy to use and come in many different shapes and sizes. Snowshoes are a great way to get a cardiovascular workout in while enjoying the beauty of the winter landscape. These also can make a great gift for someone who like to hike or walk outdoors. If you're new to snowshoeing, now is the perfect time to get outside and enjoy the winter landscapes. With the right pair of snowshoes, you'll be able to travel on packed and unpacked trails with ease and enjoy an active way to stay warm in the winter.