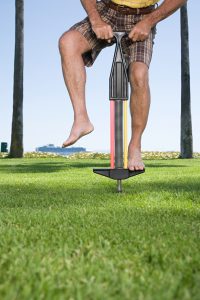 Pogo sticks are awesome. They're fun and challenging, and give you that feeling of triumph when you master the art of staying on them for longer. That said, they can be pretty scary too if you've never used one before. Most people associate pogo sticks with kids because that is who predominantly uses them. But there are plenty of adults out there who love the thrill of pogoing. If this sounds like something that interests you, read on to learn more about adult pogo sticks and how to use them properly. Pogo sticks are great for getting you and your kids outdoors.
What's the best pogo stick on the market?
The best pogo stick for adults will be the one that meets all of your needs. This means you'll likely need to try out a few different models to find the best fit for you. Some of the most popular models include the: – Mega Pogo – This model is great for adults in that it has a foot pump, making it much easier to get up and running. It also has an adjustable spring which allows you to adjust the amount of bounce to suit your skill level. – Power Pogo – This pogo stick is an all-around great choice for beginners as well as more experienced pogoers. It features an adjustable spring, which can be changed to suit your skill level. It also comes with a repair kit, in case you have any issues with it while pogoing. – Pogo XLR – This pogo stick is a great choice for those who want a little more stability when pogoing. It is a little heavier than standard pogo sticks, but offers great stability and is great for those who like to jump higher. – Pogo Jumper – This pogo stick is a little different from the others on the list in that it offers an assisted pogoing experience for those who are less experienced. The pogo jumper has a spring-loaded leg cradle to help you get started on pogoing. It also has a safety handle to help you stay in control. However, here is a great list to start with:
Adult Pogo Stick List
How to use an adult pogo stick
– Before you begin to use your pogo stick, make sure you read the instructions provided by the manufacturer to make sure you're pogoing safely. Generally, you'll want to wear a helmet and knee pads when pogoing. You may also want to wear gloves, as you'll be holding a metal handle while on your pogo stick. – With the pogo stick on a level surface, place one foot at the top of the pogo stick and use your other foot to press against the ground and hop up and down. As you gain proficiency, you can stop using the foot against the ground and just use your leg strength to maintain your balance. – Your pogo stick should come with a handle that you can use, or you can use a tennis or basketball handle to maintain control while pogoing. – If you're new to pogoing, you may want to start off with a standard pogo stick to gain some confidence and build up your strength. – You can also use a pogo rebounder, which is a great way to learn how to pogo without the risk of falling and getting hurt.
Things to know before buying an adult pogo stick
– The first thing you should do when buying a pogo stick is to make sure you get the right size. Pogo sticks are available in a variety of different sizes, and you want to make sure you get one that fits you properly. If it is too small, you may experience back pain while pogoing, while if it is too big, you may find it unstable and harder to control. – Next, you want to make sure your pogo stick is safe. You want to check for any manufacturer defects, such as cracks or broken parts. You also want to make sure the pogo stick is the right weight for your strength and skill level. – Finally, you want to make sure your pogo stick is comfortable. You don't want to have an uncomfortable pogo stick that makes it hard to pogo.
Using a pogo rebounder
– A pogo rebounder is a great way to build your strength and confidence before jumping onto a pogo stick. It is a spring-loaded device that allows you to pogo with the assistance of a spring. – Pogoing on a rebounder is a great way to practice and get a feel for pogoing, while reducing your risk of falling. – A pogo rebounder is a great way to start pogoing if you're new to it. It is also a great way to maintain your pogoing skills if you haven't pogoed in a while.
Pogo jumping techniques for adults
– If you're new to pogoing, you may want to start with the basic pogoing technique. This is a great way to get the hang of things and gain some confidence in your skills. The basic pogoing technique involves standing with your knees slightly bent and holding the handle of your pogo stick with both hands. The next technique is the bunny hop, which is similar to the basic hop, but you bounce higher and your feet come farther off the ground. The pogo scissor involves crisscrossing your legs while pogoing and hopping with one leg at a time. The last technique is the pogo sprint, which is a more advanced technique that involves keeping your feet on the pogo stick at all times.
FAQ
There are many benefits to pogoing, including the fact that it is a fun way to stay active. These also make a great gift for people who like to be outdoors. It is also a great cardio workout, as pogoing uses your leg muscles like running does. It is a great way to build upper body strength as well. It is also a great way to relieve stress. Does age matter when it comes to using a pogo stick? Most manufacturers recommend that people be at least 12 years old to use an adult pogo stick, but younger kids can use them with adult supervision. It is important that children are tall enough and have the strength needed to use a pogo stick safe.