The 1911 pistol is America's handgun. In fact, it has probably surpassed the classic "Peacemaker" as the quintessential American pistol.  
The best 1911 pistols have served in military service for over a century, the brainchild of the great John Moses Browning has turned up in conflicts great and small, and has become favored by armed citizens, law enforcement and basically everyone who needs a hard-hitting, reliable and straight shooting pistol.
Since it's introduction, the 1911 has had a number of refinements and modifications, some good, some bad and some simply different. It is well known that a tightly built 1911 can be extremely accurate, but also extremely finicky and unreliable until after it reaches a particular break-in point.
On the other end of the spectrum, a 1911 built to military spec and somewhat loose is still an accurate enough gun for combat and self-defense shooting, and there are all manner of other guns in between.
It is only natural that in the span of a century there would be some major changes done to the design as well. We now can purchase 1911's in different frame lengths with shorter or even longer barrels than the original design, as well as a number of different calibers. There are now commonly .380, 9mm, and even .22 rimfire 1911's on the market.
Another major change in the 1911 world is the addition of a Picatinny rail to attach common accessories like lights or lasers to the gun.
While purists deride this change, it is a very useful addition, and unless you are a rank traditionalist, there is no reason to spurn a rail-equipped 1911 if that is what you need. Aside from dimensional changes and rails, the other great advancement in the 1911 world has been sights.
As originally designed, the 1911 like basically every other pistol of the time had small, mediocre sights. While functional, they are certainly nothing to write home about, and it didn't take long for people to start upgrading sights.
Today's 21st Century 1911's feature everything from standard military style sights to specialized target sights, to state of the art night sights and almost any other imaginable sort of sight, and even optical mounts.
Today the 1911 is a workhorse pistol and even a status symbol in some circles. It is a venerable pistol heading into a second century of honest service, and we found five of the very best ones, ranging from the simple to the high end for your consideration.
Best 1911 Pistols

While not a true replica of a GI style 1911, this is a pretty solid "GI Style" 1911, and in that regards certainly one of the best.
Designed to mimic a standard 1911A1 service pistol, Rock Island Armory has managed to bring one of the most affordable 1911's to market while still offering a fine quality product. Made in the Philippines by ARMSCOR using state of the art CNC machines and advanced castings, this is an excellent entry level 1911, or just the ticket for somebody who wants that classic 1911 look and feel, without the classic 1911 sticker shock.
Featuring a gray parkerized finish, hardwood grips, and of course chambered in .45 ACP, the Rock Island GI Model is one of the quiet bargains of the 1911 world. When I bought mine, it shot with laser-like accuracy right out of the box with ball or hollowpoint ammo.
I really do love these 1911's, and other than changing the grips to something checkered, I think they are about perfect in every way. If you are looking for your first 1911, or just a dependable glove box gun, this is it right here folks.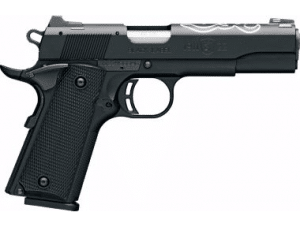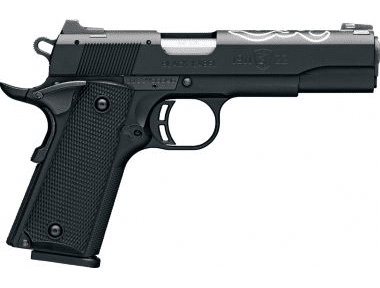 Rimfire pistols are great for target practice, general plinking or when built like their centerfire cousins for training. The Browning 1911 is good for all of these. With several models to choose from, you can get a 1911 styled pistol in one of several popular configurations that mimic common 1911's in size, function and feel.
Built with a special target barrel, and lightweight aluminum parts, these pistols have the look, feel and quality of high end .45's, but with the affordable price that comes with buying and shooting a .22.
If you are looking for a good training 1911, or simply enjoy the platform so much you want your rimfire plinker to be a 1911 too, this is the gun you've been looking for. One of the best things about the Browning 1911 is that it does come in so many different configurations.
Even if you don't want a 1911 substitute for training, these are fantastic hunting and target shooting guns and come in configurations suitable for any end use you might have for a top quality .22 pistol.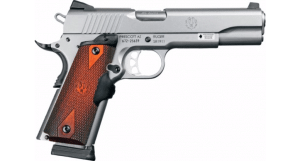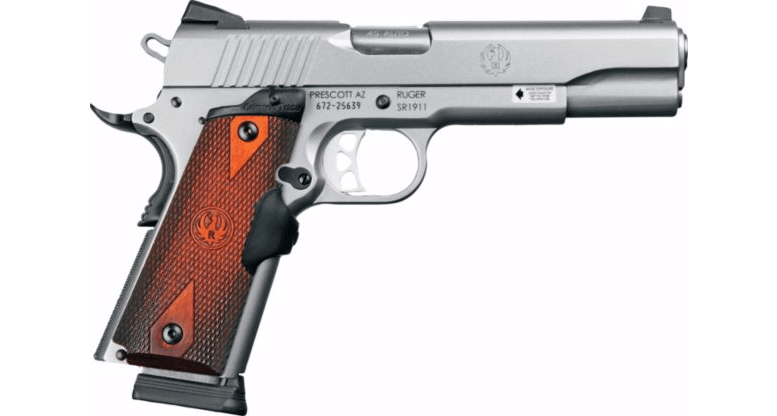 Ruger was late to the 1911 game, but boy did they make up for it. Once upon a time things like an adjustable trigger, extended mag release, beavertail safety, enlarged ejection port, Novak sights, and more were all the features of a fine custom gun.
Now they are all stock features on a modestly priced factory gun that is well within the reach of most any shooter. Add in precision stainless steel construction and you have a marvel of American manufacturing that delivers a custom quality gun and blue collar prices.
Honestly if I could stop dabbling in a couple of other things long enough to buy one of these gems, it would probably become my every day carry.
There is not enough room to say all the good things that should be said about the Ruger 1911 in this article, except to encourage you to pick one up and try it out for yourself. This is Browning's baby meets Ruger's genius for manufacturing and the American shooting public is the ultimate winner. Get one, you'll love it.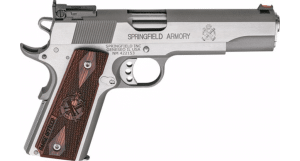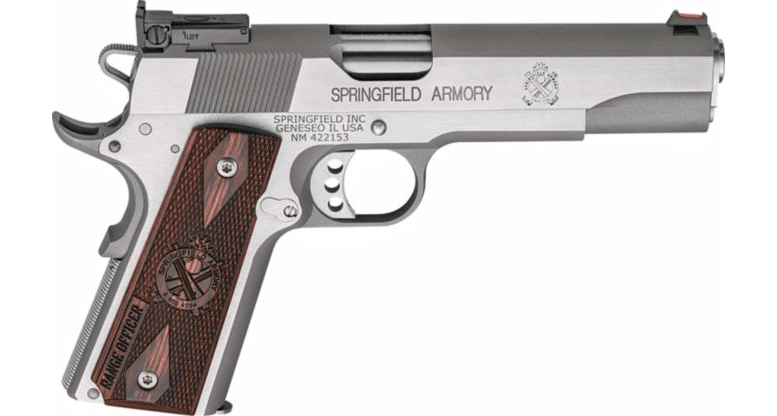 The EMP 1911A1 is one of a unique breed of tiny 1911's. With just a 3" barrel and a 9 round magazine, this little 9mm powerhouse is small in everything but power.
If you value the familiar and dependable 1911 design and controls, but want something compact that can still shoot a self defense capable round, the EMP or Enhanced Micro Pistol is all that the name promises.
Built with snag free tritium three dot sights for day or night use, this stainless steel wonder comes with a match grade barrel, full length guide rod and three magazines, and a great many other custom features. This is a serious fighting pistol for those who require such things in a small form.
Highly suitable for concealed carry or perhaps the ultimate bedside gun, it is hard to beat the combination of a compact 1911 chambered in the hard hitting and easy to handle 9mm round.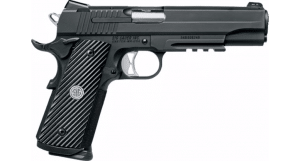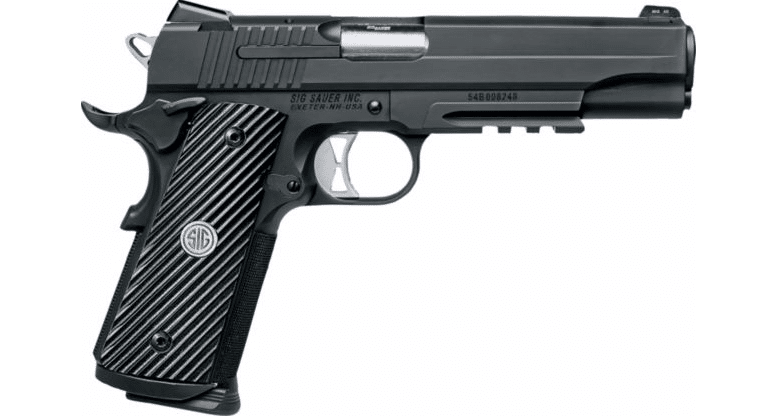 It is no wonder Sig has managed to bring a top quality 1911 to market. Long famous for making only the best handguns, they bring old world craftsmanship to this classic American design.
Fitted with a Picatinny rail for attaching common accessories, night sights, checkered magwell, comfortable polymer grips, extended baseplate magazines, and match quality construction for unparalleled accuracy, you would be hard pressed to find a better out of the box fighting handgun.
Oddly enough top tier 1911's fitted with a rail are not as common as they might be. I blame this on reluctance of the market to accept such a classic design with such an even trivial modification to the aesthetics of the gun.
Certainly one of the best 1911's, and while expensive, this is the sort of handgun you buy for a lifetime of use, or because your life may depend on it. Ideal for law enforcement and security professionals, this is also an ideal 1911 for the discerning armed citizen.
Picking the Best 1911 Pistols
In one sense, picking the best 1911 is like picking the best cup of coffee. Finding consensus is difficult accept that everyone can agree on the basic underlying idea. It can be hard to find people to even agree on the correct way of carrying a 1911, let alone what makes the best one.
We can work from a few basic concepts though. Disregarding the idea of collectible 1911's (after all, who wouldn't love a real WWI or WWII issued 1911? Sadly my bank account won't support such a thing at this moment, but a man can dream, right?)
There can be three basic ways of looking at the best 1911. Target, concealed carry or combat. Because the 1911 can be slightly unreliable when built as a tight target gun, it is rare to use such guns for any purpose outside the range.
Usually such target 1911's require a break in period of a few hundred rounds for all parts to wear together equally and function as a reliable whole. Acceptable for punching paper and little else. These will feature more expensive precision parts, and usually special sights. While expensive, a target 1911 is as American as apple pie and baseball.
Without a doubt, concealed carry is one of the biggest 1911 markets. The unique size and shape of the 1911 lend it well to concealment. Such pistols will often have night sights, and will have sharp corners rounded to prevent snagging on clothing and jackets when drawing.
And of course some will be compact in size and possible chambered in smaller calibers than the traditional .45. At times too open carry may be desired, and the 1911 lends itself beautifully to that role, and when a top shelf 1911 is paired with a quality leather holster one has both a defensive sidearm and something of a status symbol that speaks volumes about the owner.
A combat 1911 is really one that is built as a highly functional weapon. Really it is something of a marketing buzzword and catchphrase but one that is understood to mean a particular class of pistol. It will invariably have specialized sights, perhaps night sights, or fiber optics or a combination thereof.
It will probably have a full length guide rod, and an extended beavertail safety for greater operator comfort. Too, there may be unique hammers and skeltonized triggers to make for a lighter gun. But the intent is clear, this is a handgun built for fighting. In that sense it overlaps with the concealed carry market, but is primarily geared for the armed professional market or those who appreciate such guns.
And of course too, there is a steady demand for rimfire 1911's, either through a conversion kit or a dedicated rimfire unit. These aid in practice, marksmanship and are also good old fashioned fun!
Choosing the best 1911 pistols, can be difficult, even if you know what you are after. There are after all a great many models and many variations within those models. It is an easy gun to customize, even from the factory, and the current offerings from gun makers show that.
This also means though, that there is a thriving aftermarket for parts and upgrades, allowing you to reinvent your chosen gun at a later date if you so desire.
No matter which 1911 you choose, you are making an investment in a time honored weapon platform that has defied the ravages of time like few mechanical objects in history.
If anything, the 1911 has entered a new golden age and is more accessible, more adaptable and more widely used than ever before. There is a 1911 for almost everybody from the budget minded to those who want the absolute latest and best in terms of refinements and upgrades.
Choosing the best 1911 is a highly personal choice and one to be undertaken with great thought and care. Hopefully some of our suggestions will help you make that choice, and if not, you've at least figured out what you don't want! Go find a 1911 and join the ranks of millions of clever shooters around the world who have learned the joys of this great handgun!