Choosing between RTIC vs Yeti isn't easy. We get a lot of questions about both brands, their products and which is the better option. We're going to compare RTIC and Yeti Coolers and break it down for you.
For the purpose of this article, we will primarily focus on the hard-sided roto-molded coolers which are the most commonly asked and talked about. There are of course soft-sided coolers offered by both companies.
Our goal is to find out which offer the best coolers for the money, which retain ice better and ultimately which one is better?
A Closer Look At The Companies
About RTIC
RTIC Coolers LLC (now RTIC Outdoors) is based out of Cypress and was established in 2014 by twin brothers John and Jim Jacobsen. Their original slogan was "Like a YETI but half the price". Which was changed to:
Over Built – Not Over Priced
Which some may say is still a direct poke at Yeti, since they are known for their higher pricing. Which is interesting, especially since Yeti filed a lawsuit against RTIC which was finally settled and saw RTIC have to redesign some of its product lines.
About Yeti
Yeti Coolers LLC is an Austin, TX-based company that has been around since 2006. Interesting Yeti was also founded by two brothers Ryan and Roy Seiders, 2 avid outdoorsmen who were unsatisfied with the current offering of coolers on the market and decided to make their own.
Wildly Stronger, Keeps Ice Longer
We will review this a little later in the RTIC vs YETI Ice Retention section.
RTIC vs YETI – The Good & The Bad
When it comes to roto-molded coolers both brands have some good and some bad points, many of which are not complete deal-breakers, could swing your decision either way.
Which is why I thought it's important to include them here side-by-side so that you can judge for yourself based on what's important to you.
RTIC – The Good
Ice Retention – Many owners state that the RTIC's ability to retain ice extends even beyond the claims made by RTIC, some by a few days.
Build Quality – These hard-sided coolers are robust and extremely well made, offering superior cooling capabilities and value for money.
Price – You'd be hard pressed to find a similar cooler for the same price as an RTIC cooler/case.
RTIC – The Bad
Legal Problems – As I mentioned earlier, RTIC was involved in some legal battles with Yeti but has since become its main competitor. Many, including myself, see this as a good thing and a 'shake-up' to the industry that was overdue.
Short Warranty Period – Just a 1-year warranty period covered by RTIC, which falls short of the 5-years offered by Yeti
Yeti – The Good
Customer Service – Having been around since 2006, YETI has perfected their customer services and have a great reputation with their retailers.
Warranty Period – Yeti has a 5-year warranty period which covers all manufacturing defects as long as you are the original owner of the product.
Yeti – The Bad
Prices – You will pay around more for a Yeti cooler than with an RTIC, which can be the deciding factor for many.
Ice Retention – It was hard to place this as a negative, as Yeti have extremely good ice retention…just not as good as the RTIC coolers.
RTIC Cooler vs Yeti Cooler Product Line
Both brands product lines closely mimic one another, which makes our comparisons easier since we will (in most cases) be comparing like for like.
The interesting thing is, it can be hard to understand exactly what you're getting since the sizes provided on the model numbers (E.g Tundra 65) don't mean that is the quart size you'll be getting.
For example, the Yeti 65 is in fact around 61 quarts, which means the 'sizing' the name indicates isn't actually what you're getting. We will touch more on this further on in the article.
RTIC
Much like Yeti, RTIC has a wide range of sizes and more recently have expanded their line of products to include more larger-sized coolers. This makes them pretty much comparable on a like-for-like basis.
Yeti
There are several Yeti cooler sizes on offer, each providing a different capacity for ice and cans, etc. What's important is not to mistake their names for the quart size, since all Yeti Tundra models are slightly less than you would think…which doesn't make things easier but the chart below should help.
Let's look at 3 of the most popular sizes side-by-side to see how they compare.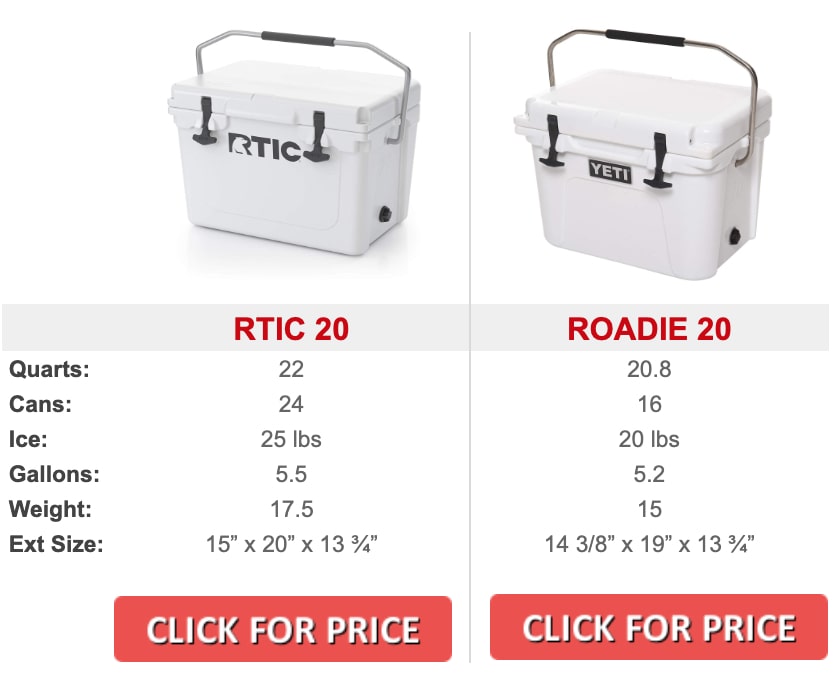 Starting with the RTIC 20 vs the Yeti Roadie 20, as you can see they quart size is just 1.2 quarts difference, but that equals around an 8 can capacity more on the RTIC.
The RTIC can also as a result of the slightly larger size hold 5-lbs more ice but does come in at 2.5 lbs heavier, which for a cooler design for shorter day trips could make a difference depending on how far you plan on carrying it.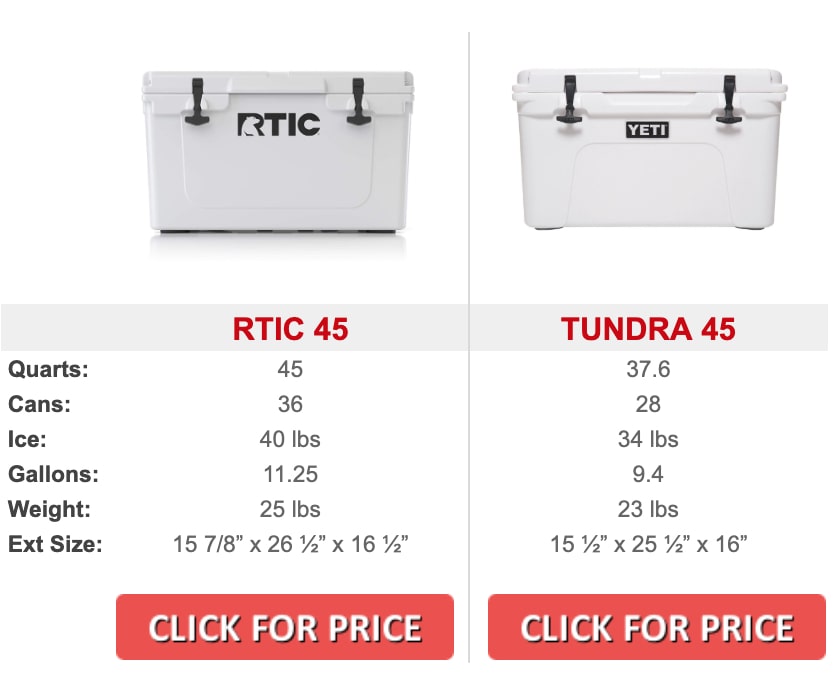 Next up we have the mid-sized RTIC 45 and YETI Tundra 45, again we can see that the "45" on the Yeti model doesn't equal 45-quarts but actually 37.6, making it 7-quarts smaller than the RTIC.
There isn't much difference in the weigh of these two but against with an 8-can capacity difference that's a few cool cold ones you could be missing out on with the YETI.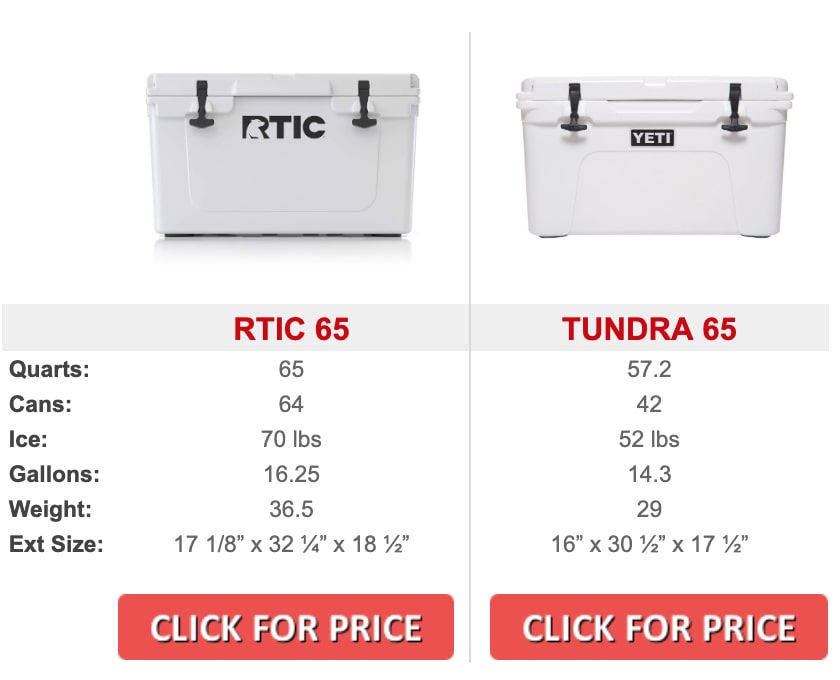 Finally, we have what is arguably the most popular size in the Roto Molded cooler range, the RTIC 65 vs Yeti Tundra 65, and this is where the size differences really start to show.
With the RTIC you can carry 22-cans MORE than with the Yeti thanks to it's larger dimensions and actual 65-quart size when compared to the 57-quarts of the Yeti.
However, the RTIC 65 does weigh in at around 7.5 lbs heavier than it's competitor which is not to be taken lightly.
For me, the icing on the cake is the ic capacity of both of these beasts. With the RTIC 65 winning by a landslide, holding almost 35% more ice than the Tundra 65.
Yeti vs RTIC Cooler Ice Retention
There have been many tests on ice retention across the vast array of cooler brands, and when it comes to these two in question we have some interesting findings.
In almost all test we reviewed where testing was as even and accurate as possible, the RTIC outlasted the Yeti in ice retention.
Now I will point out here that the difference is minimal at best, they both track pretty evenly and by the end of the testing periods, there was a cupful or two of ice left in the YETI and perhaps double that in the RTIC.
Is that enough to make a difference on your outdoor adventures? Probably not, but it does mean you get more quarts for less money with the RTIC and slightly better ice retention.
Still, we already know that the RTIC is slightly larger in dimension to the Yeti, which of course allows for more ice.  (For example, the RTIC 65 can hold 13-pounds of ice MORE than the Yeti Tundra 65)
So it could be that these two juggernauts of the cool box industry are exactly the same when it comes to their cooling capabilities.
Yeti vs RTIC Cooler Build Quality
The first thing I will say on the build quality from these two brands is that they are VERY similar, with very few areas in which we can compare.
That said, there are a couple of small areas, that whilst maybe not being a deal-maker/breaker for you, could sway your decision either way.
Lid Catches/T Handles
We found on the RTIC, the black T handles/locking catches on the lid are very loose, which means that when the lid is raised, they have a tendency to follow gravity and drop down.
This becomes a problem when you then try to close the cooler lid and the handles are preventing you from doing so. So you then have to use two hands to move the handles slightly to allow the lid to fully close.
I know, it's a small thing, but when you have your hands full, perhaps you've grabbed a beer or two from the cooler, you don't want to have to put them down to adjust the handles and pick them back up again.
For me, this is more of a pain point, and you have to decide if the price difference negates this issue.
Bear Certification
If you're going to use your cooler when camping or hunting in bear country, then the Yeti has the edge here as they have the bear certification.
This means that their products have gone through the required tests and have been certified as Bear safe. Unlike RTIC which doesn't have this certification.
For fishermen and those looking to use their cooler on a boat, then this won't pose an issue, but for hunters and for wilderness camping it could make a difference.
That's not to say the RTIC wouldn't pass this certification, I assume they don't have it simply to keep costs down for us, the end users.
Carry/Grab Handles
The carry handles on coolers make it that much easier to maneuver and lift on to your truck, into the trunk or onboard your boat, however, depending on how much you move/use your cooler, it may be good to know the differences these two brands have with their handles.
First up RTIC has foam handles, which personally I find more comfortable. The worry I have is the longevity and durability over time, especially if used in bad weather or near salt water etc, as the foam could erode much more quickly than the Yeti handles.
Yeti had hard plastic handles, which are not as comfortable to use but are built to last. So it's really down to personal preference on this one.
Yeti vs RTIC Cooler Price Comparison
This is where we find the biggest difference between these two brands, across their entire cooler range. However, the difference is not as big as it once was.
With the success RTIC and other cooler brands have seen upon entering the market and growing at a fast pace, it seems Yeti have reduced their pricing somewhat in order to be more competitive.
In combination, with RTIC coolers getting better, they have increased their prices too, and since you'll find all of the RTIC and Yeti models online these days, the price comparison side of this tug-o-war has gotten much closer indeed.
For example, the Yeti Tundra 65 would have cost you $400+ back in 2015-16, however, skip forward to today and you're looking at circa $350 for the same product.
In comparison, the RTIC 65 comes in around the $300-$320 range, so not much of a difference these days. The same holds true pretty much all the way down the product lines when comparing like for like.
RTIC Coolers vs Yeti – The Final Verdict
So it all comes down to this, who wins in the YETI vs RTIC face-off and is RTIC a good Yeti alternative?
In my opinion, the RTIC takes the gold medal in this one.
Not only will you save a bit cash by opting for an RTIC over a YETI, but you also get slightly better performance, equal durability and accurate quart sizing to boot.
Of course, it's not without its flaws as I have pointed out in this article, however, when the dust has settled I simply cannot look past the price difference and the glaring similarities between these two brands.
By paying more for the Yeti, are you really getting the same amount back in build quality and features? I'd have to say no, and suggest you keep the extra cash in your pocket or better yet buy the cans to store in your new RTIC cooler 🙂