Nearly everything you normally carry on your person can go in your wallet, which is why it's incredibly important to have a wallet that can handle anything; after all, your entire life is essentially inside it.
Every man needs a tactical wallet because it's stylish, practical, and durable. On top of that, a tactical wallet offers the perfect amount of space to carry your everyday necessities with ease. It has plenty of pockets and compartments that are designed to keep your cards, cash, and other items organized, safe, and secure. Plus, you can get great features such as RFID-blocking technology, water-resistant materials, and advanced locking mechanisms for extra protection. With a tactical wallet, you can enjoy the convenience and peace of mind of knowing that your items are secure, no matter where you go.
Best Tactical Wallet Comparison Chart 2023
[table id=12 responsive=collapse responsive_breakpoint=phone /]
There are a few important things to look for when purchasing a tactical wallet:
Material: This is perhaps the most important thing to take note of when purchasing a tactical wallet because it's what protects all of your items. How much protection you want will determine what material you should buy, as well as the cost of the wallet (better materials are more expensive, generally)
Size: Some wallets are bigger than others, and some are too big to fit in most people's pockets! The best tactical wallets stay on the smaller side, but still manage to pack in a lot of protection and cool features.
Weight: This comes down to personal preference; some people really hate heavy wallets, while the lightweight ones can concern people who are afraid of losing them easily.
Now that you know what to look for, here's our list of great tactical wallets; this list is by no means exhaustive, but can be used as a jumping off point to find the perfect wallet for you.
Budget Tactical Wallet: ($10-30)
These wallets are great for someone who's not quite sure if they want to invest in a more expensive wallet. The materials in this range aren't as great as those in the higher ranges, but they can still take a beating. Also, these wallets usually don't have as many features as more expensive ones.
1. Radix One Slim Wallet
Radix One Slim Wallet (White/Gray) - Minimalist Ultralight Thin Polycarbonate Money Clip
MINIMALIST - significantly thinner than traditional bifold wallets
ULTRALIGHT - weighs less than an ounce so your wallet never weighs you down or strains your back
EFFICIENT - comfortably and securely holds 4-10 cards.
DURABLE - strong polycarbonate and silicone parts that are built to last
PATENT-PROTECTED SLEEK DESIGN - store both cash and cards in an ultra slim profile.
Material: Polycarbonate
Dimensions: 3.5 x 0.5 x 2 inches
Weight: 0.3 ounces
Color: Black
This is a neat little wallet. The emphasis there is on the word "little", because it's quite the slim thing, at just half an inch thick. However, it can still hold up to 10 cards comfortably, assuming the cards are normally sized.
This is not a great wallet if you carry lots of cash, as it can get pretty cramped with too much in it. If you do need to carry some cash, just fold it into a credit-card sized shape, and it should be fine. The polycarbonate plating is certainly not the strongest material on the market, but it's certainly more durable than leather (the normal wallet material) and is very resistant to cracking.
Great news for people who often use card readers (for buses, garages, work, etc.); if you put the card that needs to be read on the top of the stack, you don't even need to take it out!
You can just lay the entire wallet on the reader, and it should work just fine.
2. ROCO Minimalist Aluminum Slim Wallet
ROCO Minimalist Aluminum Slim Wallet RFID Blocking Money, Black, Size Standard
IMPROVED VERSION ✔ With wider band to provide easy use of our unique minimal wallet
BLOCK THE THIEVES ✔ Thieves are becoming increasingly smarter in stealing personal information. With the ROCO MINIMALIST RFID Blocking Money Clip, keep your personal information contained within...
SUPREME QUALITY ✔ ROCO is committed to designing quality products. It's for this reason the ROCO MINIMALIST wallet was designed to be ultra slim crafted with a high grade aluminum. Crafted with a...
ULTRA SLIM ✔ ROCO's engineers desired to create a minimalist wallet which would be perfect for business cards, credit cards, driver's license, and so much more! It's elegant, compact design...
PREMIER CRAFTSMANSHIP ✔ ROCO pursued an obsessive attention to detail & our wallets are made from top industry standard aluminium metal. Each individual piece is uniquely crafted for superior...
Material: Aluminum
Dimensions: 3 x 1.2 x 0.5 inches
Weight: 1.6 ounces
Color: Metallic Black
This wallet is also quite slim, but made out of aluminum, guaranteeing an extra level of protection for your cards. The aluminum is in separate 2 pieces, with holes in each piece that allow cards to be taken out with ease.
Both pieces are held together with a flexible silicone band, which also aids with the retrieval of your cards. One of the coolest features of this wallet is the RFID protection. RFID stands for Radio Frequency Identification Denoting, which is a technology that thieves can use to steal your personal information, without even touching your wallet!
With this wallet, though, there's no need to worry, as all your cards will be sealed up within the RFID resistant surface. This wallet can comfortably hold up to 20 cards, but it's best to keep it below 15, especially if you want to carry a few bills along with you.
You'll have to slide out a lot of the cards to get to a particular one, which can take some getting used to. It's recommended to stick your most frequently used cards on the top or bottom; that way, you won't have to dig them out. However, if you are looking for an alumminum tactical wallet that can stand up to some serious abuse, this slim tactical wallet is for you.
Mid-Range Tactical Wallet ($30-60)
These wallets are tougher than those in the budget range and generally have more features. Also, the designs in this range are much more creative, which leads to wallets that look great and work great.
3. Machine Era Ti5 Slim Wallet
Ti5 Slim Wallet | Titanium (Standard)
Holds up to 7 cards
Made from Corrision Proof Aerospace Grade Titanium
Built in Thumb Slot + Bottle Opener
RFID Protection + Ultra-light + Ultra-durable. Weighs Just 0.6oz
Designed and Manufactured in Virginia, USA
Material: Aluminum
Dimensions: 3.6 x 2.5 x 0.2 inches
Weight: 1.3 ounces
Color: Gunmetal
This is a truly tough wallet, thanks to its aerospace grade titanium makeup, a material that has one of the highest strength to weight ratios of any metal in the world. That means that this bad boy is incredibly hardy, but it won't feel like you're carrying a brick in your pocket.
It's also equipped with RFID protection, which will prevent your information from being stolen secretly. However, the downside to that protection is that it prevents cards from being read through the case, meaning you'll have to take a card out of the wallet every time it needs to be read.
Luckily though, the case has a thumb slot that allows cards in the back of the wallet to be easily slid out. Also, it works great as a bottle opener! This card comes in two sizes; standard, which holds 6 cards with a thickness of .315 inches, or slim, which holds 5 cards, and is an unbelievable 0.2 inches thick!
4. Trayvax Axis – First Edition – Tumbled Stainless
Material: Stainless Steel
Dimensions: 4.15 x 2.5 x .5 inches
Weight: Unknown
Color: Stainless
The Trayvax "Axis" series is a recent addition to the tactical wallet market, and the "Tumbled Stainless" is the first model that's been released. We're happy to say that Trayvax delivered on every level, with a tough and great looking wallet that's also incredibly practical.
Two stainless steel pieces are fastened together with a nylon hinge; one of the pieces is a cash clip while the other holds all of your cards. The cards themselves are held by an adjustable nylon strap, which also works as a key/coin holder.
The wallet is RFID protected, which should assuage your security fears while the wallet is in your pocket. If you have problems with this wallet for any reason, don't worry; Trayvax is renowned for their incredible customer service, and any problem you have, they'll be glad to help you with.
The wallet can fit up to 14 cards and 8 bills, but it's recommended that you stick to 10 cards to get the best feel from the wallet. The small amount of cash you can carry might seem annoying to some, but it can actually be a huge money saver if you're often tempted by impulse buys.
High-End Tactical Wallet ($60+)
Tactical wallets in this range will be made from the highest quality materials, have the coolest looks, and have the best features. If you really want to make an investment in a wallet that will last you the rest of your life, this is the range to look in.
5. Trayvax Element – Tobacco Brown (Black Edition)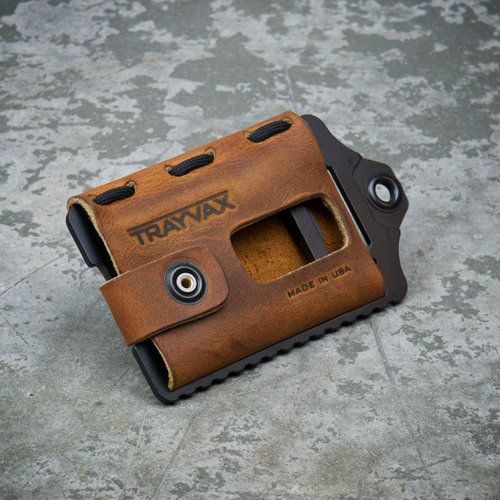 Material: Stainless Steel and Leather
Dimensions: 4.5 x 2.8 x .5 inches
Weight: Unknown
Color: Black and Tan
Most leather wallets won't offer you the protection that ones made of metal will. To keep the classic aesthetic of the leather wallet while providing tactical strength and protection, Trayvax unveiled the Element series, which manages to blend steel and leather into a masterpiece of a wallet.
The steel frame is covered in a baked-on black Cerakote finish, which keeps it from corroding. The leather is top-grain, and as it ages, it molds to the cards that you keep in your wallet, giving it a personal character that no other wallet will have.
The leather and steel are secured with a military-strength paracord that will hold the wallet together through thick or thin. Trayvax is known for their top quality customer service, so if you do have a problem with this wallet, you'll be helped in no time.
The wallet can hold up to 10 cards and 5 bills, which is perfect for most people. If you want to have a tough wallet that's an eye-catcher as well, this is a great one to get.