Today I want to talk about something really cool: a tactical dog harness.
Let's face it: a dog that can carry its own gear is pretty cool!
And they just make your dog look badass. As a dog lover, I have different kinds of dogs and I've learned the power of a good dog harness first-hand.
What Is a Tactical Dog Harness?
A tactical dog harness – also known as a tactical dog vest – keeps your furry hiking companion controllable, safe, and comfortable. It has a MOLLE – Modular Lightweight Load-carrying Equipment – system on both sides, to attach compatible pouches. That way, your dog carries its own supplies.
While it's easy to mistake the tactical canine harness for the regular dog harness, they are definitely different. Obviously, one is "tactical" in design, but you might wonder what is so tactical about it. The tactical type of harness has features that make it effective for training, work, and recreation.
6 Best Tactical Dog Harness Comparison Table
[table id=57 responsive=collapse responsive_breakpoint=phone /]
---
Dogs That Need a Tactical Harness
A tactical dog harness is perfect for:
Service dogs – for carrying medicine, water, and emergency items
Police and working dogs – for professionalism, protection and storing equipment
Hunting dogs – for visual indication safety and storing supplies
Companion dogs – for carrying their own supplies (food, water, and toys) and best handler control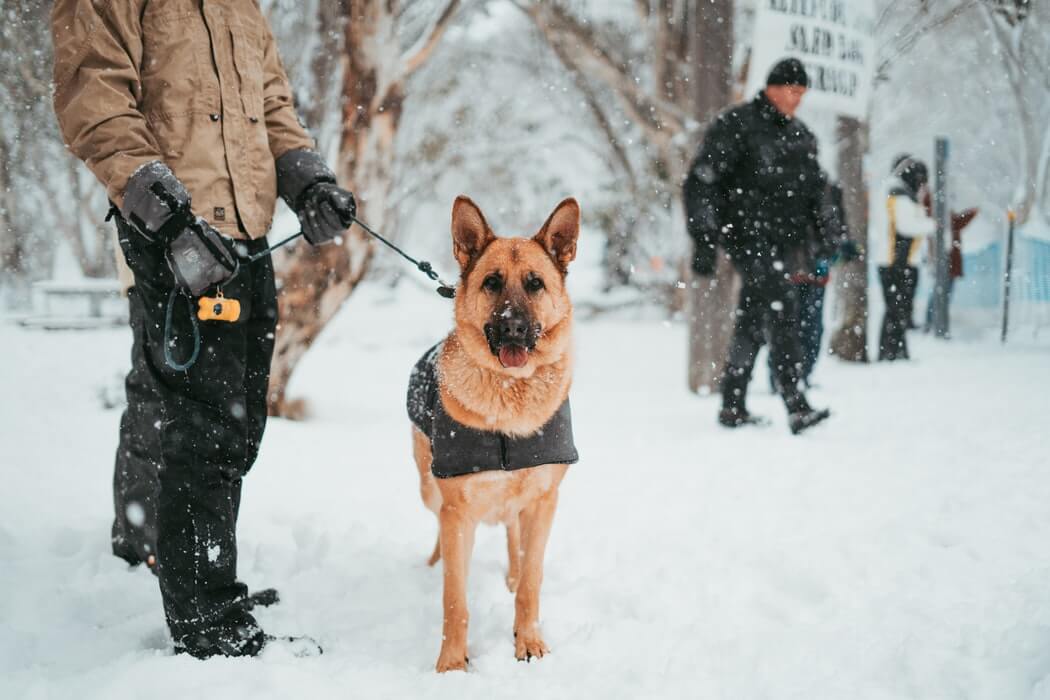 6 Best Tactical Dog Harness & Vest Reviews
To help your dog, uh I mean… you, make the best choice for the harness, I'll take a deeper dive into the list above. These are the best tactical canine harnesses on the market. Check these out. Fido will love it!
The ICEFANG Tactical K9 harness is a real workhorse for your dog. You can use it for training, working and other functions. It has resilient and long-lasting metallic buckles. Even when the dog carries a load on its back, the buckles will hold.
If you have an aggressive dog that takes some strength to control, you want high-quality buckles that will hold their own end of the bargain in the tussle. These buckles are quick-release in design. This saves time when you are buckling the harness up on the dog, or when you are unbuckling it to free the dog.
Another notable feature is the strong 1050D nylon material. The number before the letter D is the indication of quality, and the higher it is the better. In most cases, dog harnesses will never go beyond the 1050D count. The material has a polyurethane coating to make it waterproof. If it rains while you and your dog are outdoors having fun, you don't have to rush back home.
Combined with the nylon webbing thread, durability is assured. You will not have to take your dog harness for mending after every working session with your canine friend.
The harness also has a ventilated mesh for good airflow. When dogs engage in vigorous exercises, they generate a lot of heat that needs to dissipate so that they stay comfortable. The importance of ventilation is that it allows air to flow inside the dog's fur and make him cooler. Thus, the dog does not have to rest too often to cool down.
Pros
Has two strips of Molle system on both sides for carrying gear
Leash attachment has a metal clip to prevent front pull
It is true-to-size
Cons
It feels a bit bulky for small dogs
So many features can be confusing to a beginner user
---
If you and your dog engage in vigorous exercise and outdoor activities, you need a tactical dog vest that is built for just that. The OneTigris tactical dog training harness is also built to last a long time. Every included feature has been carefully designed for maximum versatility and use.
I can say without a doubt: this is my number one favorite dog harness. And I have used quite a few others.
It is versatility and function. For example, I love that it has a double Molle system, one on each side of the harness. When I go to train with my dog, I like to carry all the gear that he will need on his body. The fact that the functionality of this harness is so enhanced made me buy it specifically as my go-to dog survival vest.
I think the choice of material is also very good, as this harness is made with 1000D nylon fabric. This is strong and is good for outdoor use. It's been further enhanced with the polyurethane coating, which makes it considerably better for use under all weather conditions.
I have two dogs. So anytime I'm looking for a dog-training vest or harness, I try to look for one with many adjustment options because my two dogs are not exactly of the same size. The OneTigris dog harness seems to meet that need very well. It has many loops and straps for adjustment purposes.
Pros
It is good for large dogs that can carry a lot of gear with a weight
Made for use in different types of weather and conditions
Available in different sizes
Cons
Has a lot of pockets which may restrict the movement of your dog during training
The 4-point adjustment system is a bit hard to figure out for a new user
---
This K9 tactical vest does not cover the entire back of the dog from neck to the tail, but it still gives you and your dog a lot of functionality. Because of the half size of the EXCELLENT ELITE SPANKER harness, it is more affordable than most of the full-body harnesses.
The choice of the 1000D nylon material makes this a favorite harness for people who like to take their dogs out in all weather conditions. Whether you expose it to shine, snow or rain, it will hold very well.
With the weatherproof coating, cleaning this harness need not take too much of your time since it will not absorb water when you are caught in the rain.
One thing to note: the gray-colored harness does not come with 1000D material. It is made of 500D material.
To make up for the half size of the harness, it has a Molle system on both sides. You can attach the gear that you need to bring along on the Molle. It also has Velcro on top and on the sides for attaching papers, badges, and patches. Granted, you will not carry as much gear as you would with a full-length harness. But you still get a lot of functionality from a small vest.
For the times you only need a smaller vest – like short hikes – this one is perfect. It's super easy to get it on and off your canine, thanks to the quick-release buckles. The leash buckle is metallic and it is so easy to attach a leash.
Pros
Has a lace that you can loop around the molle for attaching small items that you want to carry
The price is more affordable than most harnesses in the market right now
Good for use in places with a lot of heat
Cons
As a quarter length harness, you get to carry less gear
Not as useful in cold weather
---
This is used as a military dog harness with many features that give it wide functionality. One of the reasons why I refer to this harness as military in nature is because the materials used are of military-quality.
The material strength is 1050D, and the stitching/threading is of high quality. This makes it one of my favorite harnesses for larger dogs. The more pounds a dog packs in weight, the more it needs a stronger harness.
For keeping the harness secure on the back of the dog, it has been designed with two strong metal buckles on the shoulder. I have found these to be both durable and strong when I used the harness on a friend's German Shepherd that he left with us when going on vacation. It has a strong no-pull factor, something that you will really be grateful for if you take your dog hunting.
For the comfort of the dog, I love the padding that comes with this harness. This padding is ventilated so that there is good airflow from the outside onto the dog's body. This keeps the dog comfortable even when you are working or training in hot weather.
On this harness, the Molle system has been included on both sides of this harness. You can attach water bottles, food, medicines, and other gear. On the provided loop panels, you can attach badges and patches.
With two metal leash attachment points, you will have all the control that you want on the dog. The leash attachments also offer no-pull control, which is quite important for controlling aggressive and strong dogs.
Pros
Easy to put on and take off with 4 fast-releasing buckles
Balanced weight distribution
Has five adjustable straps to fit on dogs of different size
Cons
Lots of Velcro can be a little confusing
Molle straps run on the small side
---
By looks, strength and choice of materials, this is a military dog harness. The first and most noticeable thing about this harness is the camouflage coloring. However, if you investigate it in a deeper way, you will find a strong 100 percent 1000D material.
This kind of fabric is very strong yet light in weight. It is also waterproof, so you can use it for training or working with your dog in all weather conditions. There is sufficient padding in all the pressure points to protect the dog.
A molle system has been included on both sides of the harness. You can attach food, snacks, water bottles, magazine pouches, and other things. It also has places where you can attach patches and badges with information about your dog. Putting this harness on the dog and taking it off should be easy. It has a securing system that has four fast-release buckles.
To give you more control, you get a V-ring attachment for the leash. This attachment has one purpose – to control strong dogs. Once you attach the leash, you will be able to control even the front-pull of the dog. Another feature for control on this tactical vest is the top handle. It gives you maximum control over the dog with the least effort.
With a weight of only 0.6 pounds for a harness made for big dogs, this is a lightweight tactical dog vest. It has enough ventilation to allow good airflow on the parts that it covers. This keeps the dog comfortable all the time, even when you are working in hot weather.
Pros
It is easy to put the harness on, take it off and even adjust it to fit the size of your dog
The adjustable system makes the vest fit nicely on the dog, but you have to order the right size
Cons
This vest may not be true to size. Take good measurements.
---
6. Tactical Dog Harness
If you want a tactical dog harness that has all the features that your dog needs for protection, carrying gear, control, safety and comfort, the tactical vest meets your needs. It is made of high-quality material that is also good for prolonged outdoor use. The durable material is 100 percent nylon 1000D.
The harness has been fitted with padding for all the pressure points. Your dog can wear it without developing knots. Besides, as much as the fabric is water-resistant and made for heavy-duty use, it is still light in weight and breathable. This makes it ample for use under different weather conditions.
The V-ring for attaching the leash is made of metal. It's high quality and it will not give up even when you are controlling a puller. The main benefit of this feature is that it is designed to be no-pull, meaning that it prevents the dog from pulling ahead. There is a handle for more strict control, especially when you are training your dog.
While you should buy your tactical dog vest going by the size of the dog, every harness needs some adjustment. The JASGOOD dog vest is adjustable, to give you a perfect fit. The Molle system takes all of the gear for the dog. There are a couple of molle pouches and a holder for your water bottle.
Fast-release buckle systems are a standard feature for all dog harnesses. This harness comes with 4 fast-release buckles that allow you to take it off fast. Putting the harness on is equally easy. It doesn't come with metal buckles. Instead, even the shoulder buckle is made of strong, enforced plastic. For color, you get three choices – coyote brown, army green, and black.
Pros
High-quality material with two molle pouches thrown in as a bonus
The water bottle holder is adjustable
Easy to strap on your dog even if you are a first-time user
Cons
Size runs a little large thus it requires more adjusting
The harness goes to the middle of the back – it is not full length
---
Tactical Dog Harness Buying Guide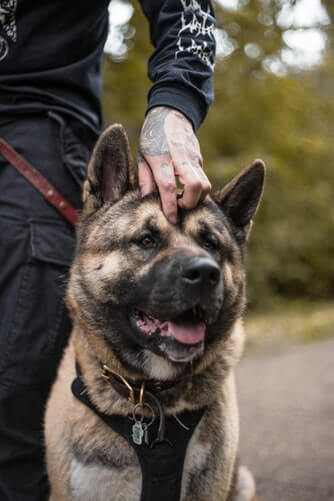 To get the best value for the money, you need to know a few features to look for when getting a tactical dog harness.
Here are the most important things to consider:
Types of Tactical Dog Harnesses
The type of harness is actually about the design. They come in two designs: full harness design and quarter harness design. The full design covers almost the entire dog's back while the quarter design covers just the shoulder blades. Because the quarter harness is smaller, you cannot attach a lot of stuff apart from the badge, ID, etc.
Key Benefits of Using a Tactical Dog Harness
When I was in law enforcement, there's something about putting on a uniform that just makes you feel and act more tough and serious. It definitely changes your demeanor. I think the same is true for a tactical harness. But besides looking cool these tools have great benefits no matter if you are in law enforcement, military, hunting, or personal services. Here are a handful of reasons why every owner should consider a tactical vest for their dog.
To Get More Control Over Your Dog
A harness helps you control dogs that have aggressive behavior. Using a tactical K9 harness gives you more control over the canine than a traditional leash. A harness gives you control over the whole body of the animal.
Extra Protection
A full harness is going to protect the dog against bad weather, injury, and harm. It will not only provide warmth to the canine but by adding an extra layer it keeps them safer. A harness can also protect the dog against injuries if other animals attack it. A durable harness can also protect dogs from injury during training. If they fall on their back, the harness can absorb some of the shock and provide support, which may protect them from injury.
Useful
For a dog harness that is compatible with a Molle system, you can attach almost everything that the dog will need. If your dog loves training or exercise, it will expend a lot of energy. How cool is it that your dog can carry its own food and water?
Features to Consider When Choosing the Best Tactical Dog Harness
1. The Size and Fit
There are three things to consider here:
One of them is the length of the harness. With a tape measure, just get the length between the base of the dog's tail and the shoulder blades.
Finally, there is the width around the lower neck. Just use a tape measure, ensuring your finger fits well between tape and neck.
Fit is very important. If the harness does not fit right, it can rub against the body of the dog, especially at the shoulder areas. Ill-fitting harnesses can even scrub the fur off, leaving the skin of your dog bare and exposed. Ouchie.
To prevent that from happening to your furry friend, find a harness that has a custom fit. That way you can adjust it to a comfortable fit on the dog. Check the levels of adjustments that you can make. The more the better. With some tactical dog vest types, you can even have up to 4 adjustments. That way, whether your dog is big or small, the harness will fit.
2. Durability
As an avid outdoor enthusiast, you do not want to be in the shops every other year buying a tactical harness. Thus, durability is a key feature to consider when buying a good harness for your canine hiking companion. Mostly we use the type of materials used to determine how durable the product will be.
Here are a few important things that your dog harness should have for durability:
High-quality buckles
If you can get metal ones, they would be best. However, do not rule out plastic buckles just yet because there are some high quality and unbreakable ones. Most metal buckles are made with alloy metal. They will help a lot if the dog is going to pull a load.
Materials
The fabric part will make or break the harness. Make sure that what you buy is made with strong fabric such as 1050D or 1000D Nylon. It should also be waterproofed with a polyurethane (PU) coating. The D after the number indicates the strength/quality of the yarn. We recommend that you get a fabric with at least a 500D strength rating.
Padded mesh
The padded part of the harness should be meshed for breathability. Good airflow will keep the dog cool and comfortable. If the padded part does not have good ventilation, the dog will sweat too much.
High-quality thread
Check whether the harness parts are sewn together with high-quality thread. Most of the manufacturers use nylon webbing thread, which is quite resilient.
3. Molle System Compatibility
The Molle system is what makes a harness "tactical". The Molle system is included in most other tactical gear. It comes in straps arranged in a horizontal way or small net webbing. You can attach different types of gear on the Molle.
On your dog harness, you can attach removable pouches. Without the Molle system, you would have to carry all the gear yourself. The Molle system is also used on the military dog harness for increasing the dog's carrying capacity. It's a great place to store your tactical flashlight.
4. Convenient Handles
When you are going on hiking trails or other public places that allow dogs, leash your dog. But, for tactical purposes, the harness is much better than an ordinary leash because it has a handle. Just make sure it has an easy to reach handle either at the neck or near the tail.
When your dog finds himself in the midst of strangers, he may feel anxious and can attempt to nip at strangers. In these cases, an easy-to-grab handle is going to save both of you a lot of trouble and hefty fines in some cases. The handle will also have a place to attach the dog leash for more control.
Wrap Up
Your search for the best tactical dog harness stops right here.  Without a doubt, my personal favorite is the OneTigris tactical K9 harness. I love it because of its full size. It covers practically the entire back of my dog. Since we engage in vigorous outdoor exercises, I feel better when I know my dog is well protected. It also enables us to carry enough gear and food, attached to the Molle system and Velcro. Even when I am strolling with my dog around the park, I feel confident knowing that this harness gives me full control over my canine who can get a tad too aggressive at times. You can find more tactical gear reviews here.