Going on a hiking trail is only as enjoyable as the outdoor pants you're wearing while you do it. So to ensure your own comfort, you're going to want to find the best hiking pants on the market.
Anyone who has spent long days walking in rugged terrain will know that keeping dry and protected is really important. They will also tell you that keeping all your essentials close to your body is vital to the mission too.
To help you out, I thought I'd share some of my knowledge about the best men's hiking pants out there. (Some manufacturers also feature women's hiking pants, so be sure to check out those options too!) Between them, you should find something suitable for your next adventure, whether it's hiking, camping, backpacking, or rock climbing.
6 Best Hiking Pants Comparison Table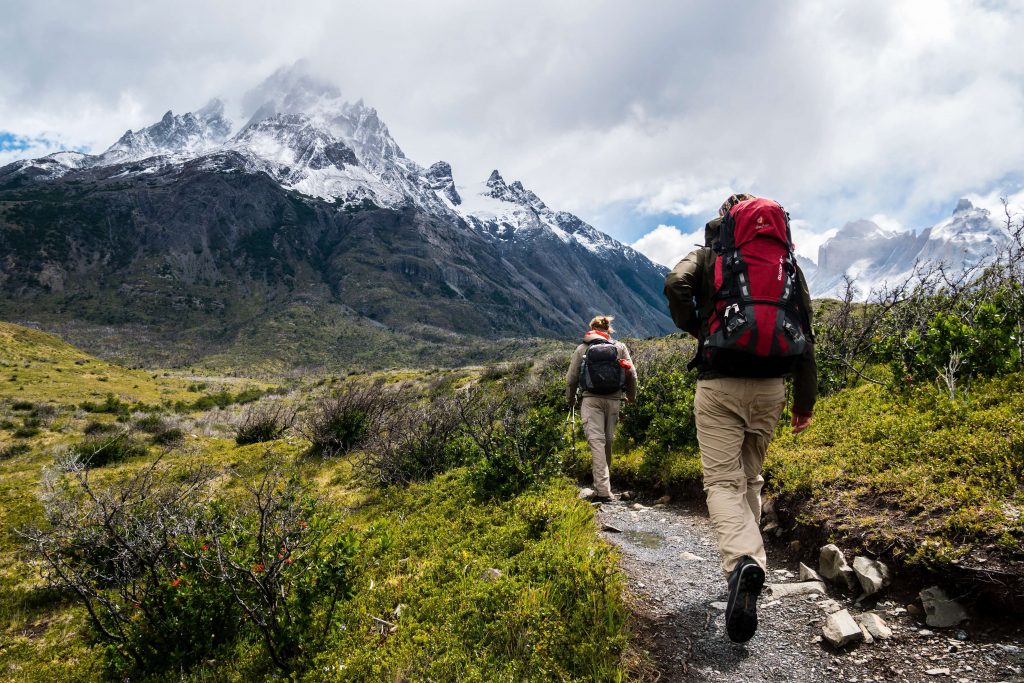 Individual Product Reviews Of The Best Hiking Pants Of 2022
This pair of prAna Stretch Zion lightweight hiking pants move and stretch with your body. They do because of the fabric they made out of – 97% Nylon and 3% Spandex. It's a useful combination because it makes the pants durable and means they will adjust to fit your body over time.
Another benefit to this lightweight pair is that they are water-repellent and give UPF +50 protection. Planning on climbing or bouldering? These pants are abrasion-resistant which will keep them from tearing when you are scaling rocks.
For those who like to shift between long and short pants, this pair comes with roll-up leg snaps. While this isn't as convenient as zip-offs, this pair still gives you the option to go shorter in warmer weather. With an adjustable waistband, you can buy a bigger pair to cover more muscular legs or tighten things up when you need to.
As things sometimes get a bit sweaty on the trail, the ventilated inseam gusset means you won't overheat when you're getting active. When you are winding down, these pants easily transition to casual cool which you can wear around the campsite.
Pros
Made of mostly nylon, these pants are designed to be durable
An adjustable waistband is helpful for those with more muscular legs, and who might need to go for a bigger size
Built-in ventilation means that this material is breathable
Cons
If you're worried about the heat, the roll-up feature doesn't shorten the pants by that much
There aren't as many pockets on this pair of pants, which is often an important consideration for this type of outdoor wear
---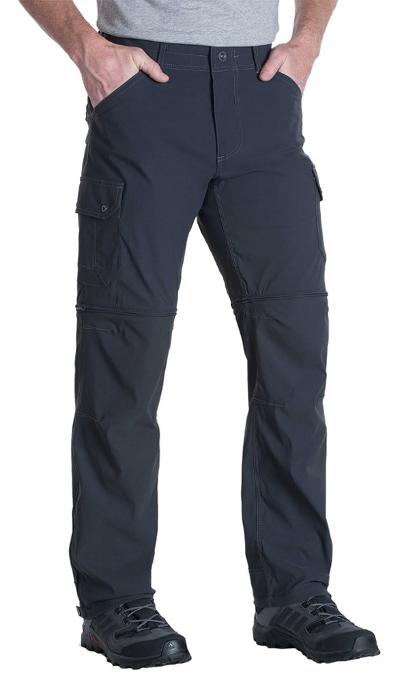 Like the pair above, these Kuhl Renegade Convertible pants are also made of nylon and spandex. Kuhl claims that their Duralux fabric is superior to standard nylon, which is known for its resistance to water.
This material is also wicked strong and breathable. Besides this, it offers UPF 50+ sun protection, is abrasion resistant, and dries quickly. Pretty much, it's awesome stuff.
High performing fabric aside, this pair ranks high on my list of best-hiking pants for other reasons. One of these is the convenience of the zip-off legs which convert them into shorts. Some zippers can be annoying and heavy, but this one is made with a patented stealth design. This means that there aren't any flaps and the zipper is smooth and easy to use.
I know what it's like to hike in pants that don't give you freedom of movement. So the gusseted crotch here is also a plus. There are also mesh pockets that make sure there is even more ventilation. The pockets are large and cargo-style, which means they can fit most of your important items inside.
Since the waistband of your pants might tend to get a bit sweaty rubbing up against your skin, wicking is important. It's another area where the Renegade Convertibles deliver yet again. They have chemically treated or peached the material, to wick away more moisture.
Pros
Made from comfortable lightweight material that has the durability of nylon but the comfortable feel of cotton
Careful consideration was put into the ventilation and wicking properties to the material
The pants are convertible, so they can also be used as shorts
Cons
Depending on the weather, these pants might provide a bit too much ventilation and are probably suited to warmer climates
Pockets aren't quite as deep as those of their predecessor
---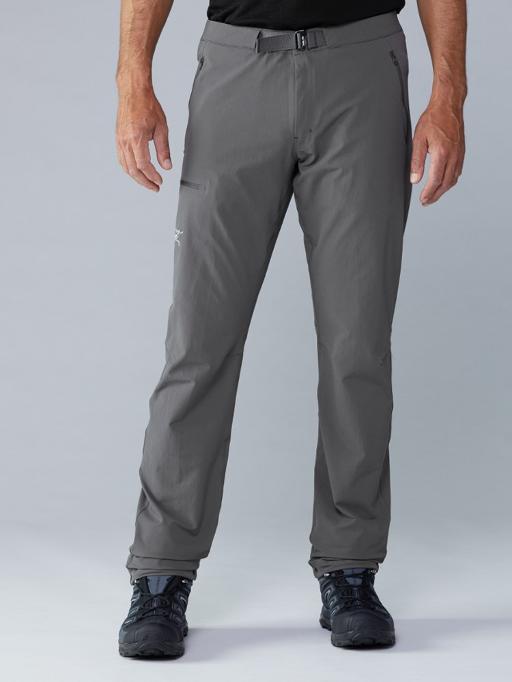 Not all the best hiking pants are designed for the same thing. In my personal experience, there is often a big difference between the pants you want to wear hiking and those you need for serious climbing and bouldering. These Arc'teryx Gamma LT work for both.
Made from 88% nylon and 12% elastane, these pants are durable but built to stretch. And I mean built to stretch to the point where you can move your limbs in different directions and they won't rip or tear. Especially not with a gusseted crotch and articulated patterning.
To get into the specifics, these are made of Fortius™ DW 2.0 fabric. The name says it all! Then there's the brushed polyester waistband which makes it comfortable against your skin.
With a zippered fly and adjustable webbing belt with a metal buckle, these pants don't mess around. It's details like these that add to their overall ruggedness. Did I mention the laminated hem with adjustable cord and eyelets which keeps them from riding up or down?
What's more, there are zippered hand pockets as well as a zippered thigh pocket. I found them to be ideal for keeping things safe while I was hanging from a rope. Once zipped up, nothing could fall out.
Pros
Built for serious climbing and bouldering
The fabric is designed to be extremely durable, but also flexible which is a plus
Extra details like a webbing belt, adjustable pant hems, and zippered pockets add to the performance of this gear
Cons
Various features might be overkill for someone who just wants to hike every now and then
Elastane is a great feature to help with flexibility, but it means that the pants might stretch a lot over time
---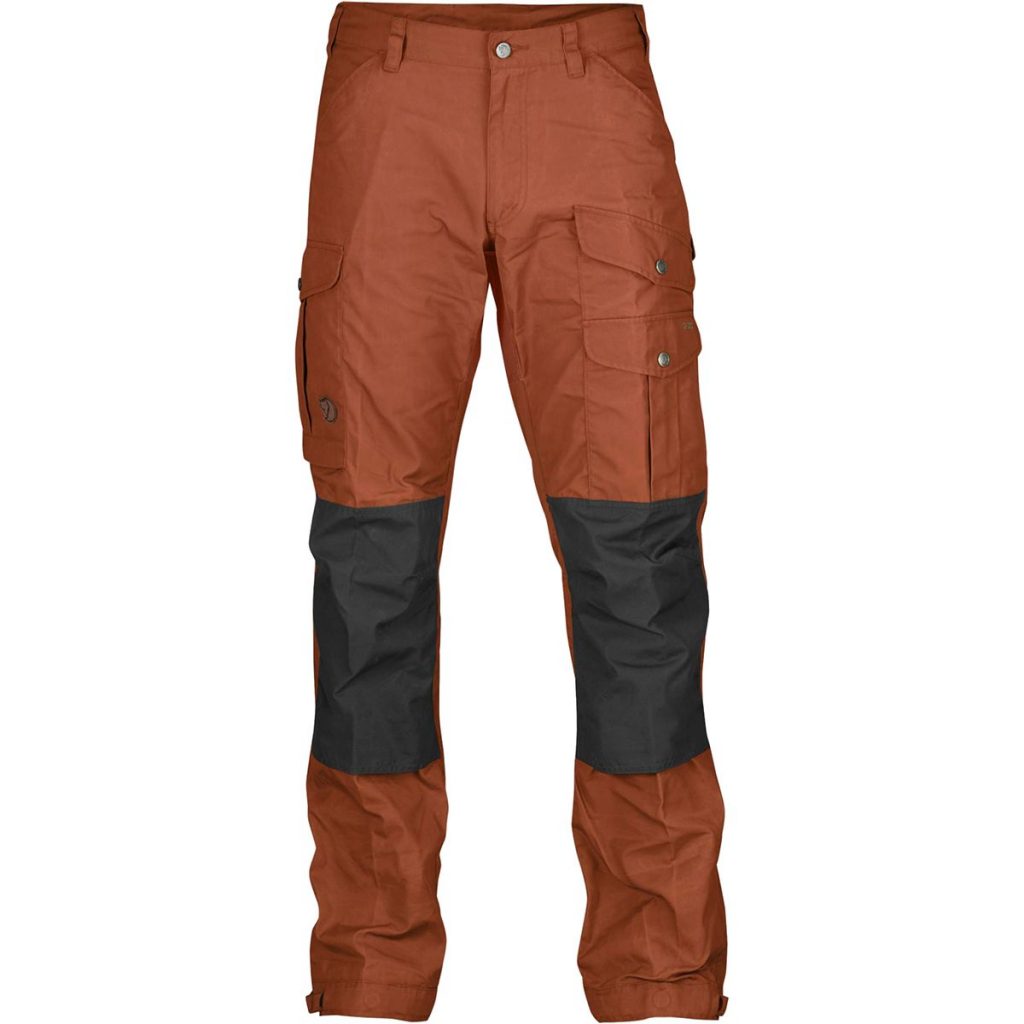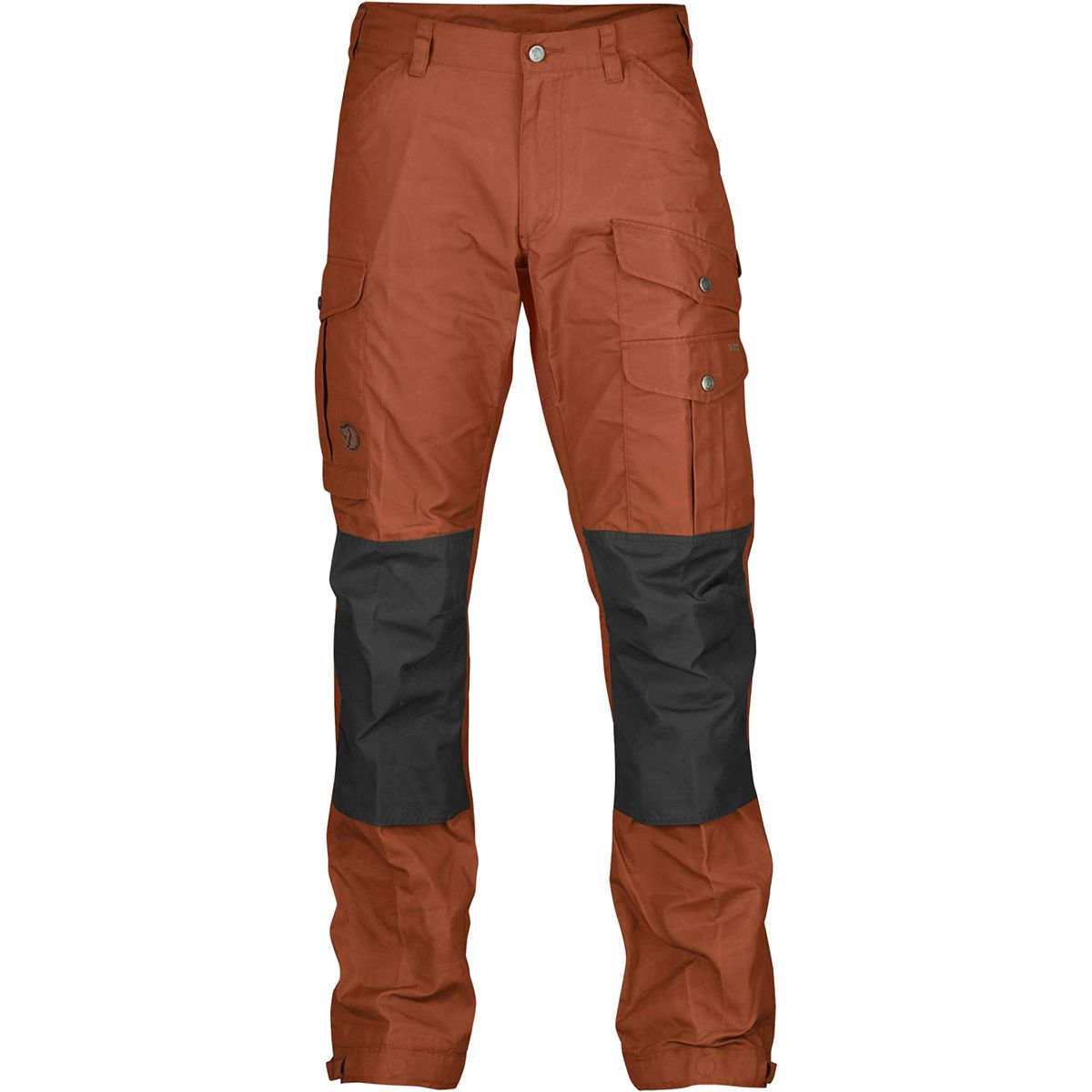 As you know, there are different pants for different activities. Some of the best hiking pants on this list will get you through some tough days of bouldering and climbing. However, others are better suited to less intense activities.
This is true when it comes to the Fjallraven Vidda Pro. With a high waist and relaxed fit, these are definitely the most fashionable and comfortable pair on the list. But with a G-1000 mix of 65% polyester and 35% cotton, they aren't the most waterproof hiking pants.
But don't let this deter you. A bit of wax on them should solve this problem.
But just because you might not go bouldering in them doesn't mean they don't have their value. When backpacking, these pants will also serve you well at night at a restaurant too. Plus, they have seven pockets to carry all your essentials. Not forgetting the adjustable ankles, and reinforced fabric at the rear and knees so they'll last a while.
Pros
Comfortable fit and fabric
Multiple pockets, adjustable ankles and reinforced fabric for durability
Very versatile and suitable as casual pants too
Cons
With a higher cotton content, these aren't the most waterproof
These pants might be best suited for those who fit into standard factory sizes
---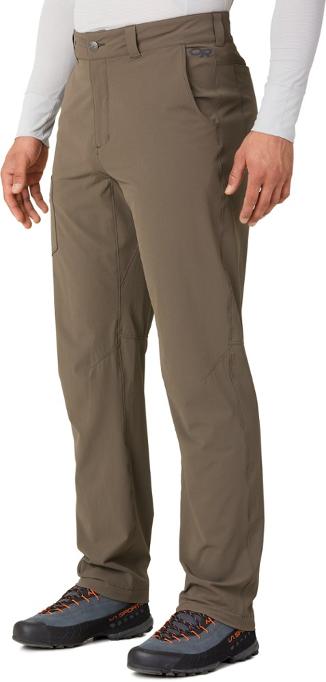 Like the other pairs in this review guide, the Outdoor Ferris pants provide many of the same features. These include an 86% nylon and 14% ripstop spandex material combination. This means they're durable and won't easily tear, which is great for bouldering and climbing.
The material is also wind-resistant and offers UPF 50+ protection. You can tell that Outdoor Research takes their name seriously, by the way of the hiking pants design. They have done their homework into the needs of the climber and added a slimmer ankle cut, as well as repositioned pockets for easier access.
The pants have several features that I like to look out for in the best hiking pants. One, in particular, is articulated knees. The sewn in hems make it easier to move around, as you get more freedom around the knee joint.
This pair also has a harness-compatible waistband, making them great for climbing. Climbers will also appreciate the brushed tricot-lined waistband for comfort, and zippered thigh and back pockets to store your important items.
Overall, it's clear that these pants are designed to be functional, breathable, and able to stretch.
 Pros
Designed with the climber in mind, these pants offer convenience and movement
Features like UPF 50 protection and wind resistance are a plus
It's clear that these pants are made by people who like to climb themselves
Cons
A slimmer ankle cut might not suit everyone, especially if you're just looking to hike
Not all the features are necessary or appropriate for people who aren't serious climbers
---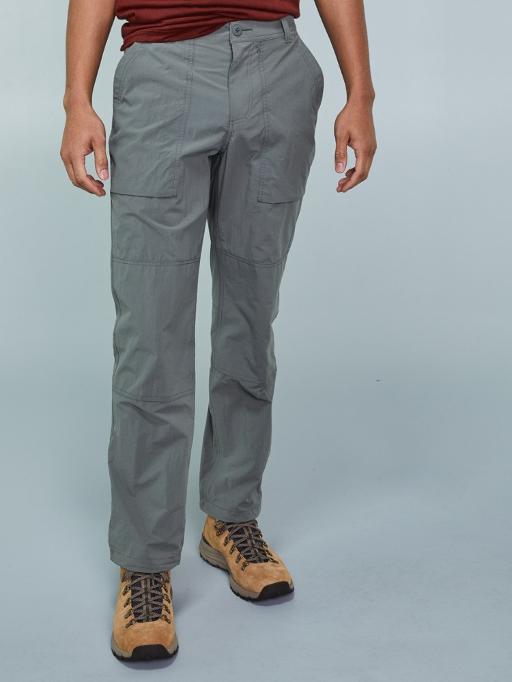 Onto the next pair of convertible pants on this list. These REI Sahara Convertible pants are made with Nylon (bluesign® approved) material.
Two things to the fabric – it has a UPF 50+ factor for UV protection. Then it is also a durable water repellent (DWR), which will help shield you from light rain and stops stains.
Features that put these in the running for the best hiking pants are the double-layer articulated knees and gusseted crotch. Both provide movement and durability for the wearer. An elastic waistband and bungee drawcords at the cuffs of the legs also make sure that you can adjust them.
If you like pockets as much as I do, you will enjoy this pair. They have deep front cargo pockets, a zippered pocket at the right rear, as well as a snap pocket at the left rear.
Pros
Durable and made with bluesign® approved material
UPF 50+ protection, water repellent material, and double-layer knees
Adjustable bungee cords at the cuffs and an elastic waistband add comfort
Cons
The pants only have three pockets, which might be too few for some
An elastic waistband can be more comfortable but also might stretch after a while
---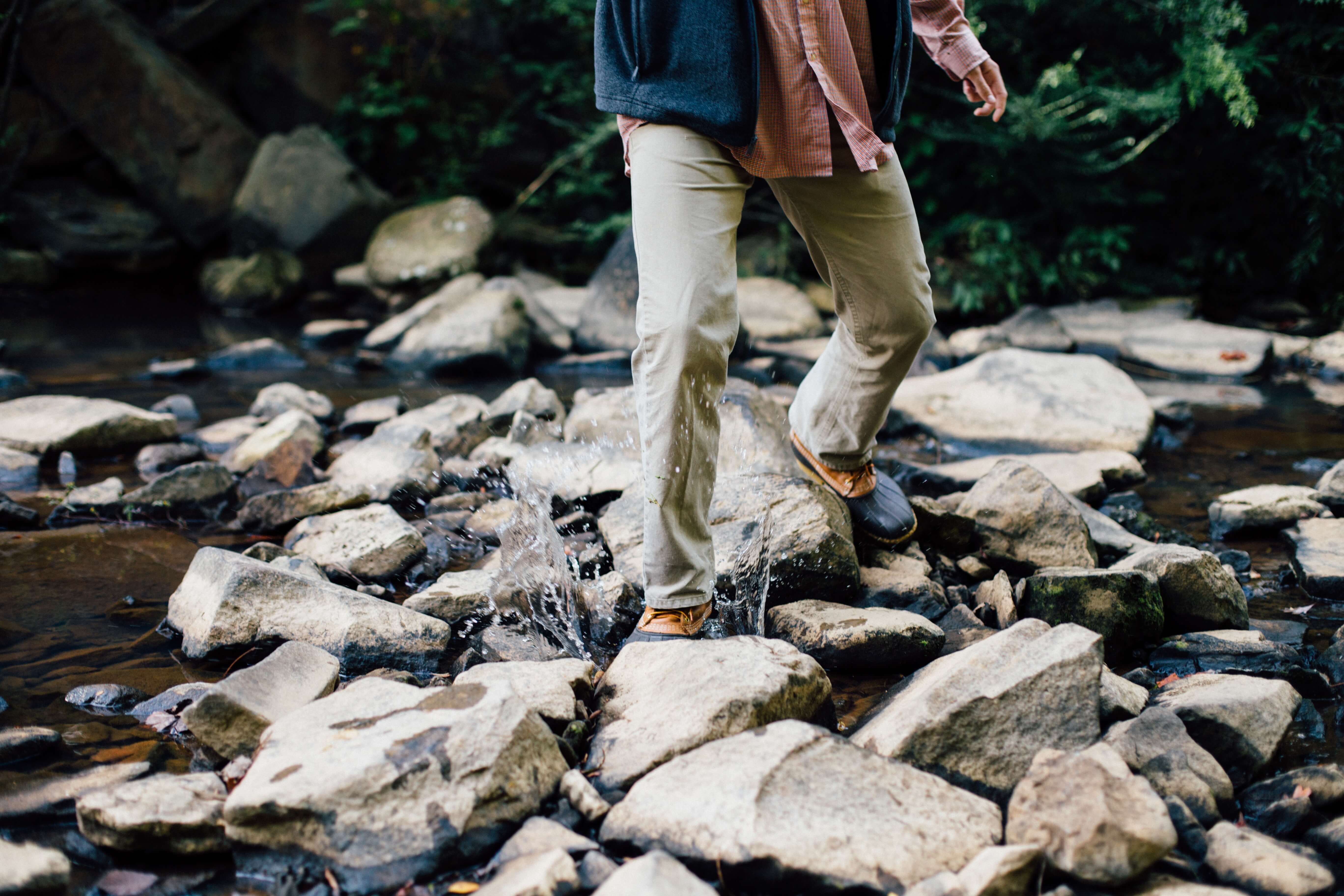 Buyer's Guide
As with many other kinds of outdoor wear, there are many pairs of men's hiking pants for sale online. Unless you know what to look for, this can make it difficult to find the best hiking pants. Whether looking for pants for trekking, climbing, or camping, our guide will help you to find what you need.
Materials
As you have seen, the best hiking pants are usually made from nylon or polyester. These materials are popular because they are so durable.
Other materials you'll come across are spandex and elastane. They add to the comfort and make the pants easier to move around in. But, this kind of material also means that the pants will stretch over time.
Finally, you'll see that some have a mixture of cotton in them. Cotton is comfortable and cool to wear, which makes it great for day to day activities.
The best material depends on the kind of outdoor activities you'll be doing and how often.
Convertible and Roll-Ups
Whether you choose convertible hiking pants that zip off into shorts, or roll-ups which expose your ankle and lower leg is up to you. It also depends on the type of trip you'll be taking, and where you're going.
For muggy, humid environments with lots of bugs, you might want to think about buying the best convertible hiking pants you can get your hands on. You can zip the legs off during the day to keep cool, and put them back on at night for protection.
Roll-ups don't quite provide the same cooling qualities. Mostly they shorten the length of the pants to provide a bit more ventilation without fully converting to shorts.
It's important to note though that zip-off hiking pants can be uncomfortable if you buy the wrong pair. The addition of the zipper can make the middle leg part of the pants feel too tight when sitting down. Also, the zipper seam can be irritating.
As we saw in the prAna Stretch Zion pants, you also get roll-up options with snap clips. Note that these might be a bit annoying to people who don't want to fiddle around with folding them up.
Weight
You might not give a second thought to how much pants weigh until you get caught in the rain. While most of the products above will dry quickly, anyone knows that a heavy, wet pair of pants on a long trek is not ideal.
This is where the material you choose also comes into play. Generally, natural fabrics are breathable and a bit more comfortable. But they'll get soaked in the rain. I recommend going for the most appropriate lightweight option available considering your location and climate.
Pockets
The more pockets you have, the more you can carry close to your body. This might be great for those who like to keep their phone (and camera) close at hand.
Integrated Belts
Not all bodies are built the same. While some of the best hiking pants might be too long for one person, another might need a bigger size to cover their legs. At the same time, they need to be able to close the waistband comfortably too.
Integrated belts can also make activities like climbing easier.
Water Resistance
Most types of camping pants will have a degree of water resistance. It's important because you will come into contact with water on most trails; whether it's rain, rivers or even just the liquid you're carrying.
Since it's difficult to create a lightweight material with complete waterproof ability, go for the most water-resistant option available if you're worried about getting wet.
Thickness and Durability
The best hiking pants are waterproof and will protect you from bugs and the elements. Generally, this means they are going to be a bit thicker to be durable. But, the thickness shouldn't restrict your movement. So what you are really looking for is a pair of pants that can adapt to the movement, and are made of a tested material that won't rip or tear.
Conclusion
Hiking and spending time outdoors should be an enjoyable experience. This means being able to hike, camp, boulder or belay without worrying if your pants are going to rip or give you the freedom of movement you need.
We've looked at several different pairs of outdoor pants in this article. Overall though, I'd have to say that the Kuhl Renegade Convertible pants are the best hiking pants choice.
This is because they are made of comfortable synthetic material and offer all the benefits of convertible pants. This includes no flap and a smooth zipper. The attention given to freedom of movement and ventilation is also a plus, especially in hot and sweaty environments. These might not be built for the snow, but for an average hike in the summer with some more rugged activity thrown in, these are ideal.
Those looking for more rugged options are well covered on this list. But as a starting point, I think the Kuhl Renegade Convertible pants are a winner.