If you are a water sports enthusiast, you own a wetsuit or two. How often do you face the terrible prospect of wearing a smelly, wet and cold wetsuit because it didn't dry completely after that scuba dive? Well, professionals all over the world also face this problem and a case was made for exclusive wetsuit hanger dryers.
There are electric hanger dryers with built in fans that help dry out a wetsuit faster, to the ones that are built with sturdy material to withstand the weight of a soaked wetsuit complete with hooks at the edges that hold the wetsuit in place. Below we've reviewed a couple of these wetsuit hanger dryers.
Underwater Kinetics HangAir Drying Systems for Wetsuits and Drysuits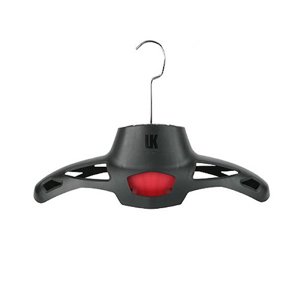 This is a wide shoulder construct hanger that prevents your fabric from creasing. It has a built in high power, water proof fan that churns 120 cubic feet of air every minute.
Apart from drying wetsuits within a few hours, it also works well with heavy weighing protective clothing, rain suits, turnout gear, etc. You can control the airflow via the switch provided for dual power.
Comes with an adapter that powers the fan with a 15 ft cord. The body is made of plastic resin that's tough and durable, while the top handle is made of steel that can support upto 100 pounds weight.
Since it needs to support a lot of water weight while drying any fabric, the fan is bulky and difficult to carry along in your baggage. Apart from the bulk, the fan is also noisome. You can't use it in public without offending a few ears. Apart from these inconveniences, this $51 hangar will let you enjoy your water sports everyday of your adventure.
Storm Scuba Diving and Surfing Wetsuit Hanger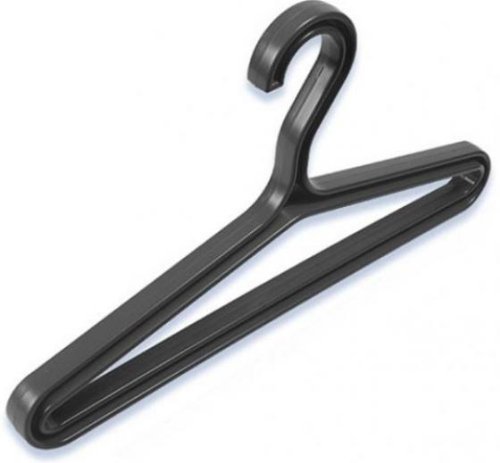 Made with high quality durable plastic resin, this one piece construction wetsuit hangar will not corrode or spoil your fabrics. Can hold upto 20 pounds. A wetsuit, though heavy won't be anywhere near $20 pounds and can be dried on a regular hangar too.
But this has been specifically designed with a wide frame to allow the fabric to stay in place, reduce creasing and provide ample support without bending out of shape.
At just under $10, one of these is enough to give you years of service. Can be easily packed and carried with your luggage, easy to clean, just wipe the plastic surface. Also simple enough to be used as regular hangars.
Hang Pro Slide Wetsuit Hanger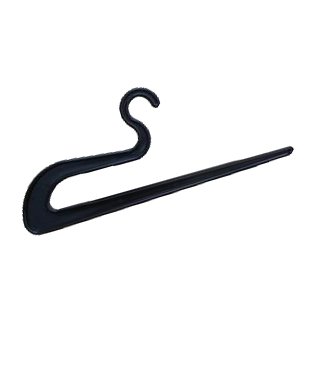 This wetsuit hanger by Hang Pro has a unique open ended design. Instead of hanging by the shoulders, the wetsuit can be draped around the handle beam at the waist, folded in half. Easy to slide the wetsuit in and out.
The idea is to reduce fabric stress and stretch at the top half, by evenly distributing the wetsuit weight on either side. It's a good 20" wide hangar, preventing the wetsuit from falling off or losing balance.
High quality build ensures that the fabric weight is evenly distributed and the hanger isn't skewed. This design improves the life of a wetsuit by eliminating undue stretching.
RINSE Hangar for Wetsuits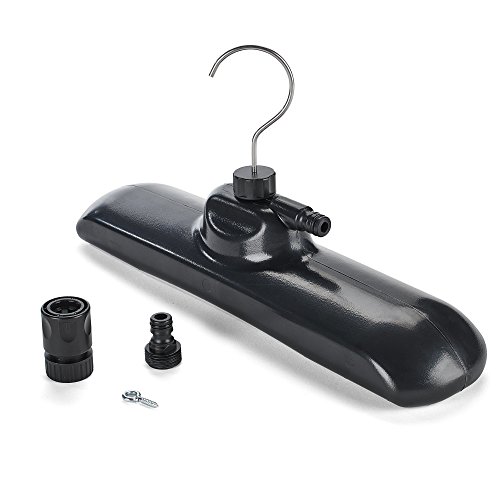 This $40 wetsuit hanger has a unique feature. It isn't the design, but the concept of rinsing your wetsuit before drying it that's amazing. It has a wide body to prevent fabric fatigue and shoulder droop. Since wetsuits are usually worn near seas and other big waterbodies, they are bound to get the water smell and sand in them.
To combat these, Rinse hangar provides a hose and spray nozzle(which need to be bought separately), that help you give it a quick pressure wash before you let it dry. The body is 4" in width while the hook is 4mm thick, lending ample support to heavily drenched fabrics.
This hangar is lightweight, the hook is detachable making it travel friendly, and swivels around making it easy for you to turn around the wetsuit as you give it a quick rinse. Give this one a try if you can't stand the smell of sand and sea in your clothes.
XS Scuba Folding Wetsuit Hanger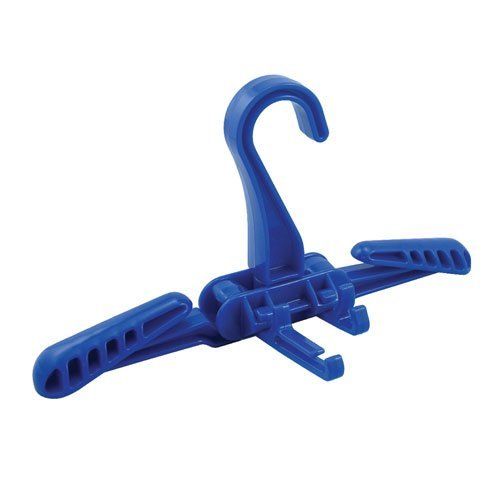 XS Scuba hangar is yet another design that's unique. It's made for wetsuits with a view to make it travel friendly.
This hangar folds into a smaller item, and can be easily unfolded when required to turn into a wide angle wet suit hangar. It comes with a swivelling hook that can be easily turned around. Comes with additional flips on either side to hand other accessories.
Lightweight material yet strong to withstand multiple things at the same time as a wetsuit. All edges are blunted to avoid fabric wear and tear. The only drawback to this design is when the hanger gets stuck in the folded or unfolded position. Otherwise, this one makes for a perfect traveling companion to your wetsuits.
Storm Accessories Snorkel/Scuba/Water Sports Wetsuit Hanger with Din Thread
This wetsuit hanger comes in a bright yellow color with special slots that prevent the wetsuit from slipping off. Priced at $15, it's a heavy duty, lightweight plastic hanger that can easily hold your scuba diving regulator too.
This makes it that much more appealing. All the little hooks and hangings also allow for small knick knacks like snorkels, pins, masks, to be left hanging on it.
The hook can be rotated 360 degrees, making it easy to reach out and grab anything. An excellent and helpful customer support team is just the cherry on the cake when you splurge $15 on a plastic hanger.
Which one of these beauties will have the pleasure of drying your wetsuits?