Fingerprint scanning has long been used for security purposes because every person had unique set of prints on their fingers. This allowed for scientists to develop technology known as biometrics which uses our human body as a way to identify us from one another.
In terms of access to private contents, a number of manufacturers are now building biometric safes which let you store your fingerprint data as a way to open the safe's contents.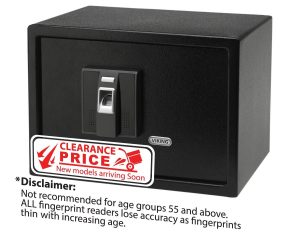 Overview
The Viking Security Safe model VS-25BM is the size of a small microwave oven that allows you quick, instant access to your firearms and other belongings by using your fingerprint as your identification code.
The biometric scanner located in the middle of the front door replaces the traditional dial combination lock and the newer electronic digital keypads which rids you of having to remember any code which other can get hold of.
Design and Build
This is a small safe designed for handgun owners who have more than one pistol or revolver or want to safe keep other items alongside their gun and firearm accessories.
The entire safe has the conventional black painted finish on the outside and the only other items on its exterior are the biometric finger scanner and the company's logo, which also serves as a cover for the safe's emergency key hole.
It weighs 27 lbs. in total and is about as long as a 14 inch laptop, at 13.75" with a depth of 9.75". It does stand a bit taller though at close to 10 inches. This is one of the less expensive biometric gun safes around at $140 which makes it more affordable for handgun owners.
Inside the Viking VS-25BM, you have enough space to lay down 2 to 3 pistols with extra space to place any ammo or magazine clips along with other important items. If you have the handguns standing up, then you'll be able to store more than 2-3 inside.
There is no foam or carpeting inside so if you want some layer between your guns and the safe's wall you'll need to line it yourself.
It has 4 holes located in the back, that have been made in the factory to be used for mounting the safe to the wall to make it more secure. The package does include the hardware required to bolt the safe to the wall or other surfaces and all you need are your tools.
Security Features
As mentioned earlier the main method of access is through the use of your fingerprints. It has the capacity to register 100 prints in total which will allow more than one user to safe their information. You'll also want to store data for different fingers and use a variety of angles for each finger.
The issue with many fingerprint scanners today, specially those that aren't the very expensive industrial grade systems is that they are equipped to recognize your prints based on the angle and part of the finger you pressed with when saving the information.
So if you save only one set with your thumb leaning forward and then try accessing it by pressing only the right or left side of the thumb to the glass reader it may reject access.
This is why many biometric scanning devices, not just safes, tell you to use different angles and try to press your fingers totally flat against the surface when registering the data.
The Viking Security Safe VS-25BM uses a biometric lock that runs of 4 AA batteries which are hidden in a panel at the back of the safe's door. You'll need to replace the batteries when the start to run low, though if you forget it isn't such a big problem since the system is able to keep all stored information even when it loses power.
It also comes with emergency keys that can be used to access the safe when the battery dies.
When accessing the safe, you press on the button that's located above the fingerprint reader which activates it, then insert your finger. If your are authorized, the system will give you a beeping sound and the door will automatically flip open as it uses a motorized mechanism for this.
The exterior is very sturdy and made with solid steel. The door's creases are well fitted which doesn't allow anyone to sneak a crowbar or any other metal device to try to pry it open. The lock itself moves two bolts forward and back on the left side of the door to open or seal it shut.
VS-25BM Pros and Cons
Pros
Very affordable price. At $140, it is among the cheapest biometric gun safes available that allows fast, responsive access to your belongings.
The exterior is solid, and the safe is welded well giving you good protection.
Easy to use biometric lock. Saving information is simple and straightforward. The reader is also responsive making it easy to get in and out without spending too much time or keep trying over and over.
The safe's biometric system has the ability to remember information even if it loses battery power totally.
Door is motorized and designed to be pry resistant.
For a small safe, it gives you a lot of room to put your weapons plus other important items.
Cons
The inside of the safe isn't lined with soft material like foam or carpeting that helps prevent any damage if the metal exterior of your weapons move inside.
It makes a sound upon recognizing a valid fingerprint, and doesn't come with the option of being able to turn off this audio feature.
This is just an extra, but it would be nice to have a removable divider or shelf you can insert to split the safe since it is over 9 inches high inside and would be nice to be able to store more items above.
VS-25BM Review Summary
The Viking VS-25BM gun safe is a medium sized handgun safe capable of storing multiple pistols and revolvers. It is among the lowest priced safes of its type in the market and comes with a quick, responsive biometric locking system.