Practical and stylish in their own way – chunky and yet somehow sleek – dive (or diver) watches have been one of the leading styles in men's watches for almost 70 years. However, first and foremost, dive watches are all about functionality – you wouldn't want to pay often hefty price for the best dive watches unless you're planning on using it deep underwater.
As dive watches often come with a great deal of bells and whistles – in addition to a number of necessary standard features – it can be tricky to differentiate which watches are worth $200 and which watches are worth $2,000.
Nevertheless, no matter the caliber or quality of watch you're looking for, there are a few standard features you should look for. Depending on what you value, each of these features could or could not be indispensable; however, you should generally be looking for watches that offer them.
Big Markers and Hands: Deep underwater, you probably won't be able to see very well. You'll need big hands that are easy to find.
Glow-in-the-Dark Watch Face: Similarly, it's probably going to be very dark deep underwater, so some glow-in-the-dark material is pretty essential.
Rotating Bezel (preferably external): Arguably the most distinctive element of the best dive watches, the rotating bezel will tell you how much time has elapsed since you've been underwater. A typical scuba tank holds 30 to 50 minutes worth of oxygen.
Now that we've nailed down the basics, we'll explore some of the best dive watches on the market today. Dive watches fluctuate wildly in price, so we've included some from each range, whether or not you're looking to pay top dollar.
The Price Performers (Under $200)
Citizen Promaster Professional Diver Watch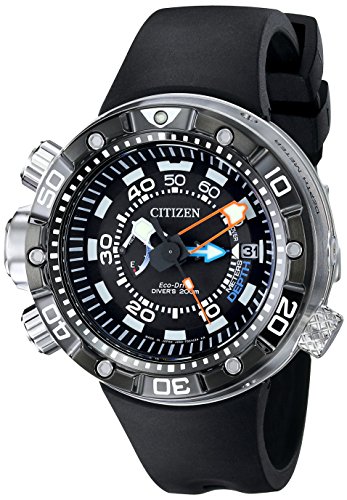 Water Resistance Depth: 200 meters
The Lowdown: Extremely popular on Amazon, the Citizen Promaster Professional Diver Watch is just about the best budget dive watch on the market, if you're not looking to do extremely serious scuba diving.
Perfect for both professional marine activity and serious water sports, the Citizen Professional is a very attractive, classic, well-built dive watch, boasting supreme luminosity and an excellent Japanese quartz movement construction.
Perhaps the Citizen Professional's best feature is its Eco-Drive charging technology. Completely light-fueled, the Citizen Professional never needs a battery, and if it's been in the light for a while, it will glow for hours underwater.
The Citizen Professional's only drawback is that it can't handle scuba diving. Nevertheless, for just about any other water function, it's pretty close to perfect.
Seiko Diver Automatic Watch
Water Resistance Depth: 100 meters
The Lowdown: As the least expensive watch on this list, the Seiko Diver Automatic has garnered praise from a number of reviewers for its high "cost to value" ratio.
It's certainly a good looking watch, and as it's water resistant up to a depth of 100 meters, it's not quite as natural in the water as the Citizen Professional, but it gets the job done. It runs perfectly, is reliable, and its size is impressive. Overall, it's a watch that will get you a lot of compliments.
A few drawbacks – this Seiko model tends to run about 25 seconds fast every day, the luminescence doesn't last very long, and some say that the strap can be a bit uncomfortable.
Nevertheless, the Seiko Diver Automatic is just about the cheapest "good" dive watch on the market, so if you're looking to spend as little money as possible, you'll still get a great deal of value if you choose this Seiko model.
The Happy Medium (From $200 to $1000)
Citizen Eco-Drive Promaster Depth Meter Chronograph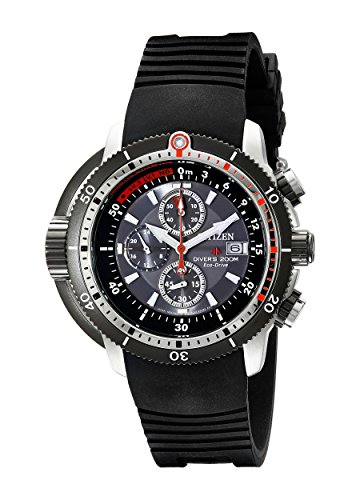 Water Resistance Depth: 200 meters
The Lowdown: As a general rule, there's a huge polarization in the dive watch market – watches either hover around the $100-$200 price line or cost multiple thousands of dollars. This Citizen model shoots the gap between the two, offering a little more than the budget watches but not breaking the bank like the top-of-the-line models.
Visually, the Citizen Eco-Drive Promaster Depth Meter Chronograph is pretty stunning. Sleek and stylish with a black and silver color scheme accented by hints of orange, it's truly a beautiful watch. Functionally, it features all the basics, in addition to one important add-on: the titular Promaster Depth Meter, which tells you how far underwater you've gone.
Overall, it does everything the budget watches do, with a big style upgrade and one additional feature (albeit a big one in the Depth Meter). In the end, you have to weigh how much the extra stuff matters to you.
The Rolls Royces (Over $1000)
Reactor Poseidon LE Watch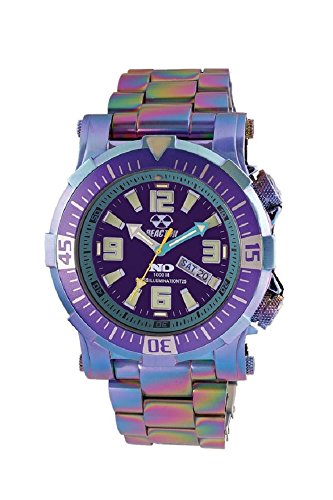 Water Resistance Depth: 1000 meters
The Lowdown: Now we're getting to the high-end models. The Reactor Poseidon LE handles scuba diving better than any other watch on the list, as it's water resistant up to 1000 meters, a full 800 more than any other watch on that list.
Just from a pure functionality standpoint, that places the Reactor Poseidon LE stands above the best dive watches on the market.
Other than the water resistance, the Reactor Poseidon boasts all of the standard features, with one exception: dual external and internal bezels, meaning you can keep track of two times at once.
Stylistically, the Poseidon LE is designed to look more or less like a normal silver watch – if it weren't for its size, you'd have to look twice to realize it's a dive watch. Ultimately, if performance matters more to you than anything else, and if you have the means, the Poseidon LE is one of the gold standards of the industry.
Oris Divers Sixty-Five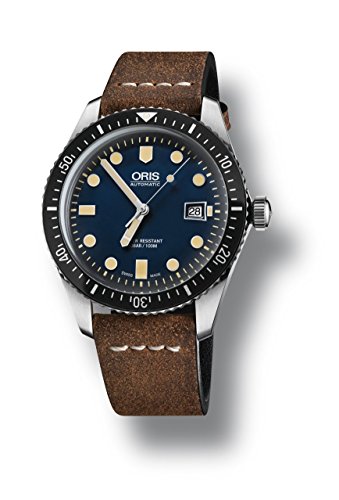 Water Resistance Depth: 100 meters
The Lowdown: Although it's quite difficult to compete with the Reactor Poseidon LE in the "Rolls Royce" dive watch category, the Oris Divers Sixty-Five puts up a good fight. A revival of a classic Oris model that first appeared 50 years ago more or less (1965), the Oris Sixty-Five is a throwback in every sense of the word.
The vintage black and gold stylings are about as sleek as it gets, and this is perhaps the best "classic" looking dive watch on the market today. If aesthetics are really important to you, look no further.
The Oris also boasts solid functionality. It has all of the necessary basic features of a dive watch, with a few durability upgrades – anti-corrosive stainless steel and scratch-resistant sapphire crystal add a 21st century update to this classic.
An anti-reflective coating also makes it easy to read the watch underground, and the bubble casing helps maintain its classic look.
Which are the best dive watches for you?
If you're looking for an amazing, classic-looking watch with a vintage feel, the Sixty-Five is the best you can do. However, if you're not willing to pay a pretty penny for looks, you may want to look elsewhere. Ultimately, the best dive watches are dependent on what you are willing to spend for what you need from your watch.