Labeled as the Home Defense Center, the Sentry Safe HDC11E is built for the homeowner's protection in mind. Designed for security purposes it isn't arranged like other gun safes to fit 8, 10 or more rifles and a few pistols. Instead it has fixed shelves built for a rifle and handgun, properly positioned so you can quickly grab it in time of need.
Sentry Safe HDC11E Gun Safe Review – Worth the Money?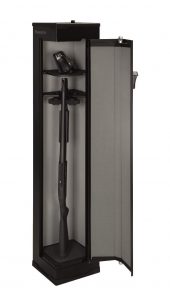 Features and Specifications
The Sentry Safe HDC11E Gun Safe has quite a few features including a bolt-down kit which is included to bolt your safe down to the ground so no one can steal it when you're not home. This gun safee has a rack which can hold up to 1 shotgun (or tactical weapon) and a handgun.
The handgun is stored on a rotating rack so you can adjust it to either side depending on if you're left or right handed. It is seated on the upper shelf which is its assigned area. The lower shelf is for a long gun or rifle. The Home Defense Center uses a unique barrel clamping setup that lets you fit your rifle / long gun's barrel snugged tightly.
The Sentry Safe's door also opens to a full 180 degrees so you won't hit your gun on the door taking anything out. This can also prevent intruders from knowing your aware they're there.
The safe also features a pry-resistant door to stop people from breaking into it and stealing your guns. The edge of the door closes into the safe itself making it hard for those trying to use a crowbar to insert into for leverage.
It also features a floor compartment so you can store extra things like ammunition. This extra space is hidden which allows you keep items that people will easily miss.
This Sentry gun safe also offers corner mounts so you can bolt it down to the corners of your room, which provides the option of making it fit just right in whatever room you store it in.
Locking Mechanism
The Sentry Safe HDC11E Home Gun Safe offers an 4 button electronic lock that allows for quick entry for those with the proper code. It lets you customize the keypad's computer with your own access code so you want to set it to something only you know. This electronic lock doesn't accept voice command but opens when you type the right numbers into the keypad.
When the lock is engaged there is a bolt in the locking mechanism that will stop people from being able to break into it even if they had a crowbar. Once the entry code is typed into the keypad, the safe's door opens up silently, without making a noise so you won't alert intruders of what you're doing in times of emergency.
This is the perfect feature for instances when you need it fast, and it also keeps kids away from your guns which makes the use of guns safe. The only way anyone is getting into this safe is if they know the right combination to open it.
The location of the locking bolt is uniquely placed in the corner. It is an inch thick and secures the door shut and only opens when the proper entry code in typed on the keypad.
Capacity
The Sentry Safe HDC11E's exterior measurements include a height of 54.4 inches, a width of 11.1 inches, and depth of 12 inches. Its interior measurements are 46.8 inches tall, 8.8 inches wide and 8.8 inches deep. The overall interior capacity is 2.1 cubic feel
This gun safe has 12 gauge thickness all the way around and is completely made out of steel. When ordering the safe it weighs roughly about 112 pounds when it shows up to the house. Because of the size of this safe, not only will you be able to store you're rifle and handgun in it, but it will be able to fit in just about any room, and can be mounted down to the corner of the room.
Extra Features
Atop the HDC11E Home Defense Center is a tray surrounding the button keypad. The tray lets you place down any small items you have like keys, mobile phone so they're close to your weapon and ammunition during times of crisis.
HDC11E  Pros and Cons
Pros
Very attractive exterior. The design of the Sentry Home Defense Center is very pleasing on the eyes. It has sleek lines that are very neat.
Stores both rifle and handgun. And it also has assigned area designations for both so they're well arranged and organized within the safe.
Installation, programming is quick and convenient. It lets you customize the where and how you want it placed and allows for simple setting up of the access codes.
Locking system is secure backed by the digital electronics and large corner bolts that keep the doors shut tight from prying or other attempts.
Cons
While it's designed for a single long gun and a single handgun. You can't resist noticing that there's a lot of extra space left inside the safe that's unused. This looks great and allows for quick access but somewhat wasteful.
Sentry Safe HDC11E Summary
The Home Defense Center by SentrySafe if built for those who want to store one rifle and one handgun securely from children and intruders. In it is an affordable gun safe that is quiet and easy to access that won't give you problems when you're in a hurry to retrieve your weapons.