Sentry Safe Biometric Quick Access Pistol Safe Review
The Sentry Safe Biometric Quick Access Pistol Safe is a single handgun security device that stores a pistol or revolver. It lets you quickly access your firearm in seconds quietly when you need to arm yourself and is built with pry-proof features and a 12 gauge steel layer that keeps kids and unauthorized individuals from getting hold of it.
This model is the fingerprint gun safe version of the best selling non-biometric Sentry Safe Quick Access Pistol Safe, which the company labels as QAP1E. This one on the other hand is labeled QAP1BE. The additional B in the label indicating that it uses biometric features.
The two versions are similar in construction and operation except that users of this version have the ability to save their fingerprints and use it to unlock the safe. The non-biometric version doesn't have this and only provides owners with the electronic lock and backup key.
In terms of price the non-fingerprint version costs $80, while the biometric (this one) is priced at $179. Choosing between one or the other depends on the mode of access you wish to have available to you.
Size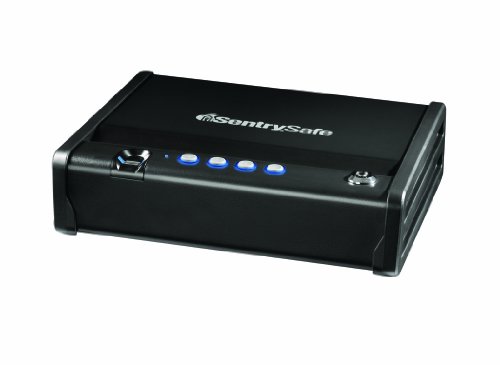 This handgun safe measures 12 inches long, goes 9.9 inches deep and 3.2 inches high, making it look like a large thick metal envelope. It weighs just below 12 lbs. and will fit semi-automatic pistols like the Glock 23 and HK 45, as well as revolvers with room to spare for magazine.
You will want to measure your handgun beforehand because the interior of the Quick Access Pistol Safe doesn't fit all gun models. The inside of the casing measures 9.7 inches in length, 6.6 inches deep and 2.2 inches high.
It does come with a padded interior which protects your weapon from any unwanted damage or scratches.
Design
The outer design is all metal except for a finger scanner input, 4 keypad buttons and a key lock. It looks like a large computer modem with the buttons and finger scanner being backlit.
As mentioned earlier the entire interior is padded, with the batteries hidden in one of the panels (the one right underneath the keypad; closest facing you). It requires 4 AA batteries to operate but comes with a backup set of keys in case the batteries run out.
One nice feature of this biometric safe is the digital code and registered fingerprints are saved in permanent memory and will not be lost if you run out of battery. You'll need to reset the system using the reset button, also located inside the unit, to erase or change any saved electronic codes or fingerprints.
On the further left side of the unit's interior is the gas strut that holds up the safe's lid. This lets you gently close the lid without it banging down as well as open the safe quietly which can be handy in times when there is an intruder and you want the element of surprise on your side.
Construction
In terms of build, the unit protects your firearm behind 12 gauge steel giving it ample protection. Because it is lightweight, Sentry Safe has added mounting holes (see below) that will allow you to set this up on a safe location preventing thieves or anyone else from just carrying this portable gun safe with them.
The safe's door is also designed to be pry proof, not leaving any space that will give burglars with a crowbar to insert for leverage.
Operation
For the Biometric Quick Access version, you have 3 different options for access, including fingerprint recognition, digital code via keypad, or key. The non-biometric version offers the latter two.
Setting up the safe's system doesn't take much time and begins with inserting the batteries into the battery pack connector. Since the connector is inside the unit, you'll need to open the safe initially using the keys provided.
Behind the battery pack is a reset button that allows you to set or reset your code or scanned fingerprints. You'll need to press and hold the button down, and it will tell you when it's ready to accept new code or fingerprints when the keypad's LEDs flash 3 times.
At that point you can either enter your code (4 to 6 digits using the 4 buttons on the console), or slide your finger on the scanner. If you're scanning your finger, it will ask you to slide 5 to 10 times, with one flashing green LED light telling you to slide again. It will flash 3 times when it has completely registered that finger. It does this so it thoroughly gets the prints from different angles to compare with making access easier later on.
All units come with the factory pre-set code of 1,2,3,4,1. So you'll want to change that. You'll also want to be aware that the unit goes into 'sleep' or 'standby' mode to save batteries. So before entering your code, you'll need to tap any of the buttons, to 'wake' it up. Once the keypad lights up, you can type in your code to access the contents.
To lock the safe, just close the top door and it automatically locks.
Mounting
Since the unit is portable, the manufacturer provides mounting holes at the bottom of the safe. The package includes 2 screws and washers which you can use to screw the bottom of the unit to any safe place you want be it in a drawer, in your cabinet or any other hidden area that's easy for you to access but hard for others to find.
Review Summary
The Sentry Safe Quick Access unit is a biometric safe that lets you store your handgun and spare magazine under a secure 12 gauge steel construction.
It provides you with 3 modes of safe access that is done in a quiet manner. Overall, both the fingerprint and non-biometric gun safe versions of the Quick Access provide you a with low cost way to keep your family safe.