A Running Metronome is a small digital training device that provides the user with an audio signal whenever a set pace or 'cadence' is accomplished. You can refer to this set pace refers as the rhythm or 'getting into your stride'. They can be clipped on to our shorts when we go running and can be set to beep between 30 to 250 beats per minute.
They are great for novices and expert runners alike and are one of the best ways to improve your running technique to hit those goals you set.
Measuring Rhythm using a Metronome
Rhythm is an essential element of life it is responsible for smoothness or flow. Whether it is a typist at work, a pianist working on her Chopin or a runner beating the odds. The crucial element at work is the rhythm…AKA the cadence.
For example, look at a professional runner; his/her feet strike the ground after a certain interval without fail. Even as they shift gears in the final laps or last few minutes of a race, the rhythm remains consistent. (Cadence in the instance of the runner, refers to the number of times the feet touch the ground per minute whilst running). All this is necessary; any variance will result in a slow pace or worse still, a muscle sprain.
Any activity devoid of a sense of rhythm is random, jarring and often confusing thus, the need for a device like a metronome that measures the beat per minute.
Essentially unobtrusive, the metronome is an asset or all manner of sports persons or athletes. Initially, the metronome was a pendulum like and had to be wound up, the to and fro motion of the pendulum formed the basis for measuring the beats.
However, the disadvantage was that these were often inaccurate. The digital metronomes that are available today are far more accurate and used in all manner of sports training. The Seiko series, in particular, provide regular and highly accurate readings. Another advantage of a Seiko metronome is that these have a great battery life and memory storage capacity.
Before we look at our top 5 running metronomes, let's understand what you need to look for so you can avoid buying a product that doesn't suit your needs.
What to Look for While Buying a Running Metronome?
Whether you are a beginner, advanced or an elite runner, a digital metronome is an essential training aid that can help you improve on your timing and technique. It will also keep track of the cadence which is an essential indicator for judging how well you run.
However before buying a metronome it is essential to consider the accuracy, the battery life, memory capacity and durability, to ensure it meets your expectations and demands.
Accuracy:
While most of the digital metronomes are accurate the Seiko DM50S metronome is one of the cheapest metronomes available in the market today. That accounts for its immense popularity. More runners prefer the Seiko over any other metronome.
The DM50S is the best running partner as it competes against you, guides you and has an audio "alert" as you run, jog or race and for as long as you need.
The easy access buttons are a bonus; you can easily complete your run while checking your stats.
The Seiko DM50S metronome manages to adjust itself and provides precise and exact information related to both your speed and technique. Whether you are a rookie or a pro, the Seiko DM50S is an excellent choice.
<< View the Seiko DM50S on Amazon >>
Durability:
Another factor that should be taken into consideration when in the market for a metronome is the shelf life. Good quality metronomes are good for thousands of kilometers.
You should look for one that is at a minimum splash-proof and one that has a good quality hard plastic casing. This will ensure it is incredibly tough and is able to withstand minor bumps without damage.
I have even seen people use a metronome when competing in events like Tough Mudder, where they can use it to alert them to their performance on the longer stretches. So they can take a punch, just be sure to read all reviews to make sure they one you choose is rated well by other users.
Battery Life:
Running metronomes should ideally have a substantial battery life. A lithium battery has an incredibly long life and a single battery lasts 200+ hours, more than any other metronome or GPS device So be sure to look for the type of battery and the typical life-cycle which is usually quoted on the manufacturers product listing page.
Memory and Range:
You should also look for a good memory capacity which is essential for keeping a log of your previous training sessions/run(s) and beating your best time.
In terms of range, most digital metronomes have a tempo that varies between 30 to 250 beats per minute, more than enough to accommodate the slowest and the fastest or runners. You can easily clip this on to your shirt or waistband and start where you left off on the last run.
Why a Running Metronome?
Running with a Metronome will help you to run faster, longer, farther and with fewer injuries.
Most people think that running is a training sport and not a skill sport. That means in order to run faster, longer and farther, the harder one should train. Some say that you just put on your running shoes, and run. Some say that just run naturally as long as you are comfortable.
When people take up golf, they take lessons to learn how to perform a proper swing. When people want to play tennis, they need to learn how to hit the ball correctly with their forehand and backhand. Running is no different from these sports. There is such a thing called 'Good Running Form'.
Many people tend to look at VO2 max (Maximum Oxygen Consumption) and lactate threshold but have little knowledge of running efficiency or running economy. Running Efficiency means utilizing our energy in the most efficient manner possible, this will enable us to run faster, longer and farther.
According to Joe Friel (Evolution Running) when we run, energy is spent on the following activities:
1. Propulsion
Energy is required to move a runner forward. The more the energy used to move the runner forward, the faster the runner will run.
2. Vertical Displacement
Energy spent to move the runner upwards during his stride cycle. This is wasted energy as it does not move the runner forward.
3. Support
Energy is required to hold the runner upright. The higher the runner's center of gravity moves up, the more energy is required to support his body when it comes down during foot stride. This is closely tied with the vertical displacement.
4. Acceleration
This is the power required to accelerate the runner's body back to running speed after momentum is loss during stride cycle.
5. Balance
The energy to keep the runner's mass over his supporting feet and legs. A well-balanced runner will require less energy to run fast.
6. Limb Movement
Efficient runners minimize energy expenditure moving his arms and legs.
In order to run efficiently, we need to minimize the energy spent. One of the ways to achieve it is to look at our Stride Length and Stride Frequency. Efficient runners take relatively short and quick strides at any running speed. Most runners make the mistake of over-stride, ie. taking steps that are too long and too slow for the speed they are running.
The Purpose of Using a Running Metronome
Running metronomes can help to address both Stride Length and Stride Frequency problem. When the Stride Frequency increases, naturally the Stride Length will have to shorten, otherwise one will run out of breath quickly.
By increasing the Stride Frequency, the runner will touch the ground very briefly with each foot hence, less energy wasted. According to research done by Jack Daniels (Daniels' Running Formula), 180 strides per minute is the most efficient stride frequency. This is where the Running Metronome could help us to achieve this objective.
How To Use A Running Metronome To Improve Your Running Efficiency?
Firstly, the recommended approach is to start running with the metronome at our usual stride frequency and up it by 1 to 3 beats per week until it reaches 180 strides per minute. For example, if we start off with 170 BPM, we can increase it to 173 beats per minutes on our second run, and add 1 to 3 beats every subsequent week.
Most importantly, listen to your body to decide how many beats/minute to add. Also, you should be able to adjust the beat & rhythm accents of your running metronome to suit your preference.
Initially, you might find it awkward to run according to the beep sound coming out from your metronome, but once you get used to it and have achieved the 180 stride per minutes frequency, you will find yourself running longer, faster and feeling less tired overall. That is what is called running efficiency or running economy. Remember not to be too ambitious initially, start with a slower pace and be patient.
The Forefoot Stride
Secondly, in order to increase your running frequency, as I mentioned earlier, you will learn to touch the ground very briefly on each stride, which will force you to do forefoot stride. This is what people do when practicing barefoot running.
The good thing about a forefoot stride is that it is not only helping you to run faster but also to avoid injury which happens to a lot of heel-stride runners. Doing forefoot stride will force you to use those muscle which is hardly used when you were doing heel-stride.
You may want to start off your running frequency slower than your usual rate. For example, if your usual stride frequency is 170 strides/minute, you might want to start off with 160 strides/minute.  The key is to Go Slow in order to Go Fast later.
Hand Movement
Thirdly, in order to increase your stride frequency, you need to minimize your hand movement. You will notice if you keep the forward and backward movement to a minimum, you will be able to increase your stride rate easily. Your arms and legs have to work hand in hand and that means do NOT swing your arms across your chest, it is a total waste of energy.
Also, never use your arm swing to increase your speed or force yourself to move forward when you are feeling tired. Your arms are for balancing purposes. Therefore, when you are going up slope or downhill, you don't swing your arms according to your strides, you use them to balance your body and movement.
All About Landing
Fourthly, make sure that your point of landing is just below your center of body mass. That means do NOT land in front of your body, because by doing so, there is a braking effect involved and again it is not only a waste of energy, it hurts your knees.
Lastly, since we are doing the forefoot stride, we are landing on the ball of your foot, and many people tend to move forward by using their toes to push themselves forward; or by extending/straightening their legs. By doing this, it causes extra stress on our Achilles tendon and calf, and these muscles might tear.
The correct way is to use our thigh muscle or hamstring to lift our leg up and forward. Remember, just lift our leg high enough to cross over the possible obstacle and not any higher than that. And the strength to move our body forward comes from our hamstring.
Minimize your upper body movement and focus on using your lower body (hamstring and buttock muscle) to move your legs faster in order to move forward at a higher speed.
Another tip on increasing your speed is to lean your body slightly forward, that means the center of mass will be slightly in front of your point of stride. This will give you a feeling of falling forward, and thus force your leg to move forward faster in order to support your falling body.
Below is a video showing Dr. Nicholas Romanov's Pose Method of Running.
Conclusion
In conclusion, the metronome is a simple unobtrusive device that can be excellent at improving your running capacity and technique. As a runner, you can be generally unaware of your optimum potential and a running metronome helps to ensure consistency is maintained throughout.
Every runner who wishes to run faster, longer, farther and with fewer injuries should consider training with a Clip-on Digital Running Metronome designed for runners. Below are our top 5.
Top 3 Best Running Metronomes
Garmin Forerunner 305
Besides using the Seiko DM50S Running Metronome and the Gymboss Interval Timer, his later gadget which is helping him extremely well in improving his running experience and training is the
Garmin Forerunner 305
. He has never looked back since he bought the 
Forerunner 305
.
Quick Review:
| | |
| --- | --- |
| Durability | 4.75 / 5 |
| Functionality | 4.75 / 5 |
| Ease of Use | 4.5 / 5 |
| Value for Money | 4.5 / 5 |
| Final Score | 4.6 / 5 |
Garmin Forerunner 305 Full Review
The Forerunner 305 is one of most accurate, most reliable wrist-mounted performance and GPS tracking tool among the Garmin Forerunner family. The 305 includes wireless heartrate monitoring and it can also be connected to Garmin's wireless bicycle speed and cadence sensor.
This running watch also acts as a running partner and personal trainer for athletes of all levels. With this Garmin running watch, you no longer need a running buddy for training, you have one right 'on hand!'.
The super-sensitive GPS tracks every move, step and stride you take. As I have mentioned in other articles, I am a trail runner and I am really pleased that Garmin 305 can even track my movements in tree-covered trails.
The Forerunner 305′s heart rate monitor measure not only my heart rate, but also speed, distance, pace and calories burned so that I can analyse my running style and form a training plan to improve my technique and perform smarter, and more effectively. With all this I could continually up my performance, timings and it has also helped me beat my personal best on more than one occasion.
The courses tracking feature allows you to download your recorded courses so that you have a clear map of your previous workouts and progress. Which is hand should you want to revisit a course and attempt to beat out that PB.
Let's get into the product and technical details
Product and Technical Details
Garmin 305 Main Features:
High-Sensitivity, Watch-Like GPS Receiver That Provides Exceptional Signal Reception
1 Piece Training Assistant That Provides Athletes With Precise Speed, Distance & Pace Data
Includes Training Center Software, Which Allows Users To Download Workout Data For A Detailed Analysis
Used For Multiple Sports Such As Cycling, Cross- Country Skiing & Windsurfing
Data Acquired May Also Be Analyzed With Motion-based, Which Provides Online Mapping & Route Sharing
Technical Information:
Product Dimensions: 4 x 4 x 4 inches ; 1 pounds
ANT protocol Display Size(WxH) – 1.3 x 0.8 (33 x 20.3 mm)
Lap Memory – 1,000 laps
Battery – Rechargeable internal lithium-ion battery – lasts 10 hours (typical use)
Waterproof – Submersible in one meter of water for up to 30 mins.
Alerts – Time, distance, pace and heart rate
Heart Rate Monitor Features:
Transmission Range – approximately 3m (9.8ft)
Battery – 3V CR2032 battery – lasts 3 years (1 hour per day)
Physical size(WxHxD) – 13.7 x 1.4 x 0.5 (348 x 35.6 x 12.7 mm)
Weight -. 74 oz (21 grams)
What is in the box of the 305?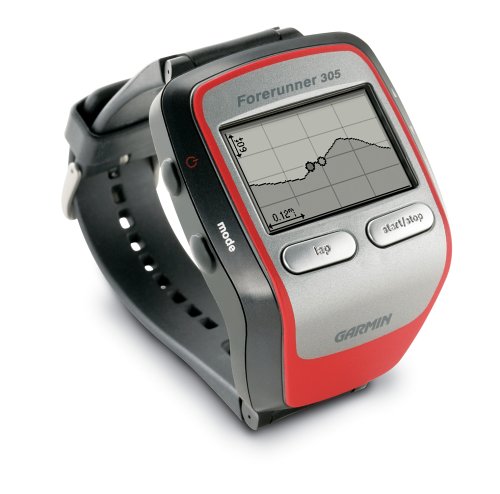 Forerunner 305
Heart Rate Monitor
Docking cradle
Expander strap
AC charger
PC/USB interface cable
Quick start guide
Garmin Training Center CD
Owner's manual
 Good (Pros)
Personally, I like the stylish look of this Forerunner 305 compared to other Garmin Running watches
The Forerunner 305 is relatively easy to set up and use. The instructions are very clear and easy to understand.
I like 305 's fast satellite acquisition time where I can see my position almost instantly.
The accuracy is superb. The thing I like most is it could even track my running even when I am in the densely covered trail.
I can do away with the old Gymboss Internal Timer since Forerunner 305 has this interval timer feature. One less gadget to carry when I am out for running.
Bad (Cons)
This might be a con to some people because to some (especially ladies) it might be a little bit bulky on the wrist.
There isn't a way to adjust the display time and turn off the GPS.  It needs to be configured to display different items on the main screen
Frequently Asked Questions
Question 1: The numbers on the screen are too small to read while running
Answer: You can decrease the number of fields to be displayed, the size of the numbers will increase automatically
What do I like About The Garmin Forerunner 305?
Many people have been asking me why I bought the Garmin 305? What's so good about this running metronome/training watch?
There are many reasons that made me fall in love with this Garmin 305 (aka Forerunner 305), namely its cool looks8, supreme functionalities and superb performance. Anyway, I have come out with a list of 13 reasons why this Forerunner 305 has become my beloved running partner.
13 Reasons Why I Love My Garmin Forerunner 305
1. The Looks
I like the look of Garmin 305. I find it so different from the ordinary runner watches and the Garmin 305 has a very sleek look.
2. The Display Screen
The 305 is slightly bigger than a traditional running watch because it has a widescreen display. Together with the high resolution, it's very easy to read the data even when I am running under a densely shaded path. Before having the 305, I found is difficult reading the data off my watch, mostly because the screen was small and the resolution was low.
3. Button Layout
There are 7 buttons on Garmin 305. The frequently used are the "Start/Stop" & "Lap/Reset" buttons which are conveniently seated at the front. The remaining 5 buttons are located on both sides of the watch.
4. Power Charging & Data Transfer Function
It comes with a small cradle housed with a mini-USB port. This USB port can be used for transferring your running data to a PC./Laptop. The cool thing is it can also be used to charge the Garmin via the same USB connection, which means no need for another power point.
5. Tracking Function
As I have mentioned a couple of times, I am rather pleased that when I am running under a densely shaded path, the Garmin 305 can still track accurately and remain "locked-on" via it's GPS. Most of my runs are trail running across various areas and parts of it are covered by tall/thich trees.
6. GPS Function
The mapping, waypoint marking, and route calculating capabilities of the 305 are unrivalled. I can use it to mark locations along my running route, and with the "Go To Location" feature, I can go back to the location I desire, which helps when getting slightly lost!
7. Data Capture Function
The Garmin 305 can capture and display a lot of data including the number of calories burned, distance travelled, elevation and height gain, gradient, and compass bearing, as well as multiple lap and pace timers. The Forerunner 305 can also be used for tracking bike performance too via a wireless cadence and speed meter. I have yet to try that.
 8. Data Display Function
As mentioned in my previous point, as we can capture so much data, displaying such an amount of data on a small screen can be a challenge, but the 305 does a beautiful job by allowing you to easily define how much or how little data you want to view. I love the customization of the display to my liking.
9. Heart Rate Monitoring
Not only does this running watch track my heart rate, it also allows me to set the target zones and alerts so that I know when to slow down and when to pick up my pace. This is great for HIIT training and knowing for sure when you hit your required BMP.
10. Virtual Partner function
I am a lone runner. I prefer to run by myself so that I could set my own pace, time and running route though once in a while I enjoy running in a group. With this function, I could set up a virtual running partner to compete against me. Which is kind of a cool feature.
Also, If you are a cyclist or biker, you can set it up as a virtual biking companion to compete against you.
11. Interval Workouts
Just like my Gymboss Interval Timer, the Garmin 305 allows me to set my Run-Walk-Run training. Thus, I have completely done away with the Gymboss Interval Timer, which means one less tool to carry = weight saved = faster times.
12. Performance Analysis Function of Garmin 305
This is something that can be very addictive. After each run, I upload all of the data to the Garmin website and all my performance graphs are produced. With this analysis, I can quickly understand where my strength and weaknesses lie and enable me to plan to improve my next run.
After each run, I can't wait to upload my data…it gets very addictive!
13. Waterproof & Easy to Use
The Garmin 305 is waterproof and very easy to use. Some of the more advanced and complicated functions require more time to study and set up, but it shouldn't be a too difficult a task as there are great instruction provided and some good videos on YouTube too.
Our Verdict
Out of all the Garmin watches for running I have reviewed, Garmin Forerunner 305 is the most stylish, with so many functions this running watches proves one of the best buys, it delivers what is promised and much more. If you are looking for a Garmin metronome watch to improve your running, timing, and training, the Garmin Forerunner 305 is the one for you.
Where Can You Buy Garmin Forerunner 305 For The Best Price?
You used to be able to buy the Garmin Forerunner 305 from most of the big retailers online, unfortunately, this product has recently been discontinued by the manufacturer. However, they are still available from Amazon at a great price. They also come with the expected warranty if your unsure.
Seiko DM50S Clip Digital Metronome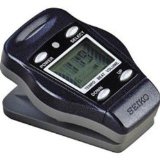 Quick Review:
| | |
| --- | --- |
| Durability | 4.25 / 5 |
| Functionality | 5 / 5 |
| Ease of Use | 5 / 5 |
| Value for Money | 5 / 5 |
| Final Score | 4.75 / 5 |
Seiko DM50S Clip Digital Metronome Review
When I went for my first marathon a few years back, I was so exhausted that I felt like giving up half way during the run. I completed the race, however, afterwards, I felt so tired. my legs were feeling painful and the nails of two of my toes fell off a week later.
I loved running and would love to continue running until I'm old and grey, so, with this in mind, I started to research how to run better, farther, longer and with fewer injuries. And I discovered running barefoot or with minimalist shoes was the solution.
Then I realized the importance of a good running form. From my research, I learned one of the important ways to run faster, longer, farther and with fewer injuries is to adopt the forefoot stride at a high stride rate of a minimum of 180-strides/minute. That is where I stumbled upon the Running Metronome and decided to pick up a cheap solution to see if it could help.
I did my research for the Best Running Metronome used by elite runners and based on the recommendations made on the various runners' forums, I found the Seiko DM50S Clip Digital Metronome to be one of the most recommended metronomes for training.
I bought it and have been using this Seiko ever since and I've never looked back. Though my knee injuries may never fully recovered, I can still run with no pain by performing the forefoot stride and using the Metronome to monitor my stride rate. Amazing.
A Must Have For People Who Want to Run With Fewer Injuries
As I have mentioned earlier, one of the keys to have a good running form is to maintain the stride rate at a minimum 180 strides/minutes. For me I noticed that after running for 3 miles or so, my stride rate tends to drop, in order to compensate that, I tend to lengthen my stride length. That is where running economy comes into the picture. The longer the stride length and the slower the stride rate is, more energy will be wasted. As the run continues I get tired quicker.
Using the Seiko, I was able to avoid making this mistake and found it also helps to motivate you to keep running at the pre-set stride rate even when our legs become heavy.
So why is everyone raving about the Seiko DM50S?
Some of the major features of the Seiko Running Metronome is it is small, compact and with the clip-on function.
But let's take a look at the full feature:
Clear and Loud Sound from Diminutive Body
Clip-Style Metronome Clips onto your shorts, shirt collars, cap and etc.
Tempo Ranges from 30 to 250 Beats per Minute – adjustable by increments of 1′s and 10′s
7 Beat Accents: 0, 1, 2, 3, 4, 5, 6, 7
3 Rhythm Accents: 8th note, triplet, 16th notes
Tempo Indicator: Motion LCD Display + 1 LED Flashing Light
Adjustable Volume – 4 Level Volume Control and you can even set it to silent mode
What I like about this Seiko running metronome is its user-friendliness. without reading the instruction manual which comes with it, you will be able to do all the necessary ready to get out and hit the road. There are only 4 buttons; which allow you to change the tempo (Stride rate), the beat patterns and the volume whilst running. This is important for me because usually I start off with a slower pace to warm up then increase to 180-beats/minute and above.
Let's get into the Good and the Bad about this Digital Metronome I gathered from other runners' feedback and my personal experience.
The Good (Pros)
1. Good compact design. The Seiko DM50 Compact Metronome is lightweight
2. The volume is adjustable, and can be turned off and show LED blinks only
3. Seiko DM50 Metronome is easy to use and can be very quiet
4. It's very small and can be clipped on to my running shorts or even hold it in my palm
5. Long battery life – After using it for more than 2 years, 5/6 hours a week, it is still going strong. There are other sport metronomes out there, but the batteries for those are not changeable and they cost more.
6. The Seiko DM50 Compact Metronome is lightweight, the cadence and volume are easily adjustable even while running in the dark. Not that it is lighted; the settings are just easily set and differentiated by feel once learned. I often change my settings while on the run with little difficulty.
7. This Seiko Metronome is also fairly sturdy though it is made of plastic. I have dropped mine on the concrete floor while playing with it with no damage.
The Bad (Cons)
1. The 3 tiny screws that you have to take off in order to change the battery are hard to reach.
Solution: take it to a watch shop and the staff will be able to change the battery for you within minutes.
2. The clip can be stronger though it has not come off during my run, it might come off while jumping
Solution: Hold it if you need to jump hard
3. The DM50 Metronome turns on easily
Solution: place it in a side pocket of your gym bag, or keep it in any small box
4.  This Running Metronome is not water-resistant
Solution: if you are running in heavy rain, keep the Metronome in a small Ziploc bag, but don't forget to up the volume before you zip the bag up
Product Details of Seiko DM50S Clip Digital Metronome
Product Dimensions: 2 x 4.7 x 2.2 inches; 2.4 ounces
Shipping Weight: 2.4 ounces
Item model number: DM50 / DM50S
Batteries: 1 CR2 batteries required. (included)
The only thing that would improve the MD50 would be a headphones jack for private listening.
Where Can I Buy The Seiko DM50 Metronome?
You can buy the Seiko Running Metronome from Amazon. From researching and comparing prices with other online merchants, Amazon usually has the best deal (cheapest) deal.
Our Final Verdict
Out of all the metronomes for running I have reviewed, the Seiko DM50S is the most compact, light and easy to use.
If you are looking for a metronome with a bit more to it, then the Garmin 305 is our pick of the bunch.