If you love being under water and are in the market for a snorkeling mask that will help you maintain your stamina and aid breathing, keep reading. Below are some reviews for popular tried and tested full face snorkeling masks that have proven to be excellent under water activities aids.
Best Full Face Snorkeling Masks 2017
1. Tribord Easybreath Snorkeling Mask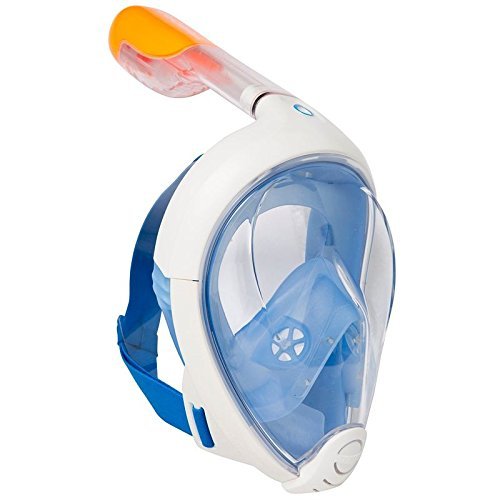 Tribord is a well known name in manufacturing snorkel masks. This one is has a polypropylene rim and a silicone skirt that's translucent. It's a huge mask that provides full face cover with 180 degree of unobstructed vision. The top of the snorkel has a plug that blocks the entrance once air is expelled out, stopping water from getting in and clouding the mask. A bright orange hue at the top makes the snorkel stand out against the blue of the water, to keep it from being lost to sight. It also employs a double airflow mechanism to prevent fogging.
It's a snorkeling mask and should be used near the surface of the water and not deep diving. It allows you to breathe freely through your nose and mouth. Leaks are quickly dispelled. It fits perfectly on your face and doesn't move once you are in water, allowing you hours of snorkeling time without worrying about coming up for air. It is one of the best full face snorkeling masks on the market even if it's a bit on the steep end of the price spectrum.
2. Snorkel Mask With GoPro Mount By Azorro
Full face snorkeling masks are used by professionals in lieu of traditional masks that need to be bitten down and held in place with jaws. It becomes tiresome after a while and jaw fatigue could bring your underwater time to an end. A full face snorkel mask doesn't require any effort on your part to stay in place, covers your face with a silicone bubble that's usually transparent, allowing you to explore in relative comfort. So comfortable that now we can have attachments for accessories like a camera to capture our sojourns.
This is one of the best full face snorkeling masks in the market today. Anti-fogging technology is incorporated by default. It seals in around your face, for an air tight fit that doesn't let water get in. An elastic headband provides additional staying support. Equipped with drainage valves. Dispel any water that gets in by simply raising your head. The snorkel tube is 9" long providing good surface exploration for up to 8 hours. At a modest price, this is a decent snorkeling mask with the only drawback being distorted vision sometimes due to the mold of the lower half of the mask. The Go Pro will have the correct images though!
3. WildHorn Outfitters' Seaview Snorkel Mask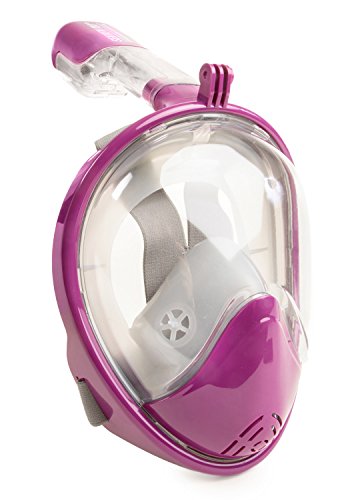 For the perfect snorkeling mask that will fit your face to a "T",  measure the length from bridge of the nose to the chin. If it comes to less than 4.7" buy a small/medium size mask, if not, go for the large/extra large sizes.
WildHorn's easy to use full face snorkeling masks are affordable and incorporate all the standard features like anti-fogging design, draining valves, no clouding, and more. In addition to the regular features, this mask has a separate breathing chamber that keeps the airflow at a distance from the front visor, preventing clouding and providing clear vision. There's a water draining valve at the chin, you just have to raise your head once to get rid of any leakage.
It comes in good size variations, making it the go to mask for kids and adults both. There's a camera mount version too in addition to the regular full face snorkeling masks.
This mask is made of two different toned materials and as the plastic changes, it distorts your vision. Objects at some distance are magnified while others appear much further. This is not a great way to explore underwater life and could also lead to miscalculations in depth and penetration range. Use it if you only need to stay a little below the water surface.
4. Shark Gear Evo Full Face Snorkel Mask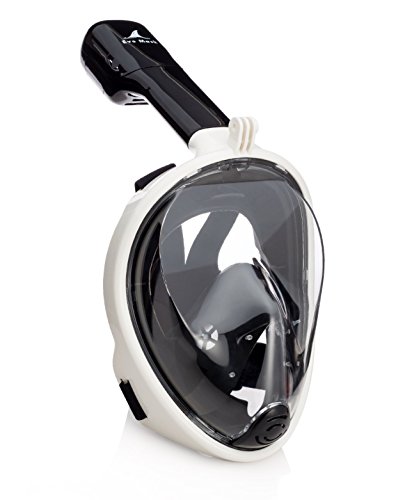 Shark Gear's Evo full face snorkel mask lets you breathe naturally and comfortably. The anti fogging viewing window has a wide angle and provides 180 degree vision. The snorkel tube has a dry seal to prevent water from getting in. Draining valve is incorporated below the chin in case of leakage. You can lift your head and all the water will be gone in a second. Materials used are polypropylene. The viewing window comes with silicon padding for comfort and is made of shatter proof polycarbonates.
There's a camera mount attachment on the top that allows you to have a camera working in tandem. This is a separate and a more expensive product than the regular no camera mount version.
The package also includes a mesh carry bag, and a useful additional rubber ring. It has adjustable nylon straps that are soft and do not dig into your head. The snorkel tube is designed to follow the mask and not take its own course.
As long as you are mindful of staying close to the surface, this mask provides an excellent view with almost no distortion, only the peripheral vision seems to be a little bent. Otherwise, this mask comes highly recommended for a reasonable price.

Which are the best full face snorkeling masks?
Most of the best full face snorkeling masks seem to have almost the same price range except the Tribord, which happens to be the market leader. You could give the ones listed above a try but remember, the mask is in aid of surface exploration and helping you breathe naturally. To get the most out of any mask, keep these tips in mind:
Breathe through your mouth as much as possible when wearing these masks underwater.

Do not tilt you head unnecessarily. Professional divers can help you with head angles that are best to keep the water out, vision clear and not clouding the snorkel mask.

The snorkel tube must have good quality and the top should have a plug or stopper to prevent water from seeping in.

Easy water dispelling mechanism is a plus.
Happy Snorkeling!