Using the appropriate equipment is one of the critically important elements of a successful spearfisherman. I can't tell you how many times I've heard of equipment inadequacies that resulted in a lost opportunity or a mutilated fish. I will cover most of the relevant equipment, what I use, and why.
Masks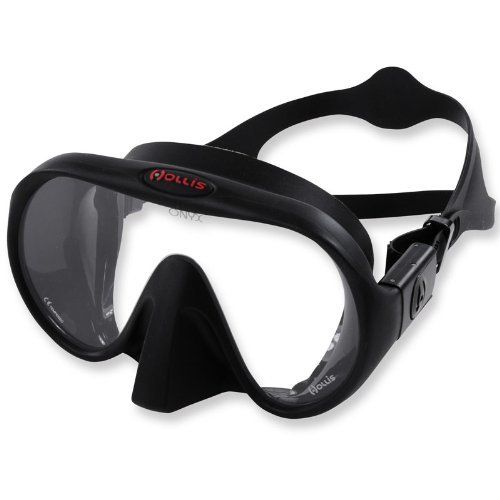 A low-volume (close to the face) style mask will be the easiest to clear and will provide the widest possible range of vision. Your mask must fit well to avoid escaping bubbles (noise). I prefer the black silicone which provides the least side-glare for clearer images and seems to be the most durable.
The ability to see images at the edge of visibility may be the most important skill of the successful underwater hunter. Distinguishing images at edge allows you early preparation for diving, stocking, and the shot. Many divers use a number of mask anti fog techniques, from rubbing spit to kelp on the lens. Rubbing one drop of Glycerin on each lens does the trick. Glycerin is very inexpensive and available at any drug store.
Fins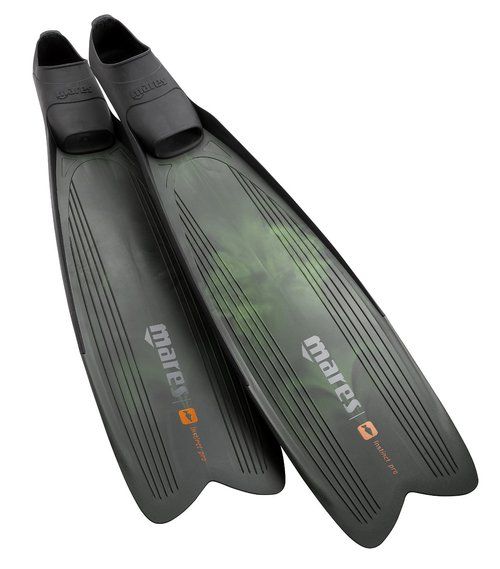 I prefer the longer fins for free-diving in open water. They provide maximum propulsion and transfer of power. Blade stiffness should be considered for different leg strengths. For deep diving, a stiffer more powerful blade may be necessary to propel you out of deep water and negative buoyancy.
For shallower diving a softer blade may be more comfortable after many hours in the water. For bottom hunting, a softer shorter fin may be more appropriate for turning and maneuvering. Remember, the fins must fit well for comfort and no blisters and avoid squeaking (noise) as you swim. If using strapped fins, be sure straps are turned inward or taped down to avoid fouling in the kelp.
Snorkle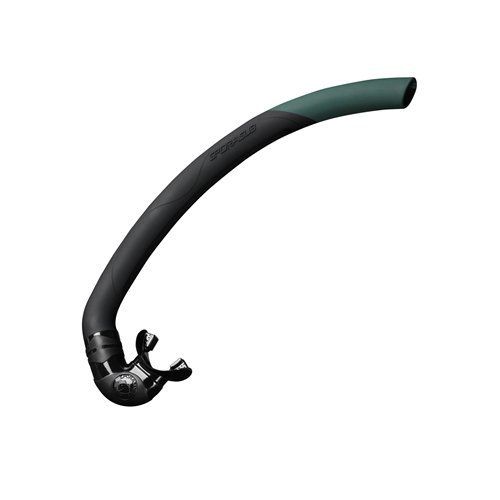 I believe a short large barreled snorkel with a comfortable silicone mouthpiece is the best for free-diving. Excess bubbles (noise) may dramatically delay your spearfishing success. Many free-divers spit out the snorkel before the dive, to avoid unwanted bubbles (noise). Many new "easy clear" so-called "dry" snorkels have recently appeared in the dive shops.
I have recently tried the new "totally dry" snorkel. It's very dry if you don't dive, but if you don't spit your snorkel out at the surface before you dive the (vacuum) back pressure as you descend is strong and very uncomfortable especially if you dive deeper than 15-20 ft. it will be hard to hold your tongue in your mouth. It seems the manufacturers are developing the products for tank divers and not for free-diving hunters (stealth).
Weight-Belt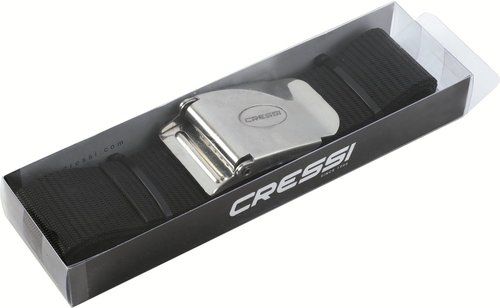 I have used the traditional led weight-belt, 1 1/4-1 1/2 lb. square or round weights around the waist most of my diving career. I have experimented with the led shot belts and ankle weights. Ankle or leg weights will increase fin and power efficiency at the surface by lowering your legs (fins) under the water which will allow up as well as down swimming strokes, and also lower your surface fin-splash (noise). Ankle weights may increase leg fatigue and some say, "add to lower back problems". I prefer using 2-3 lb. leg weights just below my knees.
This helps distribute the weight more evenly along my body and avoid lower back pain. The problem with the waist weight-belt only is the buoyancy is full-body and all the countering weight is in the middle (swayback or lower back problems).
I am working on a free-diving weight-belt inflatable vest which will help distribute more evenly the weight needed for free-diving with a wet-suit, and provide an auto-inflating safety device for unexpected shallow-water blackout. I believe the ultimate weight-belt will be distributed along the body lower-chest, waist, upper-legs.
Wetsuit
The wetsuit was designed to keeps you warm and protect you from the sharp ocean bottom. The skin inside, fabric outside, pullover (no zippers) farmer-john style with hood attached, is the warmest and most durable configuration. The thickness should vary depending on the temperature of the water, the colder the water the thicker the suit.
I use a one piece 3/16″ suit with hooded vest in the summer (62F+) and a farmer-john 1/4″ skin-in hood attached with one front zipper up on the jacket for convenience in the winter. Don Hall owner of M&B wet-suits makes a fine line of custom wetsuits for a good price and has been making my suits for years, his phone no. is 310-421-9905.
Gloves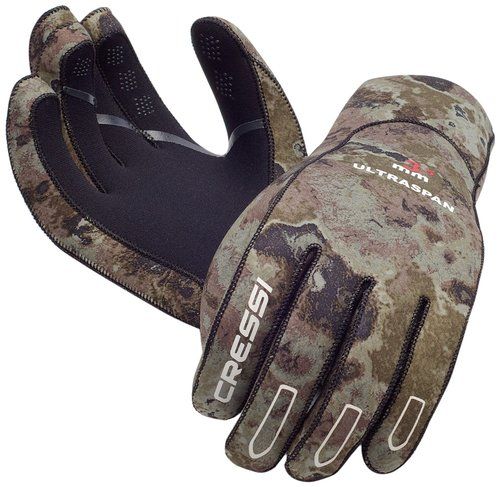 Gloves can be very important while spearfishing. I use thin neoprene gloves with a kevlar palm, I have found these gloves to be the most durable and comfortable while providing a fine balance of feel and protection. I seal the stitches with neoprene glue when new.
Speargun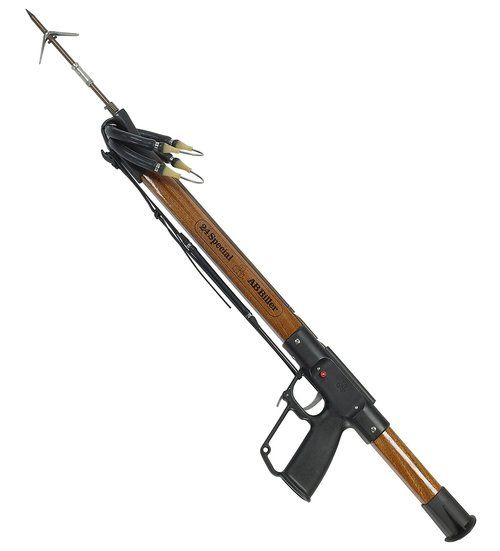 Many spearguns are on the market today but only guns designed for large fish should be used for big game hunting. Many problems come into play when powering up a gun for large powerful fish. I recommend the Alexander or the Riffe line of big game spearguns, they provide a wide range of lengths and power configurations for the most demanding underwater hunter. The type and size of the game and the water conditions should be considered when choosing a gun.
The clearer water and larger fish may require a longer and more powerful gun while smaller fish and murkier water may not be quite as demanding. I use a modified Riffe Blue-Water gun with an added stainless-steel tracking system.
Gun Shooting Line
The ultimate shooting line should be thin to limit drag friction on the shot, but strong 300 lb. minimum to avoid braking. It should also be cut resistant for sharp bones and bottom. Riffe uses monofilament stock shooting line on his new guns. Monofilament is fairly good around rocks but may be cut by sharp bones. Alexander has gone to a 7×19 strand coated 480 lb. stainless-steel (more flexible than 7×7 SS) cable stock shooting line on all his new guns.
I have experimented with kevlar and stiff nylon line, but both can be cut by sharp bones and bottom. I now use coated 7×7 strand 480 lb. stainless-steel cable double crimped on all my guns to avoid the problems associated with head and bones shots and fish that insist on running to the rocky reef bottom.
Spear-Tip
Alexander and Riffe make fine state of the art spear-tips for big game. A 5-6″ hardened break-away stainless steel slip-tip have been used to catch many record fish. The breakaway should be long enough to allow the shaft to come completely out of the fish after the tip has toggled.
A good rule of thumb is the breakaway should be longer than the maximum thickness of the fish you are hunting. The long double-winged slip-tips many be better for the big tuna. I prefer the cone (icepick) shaped tips to avoid possible hydrodynamic problems on long powerful shots. I am currently using a Alexander 5″ icepick with a 12″ breakaway for the local White Sea Bass, Yellowtail, and small Tuna.
Reels & Float Lines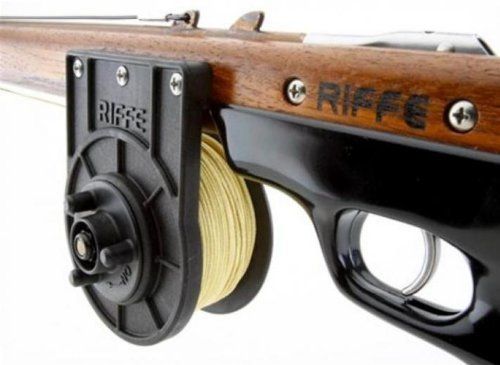 Both reels and float lines are very effective for big gamefish. Reels are best used for inshore reefs, kelp, and bottom hunting. Float-lines are used more while open-water hunting. Most reels are set-up with about 150-250 ft. of line, some of the new reels have drags and breaks. I started using a float-line about 25 years ago and have never gone back. The float lines have evolved into a very effective piece of spearfishing equipment.
The new float lines are made of stretch material which will stretch three to one, they works like a long bungee (shock) cord. I use a 100 ft. bare float-line while hunting in the kelp, and a 100 ft. bungee type float-line with a float attached when hunting open-water. I believe the float-line configuration gives me the best of all possible combinations. More direct feel and control of the fish.
Floats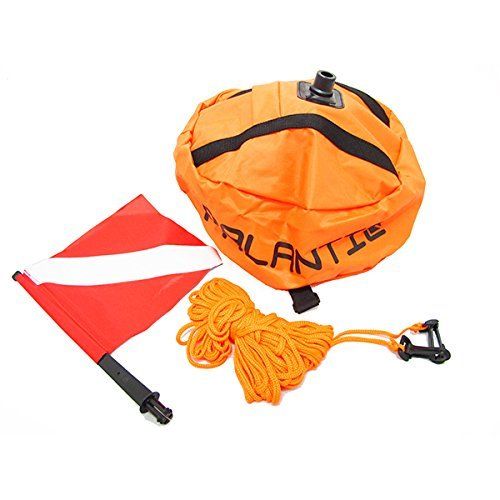 Flotation equipment is very important when spearing large gamefish. I use a rolled-up inflatable dive flag attached to my weight belt when hunting in the kelp, and a bare float-line to avoid surface snags. I inflate by mouth or by CO2 if quicker deployment is necessary, after spearing a fish. Keep in mind that CO2 inflatable floats will not be legal for world record catches.
When hunting in open-water for larger fish, I use a hard float filled with high density 8 lb. foam attached to the end of my stretch float-line which will not implode when pulled down by a large fish, backed by the high volume soft inflatable float with dive flag, and extra line depending on the depth of the water.
When hunting open-water for smaller game fish, I use a high volume 60+ lb. floatation inflatable float with dive flag. Both the inflatable products are sold by Riffe International. You'll have to make your own hard foam-filled float.
Knives & Stringers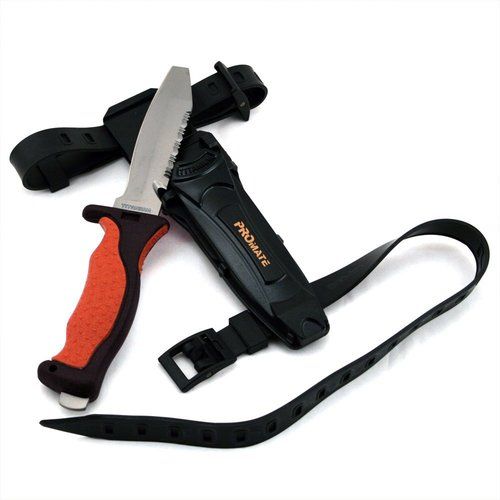 I like to put lots of pressure on a fish that is hit good to avoid deep kelp entanglement. In the event of a bad or long shots, sometimes the only option is to play it loose and hope the fish doesn't fall off before you can get to him and make the kill. Many times a fish will become entangled in the deep kelp.
I carry a knife to extricate a kelp entangled fish. I recommend a double edged knife, the last thing you need on a deep dive is to be using the dull side to cut.
Stringers are very handy when tying a fish to your weight belt or float while untangling float-lines. My stringers are 3/8″ x 6″ stainless shaft, try-cut point, with a 30″ hard brad line and a brass clip at the end. I roll it up and keep it on my weight belt if needed.
A word of caution, always be careful not to get caught in your line, (especially if you are using steel cable) while working your fish out of the kelp, it is very easy to loose track of your line. This small mistake can cost you your life. I have a friend that carries a pair of wire cutters on his weight-belt to avoid this problem.