With Basketball being a sport loved by millions, myself included, I used to love heading out to the local court to shoot some hoops. Somedays this wasn't easy if the court was occupied or the weather wasn't great. Luckily, that's no longer the case, thanks to the invention of the portable basketball system, it's easy to play basketball right outside your own home!
Portable basketball hoops are easy to move almost anywhere and are a lot more game-like than a hoop attached to a wall or many of those bent and misshaped hoops you get in the local park.
Like most sporting products, these portable B-Ball goals are not created equal. Below we've listed our picks for the best portable basketball hoop reviews on the market today, and to help you find the best one for your budget and personal criteria, we've organized them into 3 different price ranges.
In addition, each system has a list of specs, as well as a detailed overview of what to expect with a purchase of that system. A list that goes over what each important spec means can be found at the end of this article.
First, we'll kick this off with a comparison table of the 7 products reviewed in this article. It provides a quick glance overview of each and what kind of specs you can expect.
Budget Systems ($200-$450)
In this range, you can expect something perfectly satisfactory for those who want a recreational basketball experience or parents who want a present that their kids will love. A typical feature of a budget system is a polyethylene backboard, which is incredibly difficult to break.
However, these backboards have a less "real" feel than one might get if playing on an indoor board, which could be a problem for some. In addition, these hoops are more likely to tip, as the base is less heavy (around 27 gallons) than one on a more expensive setup. 3-piece support poles are also common in this price range, which means they are somewhat prone to wobble. Still, a purchase of one of these cheaper basketball goals will be a guaranteed great deal.

Lifetime 1269 Pro Court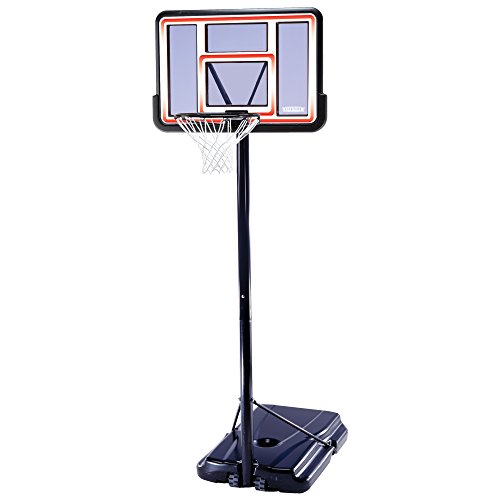 Backboard Size: 44 in.
Backboard Material: Polyethylene
Rim: Standard
Support Pole: 3-piece
Base Weight: Max. 27 gallons
Height Adjustability: 7.5 to 10 feet
The Lifetime 1269 Pro Court is a great budget hoop, and would be an excellent purchase for a first-time buyer. The 44 inch Shatterproof Fusion backboard, made of polyethylene, comes with UV and fade-resistant graphics that give it a sleek, professional look.
When they say Shatterproof, they mean it, as polyethylene is essentially unbreakable, even if the system tips over often. That alone makes this a great choice for families looking to give their young kids a basketball experience. That's because kids (and extreme weather) are the most likely causes of tipping!
The standard rim does not come with springs. That, along with the 27-gallon base, means that this is probably not the best hoop setup for dunkers. Because the base is not so heavy, dunking could tip the system, and a spring-less rim is prone to warping if dunked on often.
However, standard rims have other benefits, one being that they are less bouncy than a rim with cheap springs. You can adjust the rim height in 6-inch increments, up to 10 feet. While it's not an adjustable basketball hoop like some of the higher end hoops, the Lifetime 1269 is still an awesome deal, and will provide lots of practice and fun to whoever buys one.
Lifetime 71566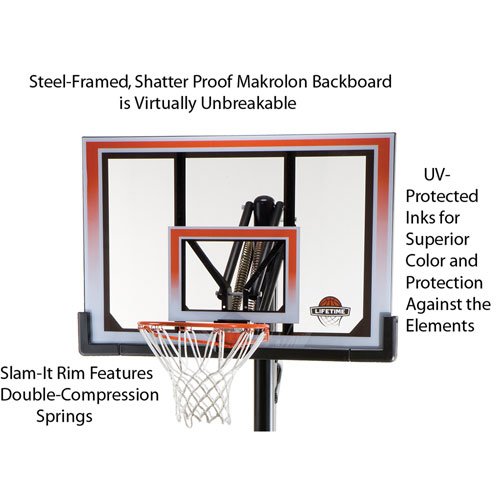 Backboard Size: 50 in.
Backboard Material: Polycarbonate
Rim: Exposed springs (CBR)
Support Pole: 3-piece
Base Weight: Max. 40 gallons
Height Adjustability: 7.5 to 10 feet
Now we're getting into dunking territory! The Lifetime 71566 comes with an exposed spring rim (also known as a Compression Breakaway Rim), which means, when dunked on, it will dip slightly. This helps the rim a lot since most of the downward force from the dunk goes into the springs, not the rim itself.
Exposed springs can rust over time, however, so that's something to keep in mind when looking at a rim that has them. Also, some spring loaded rims have more bounce than some people might like. If you're one of those people, that could be a reason to go for a hoop with a standard rim.
Another reason to get this product, if you're a dunker, is the 40-gallon base, which makes tipping for any reason much harder. Even if this system does tip, the nearly unbreakable polycarbonate backboard will no doubt remain functional.
A few downsides to this net are the 3-piece pole, which is more wobbly than a more expensive 2-piece, and the height adjustability, which is only possible in 6-inch increments. Still, the pros far outweigh the cons with the Lifetime 71566, especially when you consider the price range it's in.

Mid-Range Systems ($400-$700)
In this range, expect to begin seeing acrylic backboards, which aren't as tough as polycarbonate, but have a much better rebound. In addition, you'll begin to see systems with larger bases and spring loaded rims. These are great outdoor basketball hoops for anyone, guaranteed to provide a quality experience while bringing extra features you wouldn't find in a lower price range.

Lifetime 90061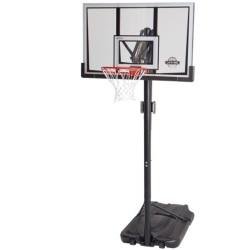 Backboard Size: 52 in.
Backboard Material: Polycarbonate
Rim: Exposed springs (CBR)
Support Pole: 3-piece (probably

)

Base Weight: Max. 35 gallons
Height Adjustability: 7.5 to 10 feet
The Lifetime 90061 has some pretty neat features, one of which is the 52-inch backboard. 52 inches is the median size for a portable basketball goal and is probably the optimal size as well. A 35-gallon tank means this is a tip-resistant setup, and the polycarbonate backboard can resist any wear-and-tear, making this a system that is likely to last for years.
The double-compressed exposed spring rim makes dunking a breeze, and a rolling base means you can easily transport the goal, even when the base is filled! A lot of B-Ball nets are irritating to adjust due to the need of unscrewing one pole, and then having to move the pole up, and then screw it back in. However, the 90061 comes with a Front Adjust mechanism that allows anyone to adjust the height easily by squeezing two handles on the front, making it much easier to adjust height!
In addition, two braces that hold in the backboard give this ring extra stability. With features aplenty, the Lifetime 90061 is a great mid-range system, and awesome for families who are willing to spend more for a more professional system.

Lifetime 71522 Competition XL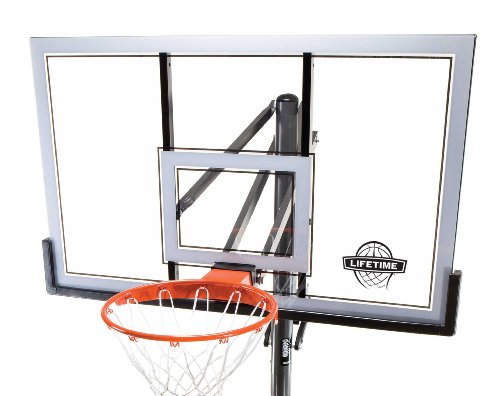 Backboard Size: 54 in.
Backboard Material: Acrylic
Rim: Exposed springs (CBR)
Support Pole: 3-piece
Base Weight: Max. 35 gallons
Height Adjustability: 7.5 to 10 feet
This is a hoop that could easily be confused for a professional one. The backboard extends 54 inches, and thanks to its acrylic material, it gives much better rebound than one made of polycarbonate. The backboard is sure to stay in place, due the steel bracing that will help it take a beating from basketballs, tipping, or weather.
Tipping shouldn't be an issue with this portable hoop, thanks to a heavy 35-gallon base, which comes with wheels for easy transport. The strong 3-piece support system will keep the whole thing together, and is equipped with a pneumatic device that allows the height to be adjusted with one hand! You don't have to adjust in 6-inch increments either; this allows you to adjust one inch at a time. The rim of this goal is also fantastic and allows for plenty of dunking.
The exposed springs in the rim can rust over time, but a 5-year warranty from Lifetime will ensure that's not a problem. While this hoop does have amazing features, it is notoriously difficult to assemble. If you're looking for instant gratification when buying a system, this may not be the one for you. However, if you're willing to put in some time and effort, the Lifetime 71522 Competition XL is an amazing buy!
Spalding 68564 NBA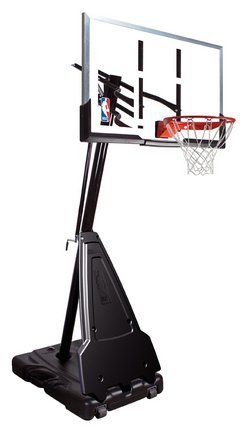 Backboard Size: 54 in.
Backboard Material: Acrylic
Rim: Pro-style CBR
Support Pole: 3-piece
Base Weight: Max. 40 gallons
Height Adjustability: 7.5 to 10 feet
Spalding is the official manufacturer of NBA hoops, so you know you're guaranteed to get quality with them. The 68564 is just that, with a 54-inch acrylic backboard that looks and plays great, and the backboard bracing is heavy-duty steel, which ensures stability.
One of the coolest features of this net, especially for parents, is the Screw Jack lift, which actually can be pulled out to prevent the height from being adjusted without your approval! In addition, the lift system allows for the height to be changed to any increment, a real improvement over the inch by inch adjustments on cheaper basketball hoops.
The 40-gallon base will keep the system in place, and it comes with wheels for easy transport. The support pole is at an angle, which is very useful for parents, as it prevents anyone doing a drive from hitting the pole. Also, a cover that connects from the base of the pole helps to prevent players from getting injured. The rim is steel wrapped, keeping the springs inside protected from the elements, which means you'll be able to dunk on this hoop to your heart's content!
Though it's the most expensive system on this list so far, it's still an amazing deal, and should be a real consideration for someone who wants an incredible basketball system.
Spalding 68562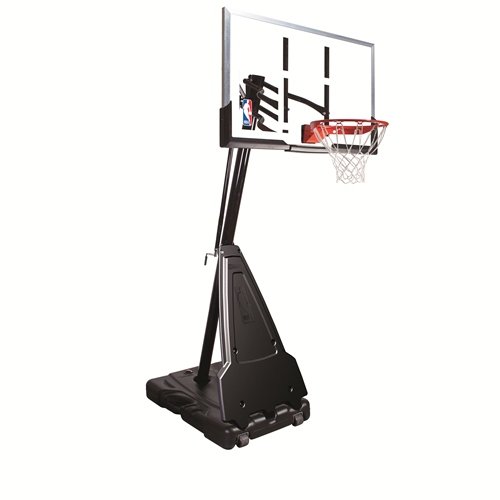 Backboard Size: 60 in.
Backboard Material: Acrylic
Rim: Pro-style CBR
Support Pole: 3-piece
Base Weight: Max. 40 gallons
Height Adjustability: 7.5 to 10 feet
This system has an immense backboard which stretches 60 inches from corner to corner! This makes for a much larger shooting area, perfect for someone who seriously wants to practice and perfect their game. The backboard is made of Acrylic, which provides true toughness without sacrificing rebound quality.
The rim, a pro-style breakaway, will withstand dunking for years, and the covered springs make rusting very difficult. Like the previous system, this one features the Screw Jack lift, which allows the height to be adjusted in infinite increments with one hand! One downside of this system is the 3-piece pole, which lacks the stability of the 2-piece pole you should expect at this price (above 600).
However, this system does have a 40-gallon base, which provides this system with very good stability overall. Made at Spalding standards, this system won't disappoint someone who really wants to get their head in the game.

High-End Systems ($700+)
In this range, you start to find the truly professional systems, which means you'll see the features (and prices) that you'd expect at the NBA level. Some of those features include tempered glass backboards, which have an incredible rebound.
In fact, it's impossible to find a better rebound, since these are the same backboards used on NBA courts! In addition, 2-piece poles become the norm, along with massive bases, both of which keep these hoops stable at all times. That's very good for the glass backboard, since, unfortunately, they can shatter if the system is tipped.
Spalding NBA "The Beast"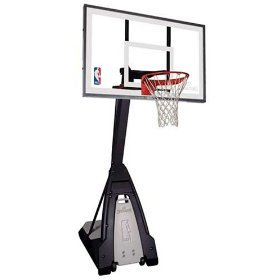 Backboard Size: 60 in.
Backboard Material: Tempered Glass
Rim: Pro-style CBR
Support Pole: 2-piece
Base Weight: Max. 50 gallons
Height Adjustability: 7.5 to 10 feet
When Spalding calls a system "The Beast", they mean it! With a 60 inch sheet of tempered glass for the backboard, this system gives the player amazing rebound, and plenty of room to play with. This hoop, like most high-end Spalding models, comes with the Screw Jack lift system, which allows for easy movement of the hoop at any increment.
The rim, a Pro Image breakaway, is perfect for dunkers, and will last for years. One awesome feature that "The Beast" has is its 2-piece support pole, which gives the system an incredible amount of stability. In addition, the base holds a staggering 50 gallons, essentially removing any fear of tipping from this system. "The Beast" is also very portable, with wheels attached to the base, and a pull-out handle that makes transport of this system a breeze!
Honestly, this hoop has everything going for it; the only thing that might turn you off is the price. However, if you can afford it, "The Beast" will make going to a basketball court seem like a waste of time.
A Guide to the Features of Portable Basketball Systems
Backboard
This is the most important part of any basketball system, portable or not. The way the ball will react when it hits depends entirely on the material of the backboard. On portable systems, there are 3 common backboard materials, which vary in price and quality.
Polycarbonate
The cheapest backboard material, polycarbonate is very tough, meaning breakages are rare, even in situations where the system is pushed over. However, you trade the price and strength for performance quality, as polycarbonate backboards have the weakest performance. A ball that hits a polycarbonate backboard will have less energy than one that hits an acrylic or tempered glass backboard  Even so, these boards can be a great choice for families or those who are just playing basketball for fun, and are willing to trade performance for cost.
Acrylic
Though more likely to break than a polycarbonate backboard, acrylic has a much better performance. Found most often on mid-range systems, this type of backboard is great for those who want a serious system to practice on, but also, one that won't burn too much of a hole in their wallet.
Tempered Glass
This is the best of the best and is the standard for indoor, professional hoops. If you're willing to dig into your bank account, this backboard will give you the best basketball experience possible, thanks to a rebound performance that feels like it would in a game. However, since it is made of glass, it can be prone to shattering. Because of this, it might not be the best choice if it is likely to be tipped, and especially not in an area prone to severe weather. This is good to consider before buying, as it is quite an investment.
The size of the backboard is also quite important. Like a TV, it's measured diagonally from corner to corner. The smallest on the market is around 44 in. while the largest is 60 in. Those sizes are extremes, however; it's likely that a backboard in the middle (around 52 in.) will work best for you.
Rim
Rims vary on each system, but like the backboard, there are 3 common types to look out for.
Standard:

Like the name suggests, the standard rim doesn't have many special features. Unlike the next two rims, it has no springs, which means that dunking will warp the shape over time. This can be problematic as many people buy portable basketball systems just to dunk! Surprisingly, though, standard rims have better performance than those with a single cheap spring, which is not recommended. If you're not planning on dunking, or just looking to save money, a standard rim is your best bet.
Compression Breakaway Rim (CBR) (without cover):

Breakaway rims are great choices for money-minding dunkers, but be careful; they can still break if put under too much exertion over time. In addition, the lack of cover on the springs means that rusting is a very real possibility. Still, this is definitely a better option than a standard rim for anyone looking for a mid-range, dunk-worthy hoop.
Pro-style CBR:

The name gives it away: this is the hoop for those who want a professional basketball experience. Because the springs on this breakaway rim are covered, they are much less likely to rust. Though these are often on the most expensive systems, you do get bang for your buck, as they can handle frequent dunking much better than the two previous rims. Furthermore, cheaper spring rims tend to bounce quite a lot when hit, but the pro-style CBR has great resistance, making bounce essentially a non-issue. If you want a professional rim, this is it.
Base
The base of a portable basketball system keeps the whole thing from falling over. The base is empty at first, and once the system is set up, it is filled with water to weigh it down. A general rule of thumb: the cheaper the system, the smaller the base.
And, the smaller the base, the more likely it is to tip, another reason that the cheaper systems have hard to break polycarbonate backboards. You can expect around 27 gallons in a cheap base, and around 35 for mid-range.
If you really want stability, though, the high-end systems can have up to 50-gallon bases, which virtually guarantees that they will stay upright.
Our best 'base' tips:
Do you live in an area with cold weather? Pour some antifreeze in the base when you fill it. That way, the base won't crack!

A base with wheels means easier transportation of the entire system, something worth looking for when buying.

Many injuries occur when players trip on or hit the base, which is why some come with protective plates in the front. If you have kids, this can be a great extra to consider.
Support Poles and Backboard Bracing
Support poles keep the backboard attached to the base, and on portable hoops, you'll usually find 2 or 3-piece pole setups. The 3-piece will shake a lot more, and is found on cheap and some mid-range models. The 2-piece is found more often on high-end goals. Single piece support poles do exist but are very uncommon in portable basketball hoops.
Proper backboard bracing can greatly enhance the performance of a backboard by holding it steady, making it something to keep an eye on when purchasing the right outdoor hoop for your needs.