We all have that one friend who – whenever faced with an unopened bottle – whips out his keychain, selects his handy bottle opener, and cracks open his beer in a well-practiced motion as everybody looks on in impressed silence.
While your buddy and his keychain bottle opener may seem almost unattainably cool, not to worry. That will be you soon enough, and we've got you covered.
Fortunately, in comparison with a lot of other necessary items, finding the best keychain bottle openers is a relatively simple transaction. There are really only three factors you should consider.
Functionality: Does it work? Obviously, you want a bottle opener that works and is easy to use.
Durability: How long will your opener last? In general, there are two options for buying a bottle opener, both of which will cost you about the same amount of money: you can buy a pack of 5-8 less durable bottle openers, or you can buy a single, very durable opener. For the sake of convenience, we focus on single openers here.
Personal Style: Especially in the case of men, keychain bottle openers can be an indication of your personality. They come in all sorts of shapes, varieties, and styles, so if your "personal brand" is something that's important to you, you may need to shop a little more carefully.
Now that we've covered the basics, we're ready to tackle the 5 best keychain bottle openers we could find. There isn't much difference in price, so we've placed them all in the same category.
Brewzkey Bottle Opener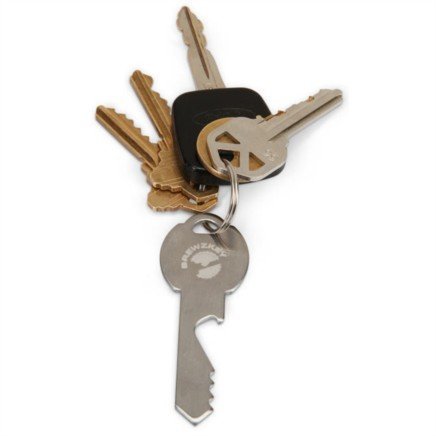 Dimensions: 2.7 x 1 x 0.1 inches
The Lowdown: One of the gold standards of the industry, this Brewzkey model shows up when you need it and you need never think of it otherwise. Shaped like a key, it is designed perfectly for keychains, blending in with other keys and avoiding making your daily key load bulkier and more unwieldy. It's also the smallest of all of the models we explore here, truly blending in with your keys and your daily life. It's certainly the most convenient of all the models we explore here as well.
The one drawback? The talon-based bottle opener can be a bit tricky to use, less ergonomic and intuitive than ring-based models (like the Bruery model we'll look at below). If you struggle with that kind of opener, look elsewhere. However, if "convenient" and "unassuming" are qualities you're looking for,  the Brewzkey model is one of the best keychain bottle openers, since you'll never even have to think about or notice except when you need it. Just stick it on your keychain and go.
The Bruery Keychain w/ Bottle Opener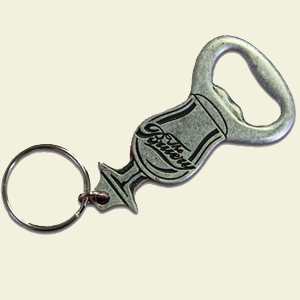 Dimensions: Unlisted
The Lowdown: This particular Bruery keychain bottle opener has a bit of a cult following amongst beer heads, as several forums have sworn by this model. It's easy to see why – it's cheap, and the rounded oval opener is more intuitive and a lot easier to use than some of the talon-based models. It's also a price performer, getting the job done for an extremely cheap price.
The only true con for the Bruery model is that it isn't available on Amazon, so it's slightly less convenient to find and order, as you have to go directly to the Bruery website. As such, shipping costs may come into play, and if you have beer in your order, policy won't allow you to order the keychain. Nevertheless, in spite of this wart, the Bruery keychain is one of the best keychain bottle openers out there.
Gerber Shard Keychain Tool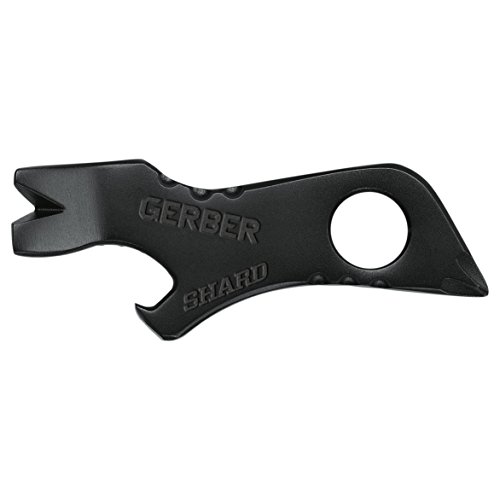 Dimensions: 3.1 x 1.6 x 0.6 inches
The Lowdown: When you first glance at the Gerber Shard Keychain Tool, the first thing you notice is its seemingly odd shape. It doesn't look like the other bottle openers on this list, and for good reason – it's not just a bottle opener. If versatility is what you're looking for, the Shard Tool is the best keychain bottle opener. In addition to opening bottles, it performs six other functions: small flat driver, medium flat driver, cross driver, pry bar, wire stripper, and lanyard hole. If you're looking for the Swiss Army Knife of bottle openers, look no further.
One Achilles heel – because the Shard Tool isn't just a bottle opener, the actual bottle opening function isn't as good as some of the other options. The part of the tool that leverages the bottle cuts into the metal of the bottle very hard, and some users have worried about little glass particles in their drinks.
The final verdict? If you want versatility, the Shard Tool is great. If you want a pure bottle opener, look elsewhere, perhaps at our next option.
Bar Buddyz Keychain Bottle Opener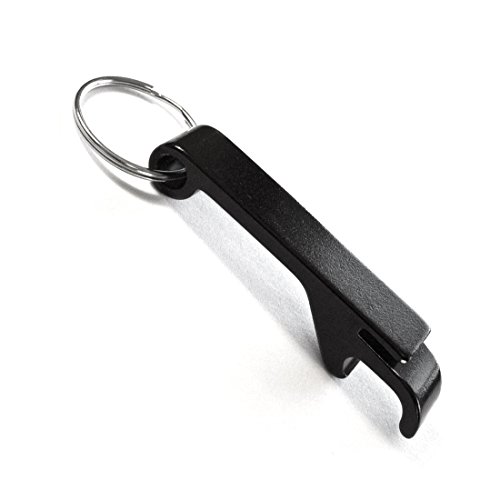 Dimensions: 2.5 x 0.5 x 0.5 inches
The Lowdown: The Bar Buddyz Keychain Bottle Opener is designed to be used by bartenders, so you know that it opens beers at a bar-grade level. Purchasing this keychain is more or less the same as buying a restaurant-grade, waiter style wine corkscrew – from a purely functional standpoint, it's one of the best keychain bottle openers. Non-functionally, it scores surprisingly well in the "personal style" category, offering a series of 8 different color options. If all that weren't enough, it can also open soda and beer cans.
There aren't really any downsides to the Bar Buddyz variety, but it is slightly more expensive than most of the other options. If you're looking to save every possible cent purchasing a keychain bottle opener, look elsewhere.
American Brass 7.62mm "The Original" Bullet Bottle Opener Keychain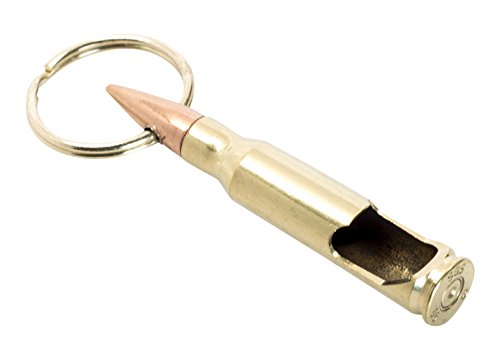 Dimensions: 5.7 x 4 x 0.8 inches
The Lowdown: Remember when we discussed the idea of a bottle opener keychain impacting your "personal style?" This American Brass model is the case in point, as it's literally made out of a bullet fired by the US Military. Sleek, stylish, and with a durability backed by one of the world's most unflinching, indefatigable organizations, you can bet that this will last you a while. For those looking to open their beers with authority – and for those looking for an opener that screams masculinity beyond just the action itself of cracking open a cold one – this is your choice.
The only real downside to the American Brass "The Original" Bullet is it's size. It's almost twice the size of any other opener on this list, and while it's still pretty small, you'll definitely notice it in your pocket and on your belt. However, if making a statement and the personal style element of bottle openers is important to you, look no further.
Which are the Best Keychain Bottle Openers?
You truly can't go wrong with any of these models. Whether it's the style and statement of the American Brass Bullet model, or the intuitive ease of the Bruery ring model, or even the unassuming quality of the Brewzkey opener, you'll get your bottles open easily for years to come. Consider what your priorities are, make a decision, and never again worry about being stuck unable to open up your beer.